<table><tr><td>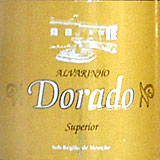 </td></tr></table>
Quinta do Feital 2002 "Dorado" Moncão Vinho Verde Alvarinho ($22.99)
A modern, upscale take on Portuguese Vinho Verde made by a Spanish producer who crossed the river from Rias Baixas in Galicia to make wine on both sides of the Spanish-Portuguese border, it's Vinho Verde in the new style, hearty and full-bodied, aged on its yeast sediment (lees) to add richness and complexity of flavor. It shows a clear straw color with a golden hue. Peaches and minty fresh herbal scents come together in a complex, appealing aroma. Mouth-filling and full, ripe flavors follow the nose, with good acidic structure and a whiff of spice. Very fine wine, although it's a far cry from the standard light and frothy Vinho Verde. U.S. importer: Vieux Vins Inc., Vineburg, Calif.; The Rare Wine Co. (March 24, 2006)
FOOD MATCH:
Portuguese or Spanish, Alvarinho or Albariño, either way these aromatic whites are made for seafood and fish. This wine's body and structure brought it up to a more robust fish dinner, fresh cod cut in bite-size chunks, quickly sauteed in a skillet of home fries and onions scented with homeopathic dashes of cumin and Asian "five spice."
VALUE:
The $20-plus price almost gave me a nosebleed, but the wine is persuasive: This is no mere shellfish quaffer.
WHEN TO DRINK:
The conventional wisdom on Vinho Verde is that it should be drunk up so young that it's hardly worth exporting. This robust and full-bodied style, however, might justify an experiment in cellaring simply to see what happens. You won't go wrong, though, by buying and drinking it young.
WEB LINK:
This English-language importer fact sheet offers good background on
Quinta do Feital
, along with a downloadable Adobe PDF tech sheet.
FIND THIS WINE ONLINE:
Look up prices and locate sources for
Quinta do Feital Alvarinho
on Wine-Searcher.com.