<table align=right width=206><tr><td>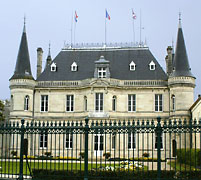 </td></tr></table>
WT101 - Budget Bordeaux
One of the most historic wine regions of France (and therefore the world), and not coincidentally one of the most respected, Bordeaux has enjoyed fame outside its home region for close to 2,000 years. The Roman poet Ausonius (whose name lives on in the highly regarded Chateau Ausone) wrote of the region's wines with pride in the 4th Century AD. Its connection with England, where the fine red wines were known as "claret" for their then unusual clarity, dates to 1152, when the French princess Eleanor of Acquitaine married the British prince Henry Plantagenet, who would soon be crowned King of England.
With such a storied history, it's no surprise that Bordeaux makes some of the world's best-known wines. It produces the lion's share of France's top-end wines, and its most sought-after labels - such as most of those classified as "classed growths" in the great Medoc Classification of 1855 - command dramatic prices. Indeed, Bordeaux's economic fortunes thrived so well for so long that its landscape is dotted with the elegant chateaux that adorn the labels of many of the region's top wines.
Particularly since the 1980s, when critical acclaim and wide publicity dramatically expanded the U.S. market, many high-end Bordeaux have all but priced themselves out of reach for most consumers. Sadly, moreover, the quality that distinguishes the high-end wines trickles down only spottily at best to the more affordable price range; there's no really polite way to say that much of low-end Bordeaux is plonkish at best.
Is there any way for most of us to experience the character that has made top Bordeaux so sought-after for so long? We hope so. That's the challenge of this month's topic in our
Wine Tasting 101: Budget Bordeaux
. We'll suggest specific wines that represent the region well, and talk about more general buying tips for exploring some of Bordeaux's less-familiar (and thus less price-driven) "satellite" appellations; and we'll try to provide an easy roadmap through the often confusing thicket of good, bad and mediocre vintages, as well as talk a bit about cellaring and maturing this, one of the world's most purportedly ageworthy wines.
To get us started, I've selected
Chateau Larose-Trintaudon 2000 Haut-Médoc Cru Bourgeois
as the month's top "benchmark" wine. It's a good, widely available Left Bank Bordeaux with a long track record for good quality and value near the low end of the "serious" range. I found it locally for just under $20; you'll find my tasting report below.
You're encouraged to try this wine and other affordably priced Bordeaux during April, and share your comments about them - as well as asking any questions you may have about Bordeaux, in our interactive online forums.
For those who want a Right Bank comparison, look for something like this affordable example:
Vieux Château Haut Béard 2000 Saint-Emilion Grand Cru
($20.99). On the lower-priced shelves, consider a "satellite" appellation such as Bourg or Blaye, such as this one:
Château Bertinerie 2001 Premières Côtes de Blaye
($12.49).
JOIN IN WT101:
The basic conversations in Wine Tasting 101 are posted on our Netscape WineLovers Community,
where you'll find today's column at this link
. You're also welcome to participate in related discussions in this forum, by reply to this post or by starting a new topic.
<table align=right width=130><tr><td>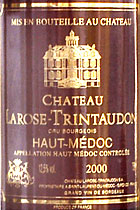 </td></tr></table>
Chateau Larose-Trintaudon 2000 Cru Bourgeois Haut-Médoc ($19.19)
Sporting a typical Left Bank blend of 60 percent Cabernet Sauvignon with 20 percent each Cabernet Franc and Merlot, this is a very dark reddish-purple wine with a clear garnet edge. Its aromas of blackcurrant and leather are characteristic of Bordeaux, and the flavors are typical of the region, too: Black fruit and earth follow the nose, with medium body, crisp acidity and soft if rather "green" tannins to build a food-friendly if slightly austere structure. At this price point, it's not as complex or as ageworthy as a classed growth, but it certainly gives a clear sense of Bordeaux. U.S. importer: Diageo Chateau and Estate Wines, NYC (April 2, 2006)
FOOD MATCH:
Rare beef or lamb makes an ideal accompaniment to Bordeaux; this one was fine with pan-seared flatiron steaks.
VALUE:
By Bordeaux standards, $25 is more than fair for a good-quality wine from a top vintage; viewed against a broader range of competition, let's face it: Even in the "budget" range, Bordeaux is a bit overpriced.
WHEN TO DRINK:
Like most lower-end Bordeaux, Larose-Trintaudon isn't really made with long, collectible-style aging in mind. That said, however, cellaring this 2000 for five more years might pay a dividend in complexity and a more mature flavor profile.
WEB LINK:
The
Larose-Trintaudon Website
is available in French and English. You'll have to look closely to see the rather dim French and United Kingdom flags at the upper left; click for the language of your choice.
FIND THIS WINE ONLINE:
Look up prices and locate sources for
Larose-Trintaudon on Wine-Searcher.com
.