A few weeks ago, Richard mentioned that Yuki would be visiting her mother in Japan and would be bringing back some nice steaks. Plans were consequently made for after her return: a family Sunday barbecue lunch, at our home, they providing the steaks and us the rest. Of course, Richard also brought some wine while I had my usual stock at home. Yuki also baked a nice dessert. And so it was that this past Sunday, the 21st October 2012, that the subject lunch took place.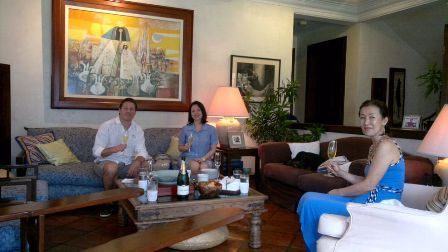 Richard, Catha, & Yuki.
Richard & Yuki have two young sons, Kaito & Takuma, who quickly got along with our older three. After brief introductions, the kids went upstairs to play PS3 games as we adults kicked back with some pica-pica and a bottle of straightforwardly fresh, bright, white-fruited
Champagne Taittinger Brut Réserve
.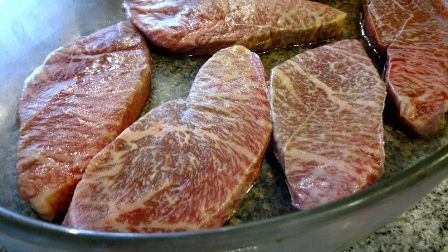 The intensely, though finely marbled steaks from Japan...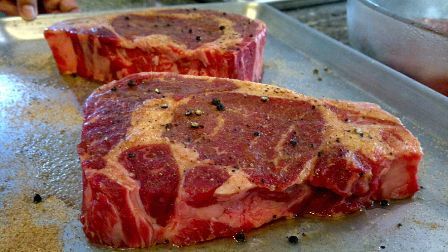 ...which I supplemented with two hunks of chilled US Angus Rib-Eyes.
Lunch proper started off with some
Sopa de Ajo con Picatostes
(Garlic Soup with Croutons), with which I started serving a magnum of
2010 Domaine Tempier Bandol Rosé
. I've written about this jewel of a rosé so many times, I need not say more now. Suffice it to state that it is delicious, easy drinking - perfect for a long, casual Sunday lunch. We killed the magnum very easily.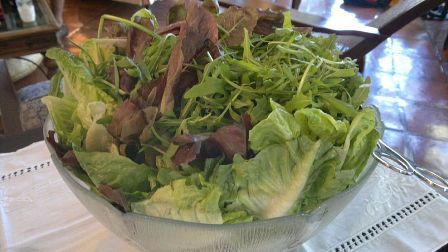 By way of salad (para healthy), we had mixed greens, tarragon leaves...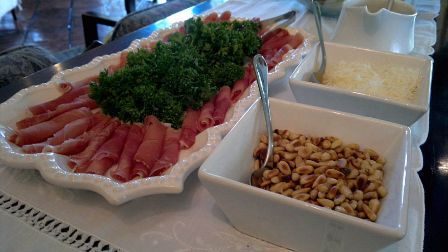 ...with Parma ham, toasted pine nuts, parmesan, & honey-mustard dressing.
A bit of seafood: my cook's Asian-style Chili-Garlic Prawns.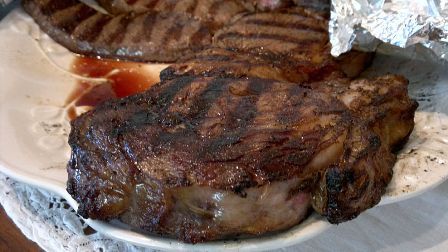 I grilled the steaks outdoors, those from Japan rare, seasoned sparingly with sea salt and crushed black pepper, in order to highlight the natural beefy goodness and avoid the fine marbling from melting away.
The chilled US Angus Rib-Eyes I grilled to medium-rare. Between the two steaks, I noted two basic differences: (1) the Japanese steaks retain their texture/structural integrity to a much greater degree after cooking (in comparison, rich US steaks felt a bit "mushy" on the palate); and, (2) the Japanese steaks, though very fatty, weren't as tongue-coating, and, perforce, left the palate comparatively cleaner.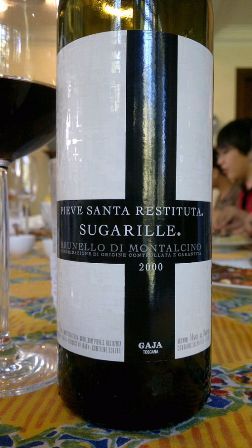 With the steaks, Richard served his
2000 Angelo Gaja Pieve Santa Restituta "Sugarille" Brunello di Montalcino
- Concentrated, nicely ripe, moderately rich dark plum, black cherry, hints of kirsch and torrefaction, dark raspberry, nicely woven-in oak-related spice, underlying moist pipe tobacco, all propped up with adequate acidity. 14% abv, but one doesn't feel it. Smooth. Good structure; it stood up to the grilled steaks.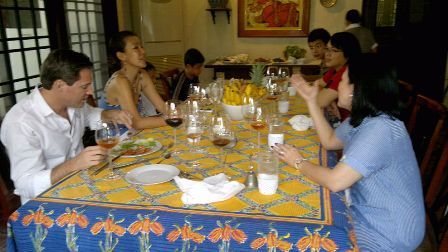 Just before desserts of...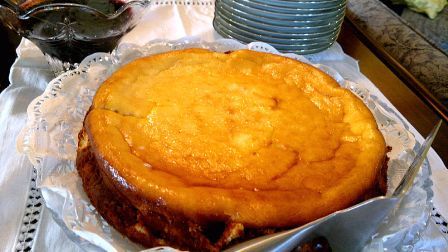 Yuki's
Home-Made Cheese Cake w/ Blueberry Sauce
. Very nice.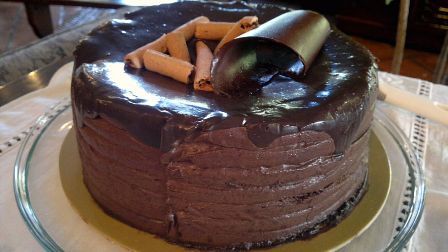 An old reliable: Chocolate Truffle Cake from Sugarhouse.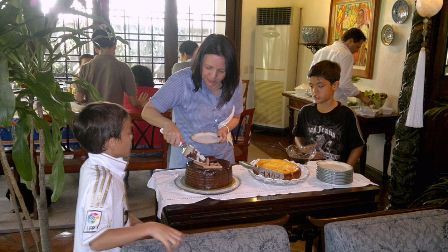 Catha slices and serves for Takuma and Kaito.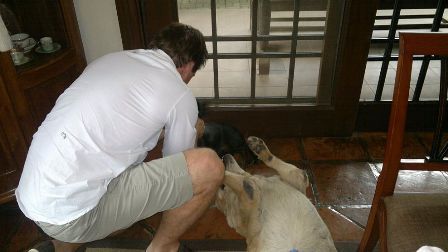 Not only Richard's kids enjoyed playing with the dogs.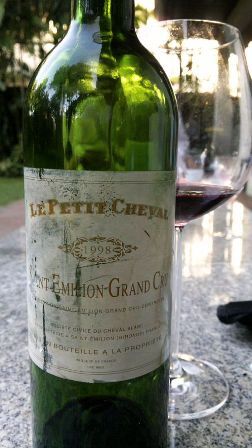 The kids then went back upstairs, and, eventually, went to the club's football field and bowling alley, leaving us adults to relax on the lanai and enjoy a bit more wine. I served the above
1998 Le Petit Cheval
to Richard semi-blind (I just told him it was from St-Emilion). After a few of quick sniffs and sips, Richard guessed it to be a 2003 Cheval Blanc - a pretty impressive guess given he got the producer correctly (albeit this is the second wine) and 2003 & 1998 are both notably ripe years (the former more than the latter).
The subject wine possesses a remarkably enjoyable rounded, velvety mouthfeel with precise heft. The tannins molten and softly rounded. Curvaceous and pliant on the palate, especially mid-mouth. The fruit is rich, concentrated, and moderately dense (but not as dense/heavy as that of the 2000 Le Petit Cheval as I vaguely remember). Lush and loamy dark plum, very ripe black cherry, good dose of licorice, slight truffle, bit of vanilla. This is still relatively young, but already entertaining if one cannot/will not wait.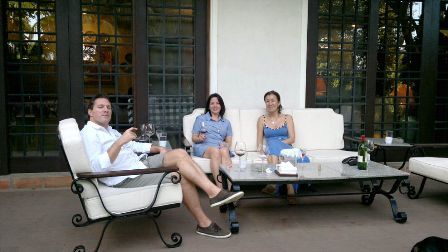 More wine & some Cuban H. Upmann No. 2s outdoors.
The children got back from the club just before 6:30pm, and our guests then took their leave as the kids still had some homework for the next day. It was such a pleasant, relaxing, and convivial Sunday lunch. Richard is off to Switzerland this week, but I am sure we will do this again soon. Until the next!