Ok, ok, so I'm nearing the half-century mark and am entitled to a slip or two in memory, especially during November when wine events fly fast and furious. Having somehow mixed up my dates despite Cyrille's clear SMS message otherwise, I showed up at
Impressions
last Tuesday night, 13th November 2012, two days ahead of a scheduled wine-pairing dinner. Since we were already there, we stayed for dinner.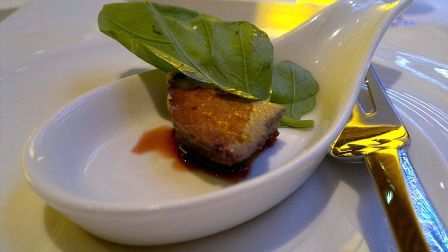 Amuse bouche
Catha had the special "Perfect 10 Menu" which is made up of 7 tasting portions of Impressions' most sought-after dishes (a bargain at a mere P2000+/person); while I ordered
à la carte
. Having mistakenly anticipated a pre-arranged wine pairing event, I brought no bottles of my own, so, ordered off the restaurant's wine list - something regular readers will know I rarely do (well, unless I'm out of the country anyway).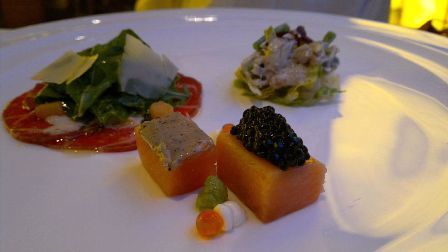 Catha's 1st course was composed of a combined platter of three dishes:
Crab with Romaine Salad, Celery, Green Beans and Green Apples Tossed in Truffle Mayonnaise Dressing
;
Duo of Salmon "Demi Deuil": Marinated Salmon with Truffle Sauce and Smoked Salmon with Herring Caviar, Green Pea Hummus
; and,
Beef Carpaccio, Arugula Salad with Parmesan Cheese and Dijonnaise Sauce
.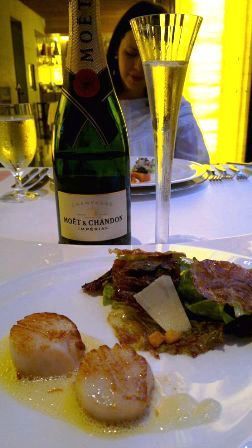 I started off with a dish of
Pan-Fried Scallops Salad with Citrus Dressing and Crispy Smoked Ham
. Excellent, the scallops seared to perfection and the crispy smoked ham lent textural and flavor contrast to the refreshing salad.
For our respective first courses, I ordered a bottle of the basic and ubiquitous
Moët & Chandon Brut Imperial NV
- straightforward, but undeniably fresh, pleasant, and easy to drink. Very acceptable. On the list at around P3700/bottle, it was a surprisingly good deal considering the venue. Unless one is particularly set on more complexity or another champagne for starters and/or with appetizers, one might as well just order this off the list.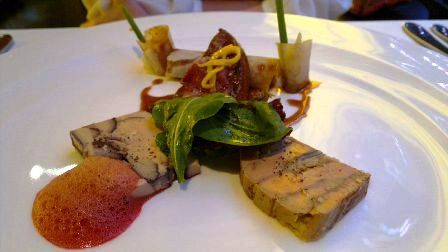 Catha's 2nd course was composed of another trio:
Seared and Lacquered Duck Liver, Mango Rougail Roll in a Crepe with Plum Sauce
;
Duck Liver Terrine de Foie Gras de Canard, Grilled Eel
; and,
Terrine of Duck Liver Medoc with Mesclun Salad and Beetroot Foam
.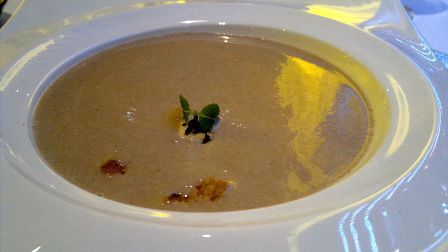 My soup course was the
Porcini Cream Soup with Duck Liver Flan, Truffle Cappuccino and Crispy Chestnut
.
Perhaps because he felt sorry for my obvious embarrassment in coming two days early, Cyrille kindly sent us a complimentary dish each of
Fresh French Morels & Chanterelles
, the supply of which had already been delivered that day for the coming special menu. It was superb in its discreet, creamy earthiness, and simply begged to be paired with a mature 1er cru Chassagne-Montrachet - a Morgeot, to my mind.
None being on the list, and my coming empty-handed, we made do with the champagne, which, again, was a pleasant enough pairing, cleansing the palate while brightening and cutting the dish.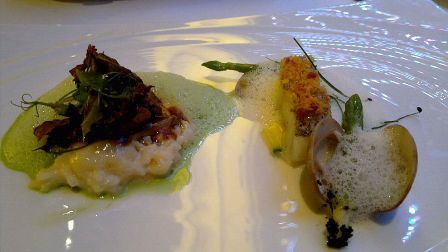 Catha's 3rd (Main) course was a duo of
Veal Sweetbread with Truffle Risotto and Porcini in Parsley Cream Sauce
; and,
Steamed Cod Fish, Crumble of Chorizo with Ginger and Lemongrass Emulsion
, with which she continued with the champagne.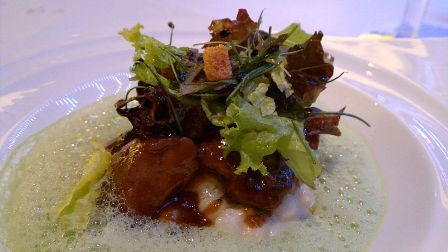 Because of a photo Richard posted of Impression's
Golden Veal Sweet Bread with Truffle Risotto and Porcini in Parsley Cream Sauce
, I simply had to have it for my main course - and, for that...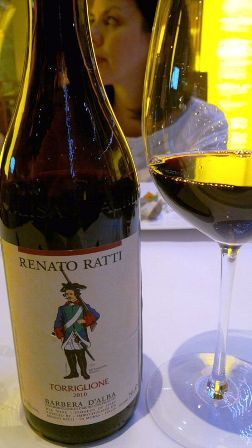 ...I ordered a glass of the
2010 Renato Ratti Torriglione Barbera d'Alba
(a respected and reliable Piedmont producer, and, since Barbera d'Albas don't really need much age, a logical choice from Impressions'
vin au verre
selection).
Poured from a bottle uncorked before me, it was firmly structured with pleasantly spicy dark berries, licorice, and red fruit. Notable and typical acid lift and cut - which provided a nice foil for the ris de veau and creamy risotto. Very commendable for a choice of red by the glass to pair for such an indulgent savory dish. At around P500/glass - poured generously (I had to tell them to stop) - it is a no- brainer to get off the wine list, most likely even by the bottle.
My main course was, by the way, absolutely heavenly, the aromas of which alone would
almost
satisfy my lust for it. If one is into sweetbreads, then this is not to be missed.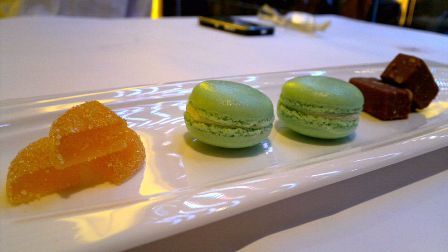 Friandises
: the
Mint Macarons
being my favorite.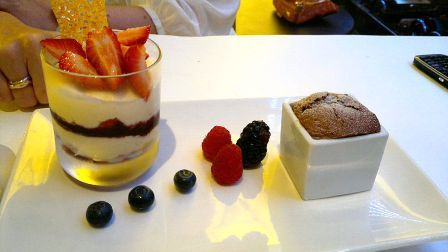 For dessert, Catha's menu included
Strawberry/Mixed Berry Tiramisu; and, Dark Chocolate Soufflé with Coconut Crème Anglaise
...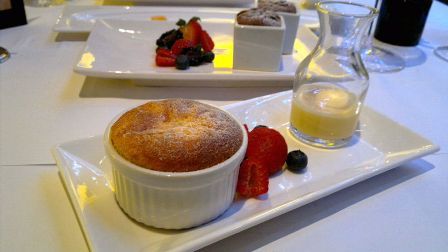 ...while I ordered the
Lemon Soufflé with Berries. Cyrille also kindly sent us over some extra Dark Chocolate Soufflé with Coconut Crème Anglaise
(in the background) to boot. It was a very enjoyable Tuesday dinner, however unintended. With Cyrille at Impressions' helm, how could it not be? Until the next (blog entry)!