The welcome but extended presence of my family before Christmas and after New Year facilitated the consumption of many different wines, including sweeties, which are difficult to accommodate when we are just two. We were able to compare similar but different wines at the same meal. I have already posted on Christmas and New Year wines and here are some others.
Most of the food we served during this period, other than the fish dishes, called for robust reds. For example there were a duck cassoulet, various serving of remains of the capon and its stuffing once lightly curried and lasagne with meat balls in tomato sauce.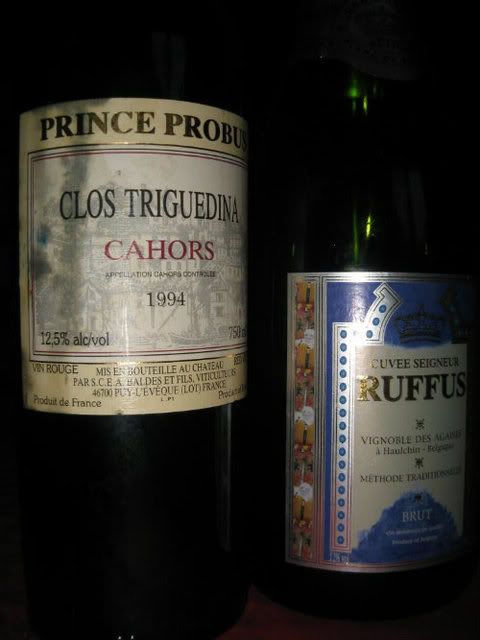 Cuvée Seigneur Ruffus brut Vignobles des Agaises
(near Mons, Belgium), made from Chardonnay by the "méthode traditionnelle". I received this bottle as a thank-you for an engineering translation and was full of hope. However, it was too lean and acidic to give real pleasure. Almost fair 13.5/20.
Cahors Prince Probus 1994 – Clos Triguedina
– Alc.12.5%. Judging by my then TN, this was much better than a bottle opened in 2009 which was drying out. There were aromas of fine fresh red fruit, including raspberry, and some clay together with typically Cahors notes of wet leather and liquorice. The palate was fuller than that of the 2009 bottle and as complex as and less oaky than good bottles of the 1995 with Cahors tang and elegant austerity. Very good 16.5/20.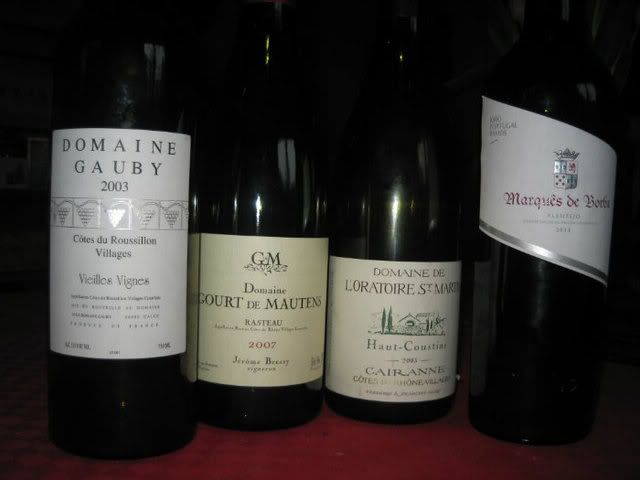 Côtes du Rhône Villages Cairanne Haut-Coustias 2003 – Oratoire St.Martin
Alc.13.5% was deeper and sweeter but less harmonious than in most vintages and showed more signs of incipient decline than I recall from the 98, 99 and 00 at a similar age. Good 15.5/20.
Côtes du Rhône Villages Rasteau 2007 – Gourt de Mautens
– Alc.14%. Reports claim that Bressy's style at Gourt is becoming more elegant and harmonious. Perhaps 2007 is not the right vintage with which to test that because this was full, sweet, concentrated and powerful but there was complexity together with good backbone and acidity. Better than the somewhat cloying 98 and 00, which I may have kept too long. Very good 16.5/20.
Amarone della Valpolicella Classico 2004 – Brunelli
– Alc.15%. I'm not a big fan of Amarone and I was expecting this to be more over the top than the Gourt but, in spite of its enormous alcohol, it actually tasted fresher and leaner than the Gourt but with less interesting complexity. Good 15.5/20++.
Alentejo 2011 Marquês de Borba, João Ramos
– Alc.14%, made from Syrah, Tinta Roriz, Trincadeira. Another powerful wine which aroused some complaints about rusticity but I liked that in the context of its tangy vigorous sweetish fruit and modest price (<€8). Good 15/20.
Côtes du Roussillon Villages Vieilles Vignes 2003 – Gauby
– Alc.13.5%, made from Carignan 35%, Grenache 25%, Mourvèdre 10%, Syrah 30%. Compared with the Oratoire Cairanne above this Gauby has coped much better with the torrid heat of 2003. There was some attractively rich, deep and complex fruit but more freshness with marked minerality and acidity and the overall effect combined some power with harmony and elegance. Very good 16.5/20.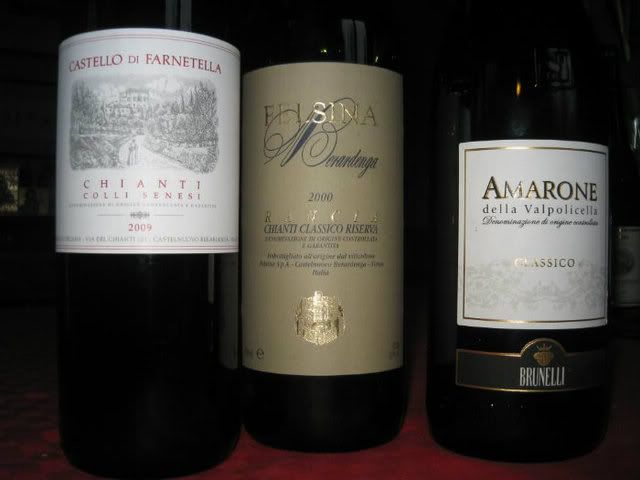 Chianti Colli Senesi 2009 – Castello di Farnetella
(owned and managed by Fèlsina) is always a reliable entry level Chianti; this 2009 seemed smoother textured and less acidic than usual though retaining nice Chianti tang and grip. Good 15.5/20.
Chianti Classico Rancia Riserva 2000 – Fèlsina Beradenga
– Alc.13.5% was naturally deeper and more complex, more structured and more tangy with some secondary nuances coming though but it did move me as Rancia sometimes does. Nevertheless very good 16.5/20 but more in most vintages.
Lastly here are pics of some delicious quaffs from the Loire on whose merits I have already written elsewhere.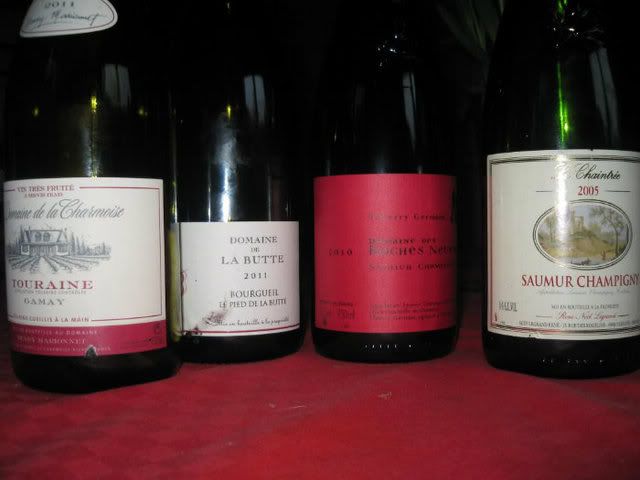 TNs on whites and sweeties follow separately.