I continue my survey of festive wines with whites and sweeties.
First two Spätlesen which illustrate what I look for in that prädikat, namely gentle ethereal sweetness balanced by racy acidity with slightly more weight than Kabinett. These are becoming increasingly rare (like true Kabinett) with the growing tendency to downgrade wines of Auslese must weight to these lower categories.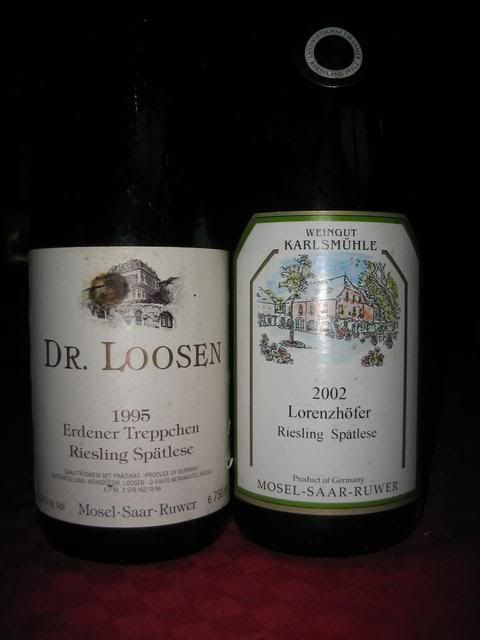 I know that I risk expulsion from the ranks of serious Mosel lovers by liking a wine from
Dr. Loosen
but his
Erdener Treppchen Riesling Spätlese - 18 – 1995
– Alc. 8% was delicious; brightly focussed fruit and minerals with bracing acidity and discreet backbone making me barely conscious of the sugar alongside secondary aromatic undertones and a dab of petrol. Excellent 17.5/20.
Lorenzhöfer Riesling Spätlese – 13 – 2002 – Karlsmühle
– Alc.8.5% was a wine in a similar vein but slightly rounder bodied and more tender with less backbone and focus. It has come together better than a bottle drunk and noted in 2009. Very good 16.5/20.
Here are two very good bone dry whites.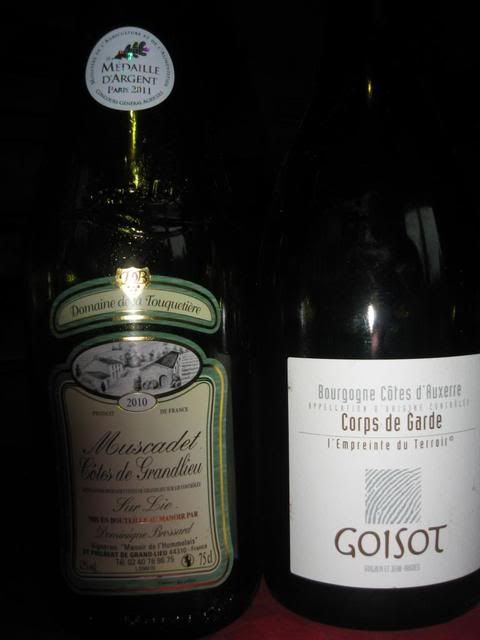 Muscadet Côtes de Grandlieu sur lie 2010 – Domaine de la Touquetière
– Alc.12 – (c.€10 for 3) was maybe a touch crisper than the 2009 and equally mineral showing salt and iodine notes, together with some juicy fruit and a touch of "gras" and it complemented perfectly the "moules marinières" (mussels), a typically Belgian dish demanded by the family before their return to exile. Good 15.5/20+++
QPR!!!
.
Bourgogne Côtes d'Auxerre Corps de Garde Chardonnay 2010 – Goisot
– Alc.13% - showed superb tension, focus and minerality and is an excellent Chablis substitute. Very good 16/20.
And some excellent sweeties –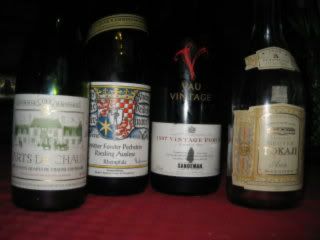 Tokaji Azsù 5 Puttonyos 1988 – Château Megyer
– Alc.13% - was rapidly substituted for a corked Côtes de Duras moelleux and proved far superior than a pristine bottle of that wine could have been. It was complex, concentrated and unctuously sweet with a butterscotch undertow but was beautifully balanced by lively moreish acidity which gave it a certain elegance. This was a wine from the communist period and Tokay is said to be doing much better nowadays but it is hard for me to see how. Excellent 17.5/20.
Quarts de Chaume 2000 – Baumard
13.5%. This Anjou chenin from a mediocre vintage was delicious; medium bodied with notes of minerals, wax and apricot and showing marked sweetness with enough acidity for balance. It was less concentrated but more refreshing than the Tokay and New Year's Rayne-Vigneau. Very good 16.5/20.
1997 Vintage Port Vau Vintage – Sandeman
– Alc.20%. This was the wine which taught be how exuberantly attractive vintage port can be in its first youth. At the beginning of its 16th year (still quite a youngster), it had retained most of its exuberant fruit and had civilised its tannins which nevertheless remained attractively firm. Excellent first with Stilton and then with chocolate. My last bottle, alas. Very good 16.5/20.