Today is my second son's, Lorenzo's, 19th birthday. Since he is spending the whole day and into the night with his friends, we had a small family dinner in anticipation of the occasion last night at
Impressions
- just the 5 of us. Lorenzo chose the venue. He also chose Impressions as the venue
for his birthday dinner last year
.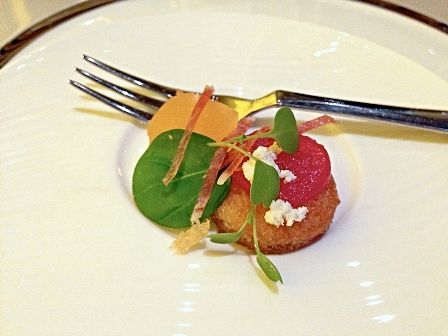 The delectable and visually stunning
amuse bouche
.
Earlier yesterday, Impressions Executive Chef (and good friend) Cyrille Soenen texted me saying that he had a fresh delivery of special French oysters for dinner that night - which was most timely, as the birthday boy loves fresh oysters.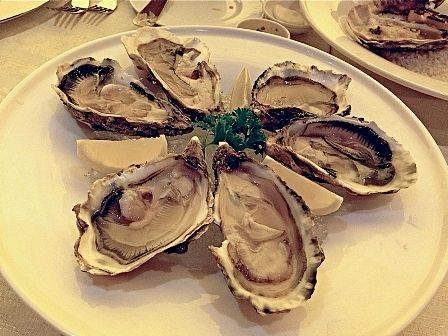 All fresh:
Gillardeau
,
Speciales de Claire
, &
Royale Cabanon
.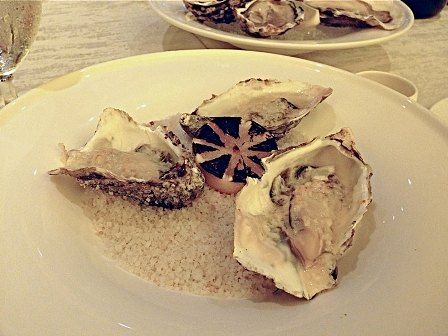 Catha prefers hers baked.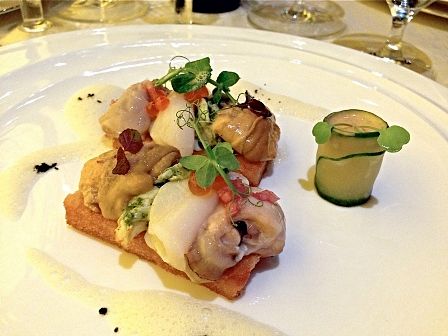 Lorenzo, Mauro, & I had an order each of the excellent as always
Tartine Iodée of Scallops, Sea Urchin, & Oysters topped with Salmon Roe & Microgreens, and Sea Urchin Parfait in Cucumber
- the oysters, in this case, being fresh
Belons
also flown in from France that same day.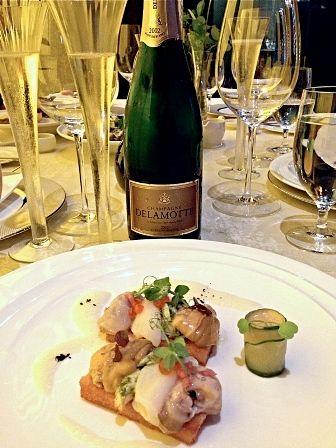 With the fresh shellfish courses, we enjoyed flutes of
2002 Champagne Delamotte Blanc de Blancs Brut
- As stated in previous posts, Delamotte is the sister company of the legendary Salon, both of which form part of the Laurent-Perrier Group. Like Salon, Delamotte makes vintage blanc de blancs (i.e., 100% chardonnay) in particularly years; though, unlike Salon which makes only blanc de blancs, Delamotte has other lines of champagne.
Initially bright, and quite tight, showing exuberant, fine white mineral-laced crisp green apple, quince, with lemon/citrus jutting out a bit (especially towards the back), after around 20-30 minutes of breathing, the subject bubbly fleshed out, and gained rounded heft very nicely - revealing underlying brioche, slight lemon curd, and honeyed & buttery whispers to the dominant fresh green apple, pear, and citrus flavors. Very fine over-all performance. Although still obviously young, it is undoubtedly a beauty that is already enjoyable with a bit of breathing time, and will surely improve for many, many more years (
nb
: locally distributed by
Premium Wine Exchange
at P5500/bottle full retail).
While in its initial quince and lemon/citrus tight stage, it went well with the fresh oysters, in its fleshed out, roundedly hefty stage it also paired well with...
...Catha's
Foie Gras
course...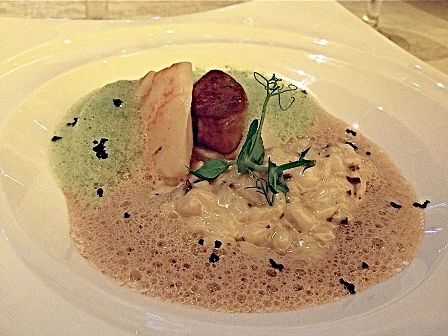 ...and Joaqi's
Seared Scallop Risotto w/ Sea Urchin Foam
course.
The evening's main courses were as follows: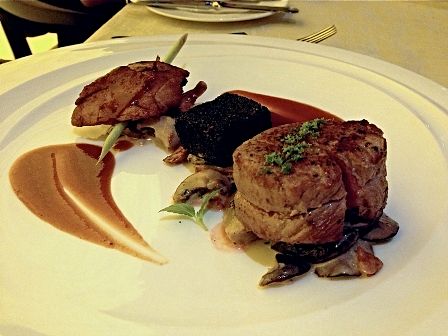 Catha's
Veal & Sweetbreads w/ Cromesquis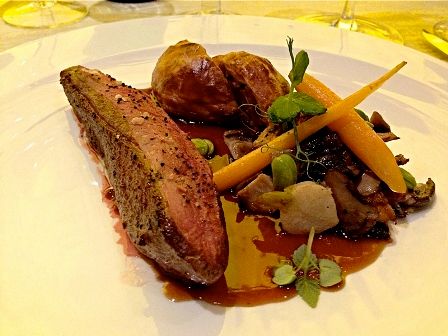 Lorenzo's
Magret de Canard w/ Mini Pithiviers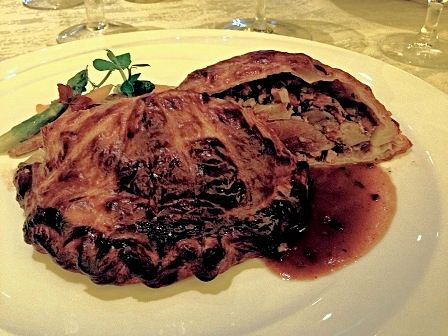 Joaqi's
Pithiviers of French Pigeon w/ Foie Gras & Duxelles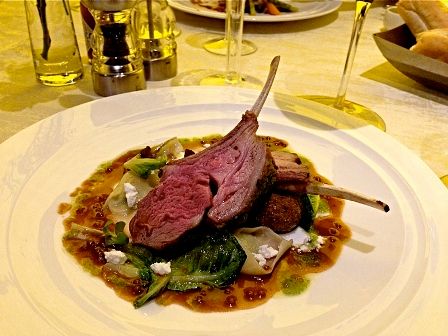 Mauro's
Roasted Lamb Rack & Lamb Tenderloin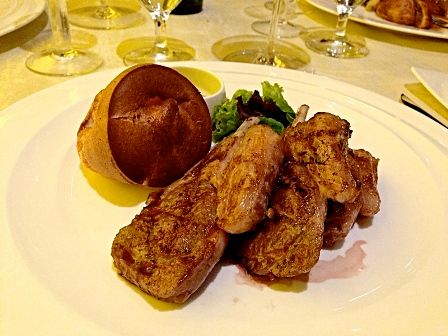 My
Grilled Lamb Chops
...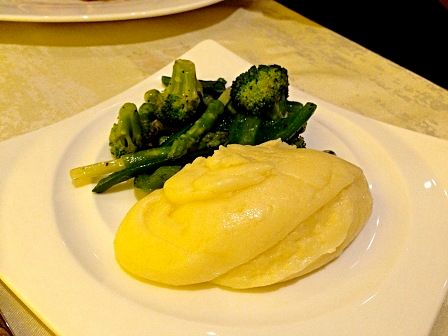 ...with sides of
Mashed Potatoes & Vegetables
(para healthy).
For the main courses, I poured a bottle of
1995 Bodegas La Rioja Alta Gran Reserva 890
- I decanted this for aeration the moment we arrived, so it had been breathing for well over an hour by the time we got to it (the recent past 2 bottles I've had of this -
Alex's
and
J-Lab's
- were popped-and-poured). From the get-go, the wine's nose was stylish and proud as always, with rich, spiced dried/dark fruit, laced by creamy coconut & vanilla notes (showing its considerable aging in American oak), and touches of aged balsamico and cedar.
In the mouth, it was, as before, full-bodied, as stylish as its nose, with marked loam, dark minerality, and a bit of fig, balsamico, vanilla, and cocoa in the rich, concentrated dried/well-ripened dark fruit. Long, strong, and confident. Quite a beauty (
nb
: locally distributed by
Premium Wine Exchange
at P6500/bottle full retail).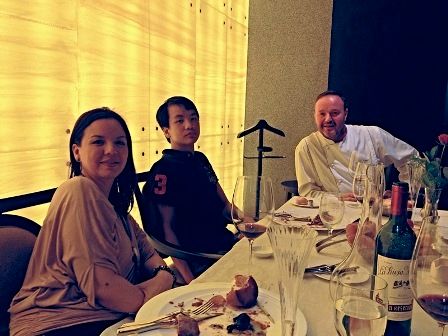 Cyrille joined us for a glass of the red, and, later, for a bit of bubbly.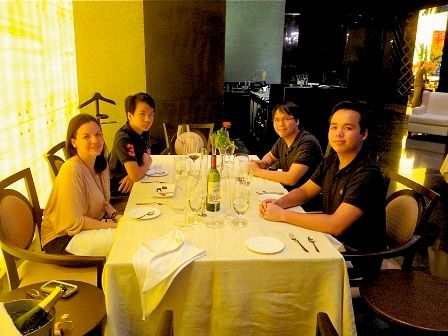 Catha & the boys.
Nicole explains each of the...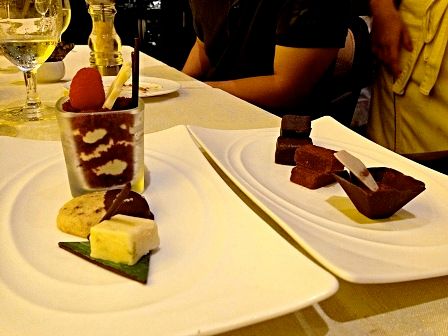 ...
mignardises
she made for the night.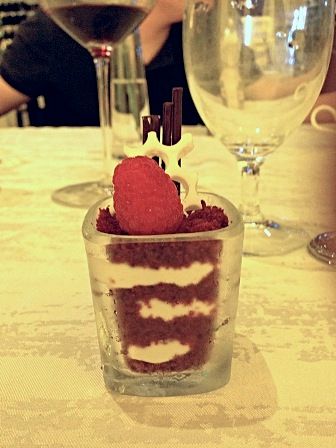 This
Mini-Layered Red Velvet
she made for Joaqi.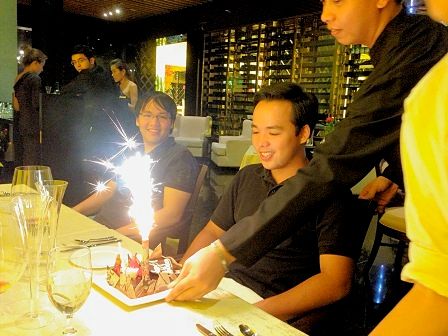 A sparkling birthday cake for the birthday boy!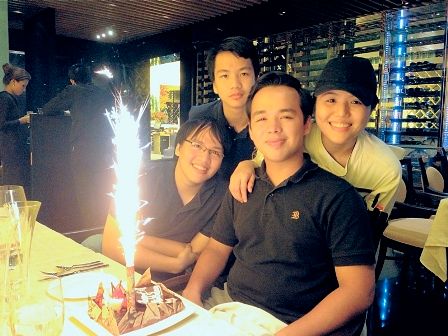 The boys have always been very close to Nicole. Always so nice to see that it continues even now.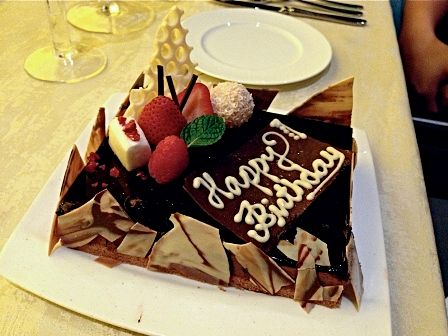 Lovely, rich, indulgent, silky chocolate goodness.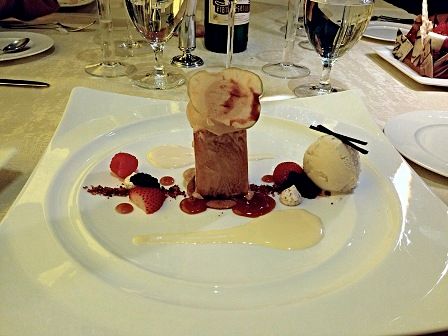 Other desserts were a couple of orders of
Crispy Apple
...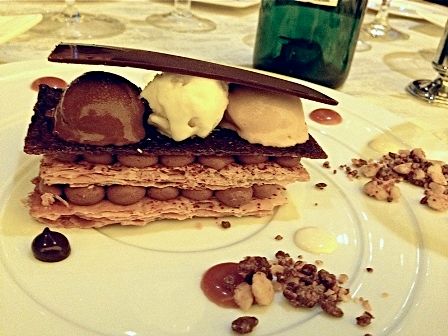 ...and some wonderful
Tentation du Chocolate
.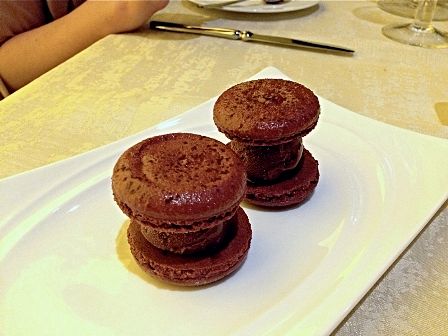 A couple of Nicole's
Dark Chocolate Macarons & Gelato
for me.
Excellent meal as always at Impressions! Great choice, Lorenzo, & happy birthday again! We all wish you all the happiness for many, many more years to come! Thanks again to Cyrille, Nicole, & Team Impressions for yet another wonderful night! Until the next!