The
River Ebro
is Spain's longest river, rising from Fontibre, a town in the province of Cantabria, crossing, among others, the regions of La Rioja, Navarre, & Aragón, on its way southeast to Tarragona. This past June, JC de Terry, spent 3-weeks' vinous and gastronomic research throughout said regions, staying at various, artisanal farms and visiting lesser-known wineries and vineyards, all of which depend on the Ebro.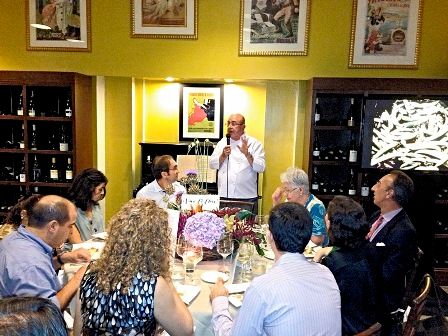 Literally getting his hands dirty while working alongside the farms' crews from dawn 'til dusk, JC deepened his knowledge of the various local ingredients that go into making the regions' most treasured dishes. Inspired by the trip, he decided to bring the best of said regions' best back and feature these culinary delights in a series of special dinners. Arduous months were spent importing the meticulously chosen ingredients, re-creating the dishes he learned, adding his own touches thereto, and dreaming up wine pairings as only he can.
All these resulted in a 2-week long festival during which limited quantities of the featured regions' cheeses, vegetables, hams, sausages, wines, and many others are available for purchase at the various Terry Selections outlets. In addition, said festival is highlighted by a series of special dinners orchestrated by JC himself, the first of which was an inaugural dinner at
Terry's Segundo Piso
on Thursday, the 16th September 2013.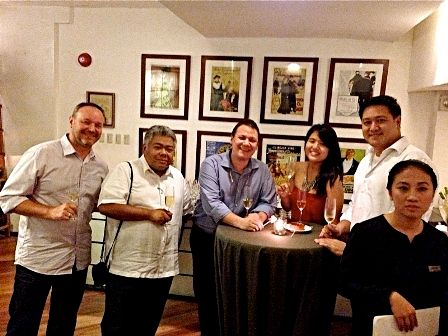 Cyrille, J-Lab, Miguel, Nicole, & Alex
Jo & Aaron with J-Lab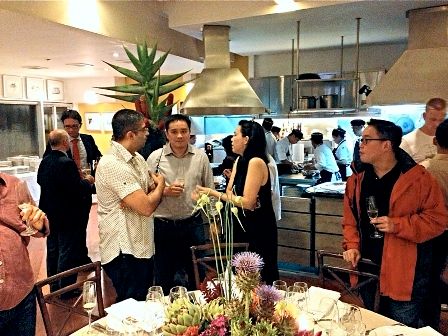 Sanju, Rommel, & Alicia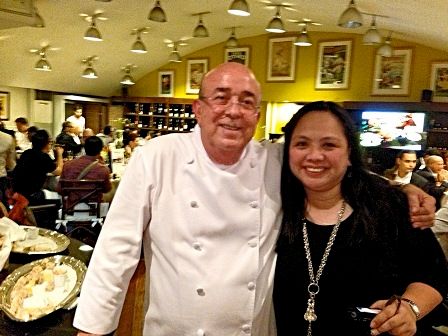 JC with Chowhound Cyrene
The 60 seats for the inaugural dinner were snapped up quickly. Fortunately, I was able to secure barely a dozen seats for myself and fellow aficionados of Spanish cuisine and wine.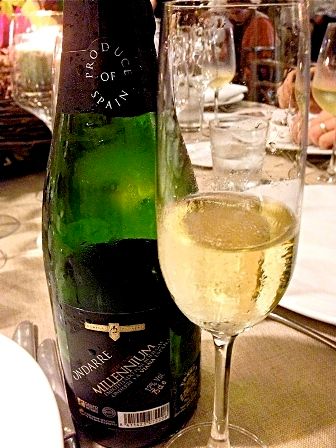 Those lucky enough to attend were greeted with constantly refreshed flutes of
Bodegas Ondarre Seleccion "Millennium" Brut Cava
- a bright, light-footed sparkling wine made in the
méthode champenoise
from 100% viura grapes from Rioja. Showing flavors of crisp green apples, citrus, a touch of white minerality, it expands towards the back palate with a long, appetizingly dry citrus and grapefruit finish. This lively Riojan cava was served with endlessly refilled pass-around trays of silken, tender, moist, and addictive...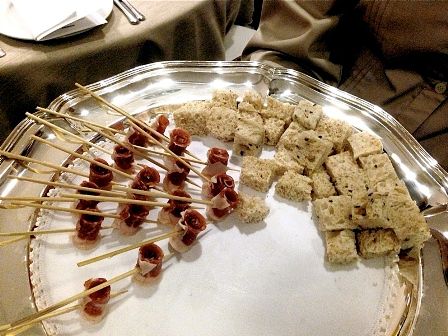 ...
Airesano Jamón de Teruel D.O. Gran Reserva
...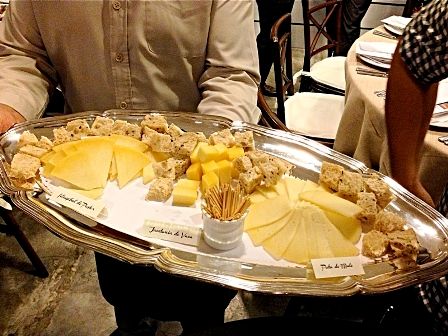 ...and delicious cheeses from three different provinces:
Idiazábal de Pastor
,
Jacetania de Vaca
, &
Pata de Mulo
.
The journey proper began at the Ebro river's origin with an amuse bouche of a
Sphere of Fontibre Blue Cheese on a Bed of Diced Tudela Pears Infused with Balsamic Cream
...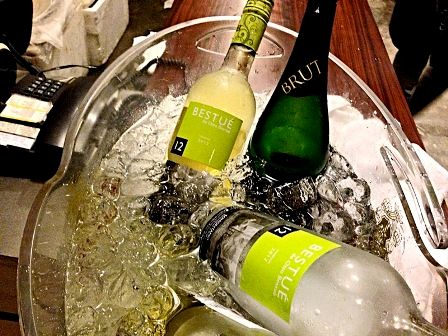 ...served with well-chilled bottles
2012 Oto Bestué Chardonnay-Viognier
from Somontado D.O., the intense apple and pear flavors of which mirrored that of the blue cheese's diced pear base.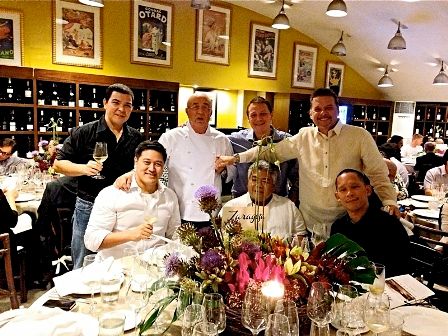 Several of the Usual Suspects attended.
Miguel, Johnny, & Nicole.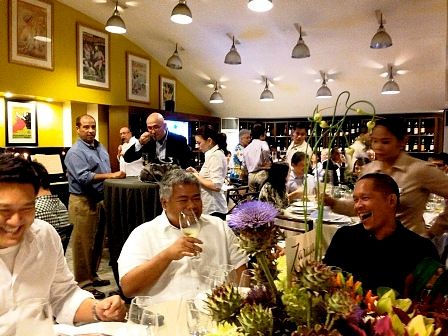 Alex, J-Lab, & Jojo laugh it up.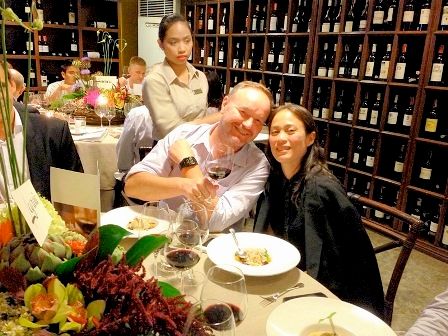 Cyrille & Anna enjoying a night off from their own restaurants.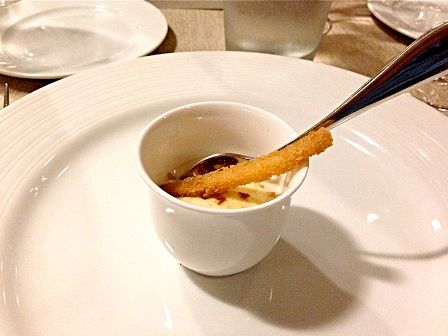 La Catedral "Cardos" in Almond Béchamel topped with Crispy Fried Egg Cream
followed shortly.
JC hands-on prepares for the next dish.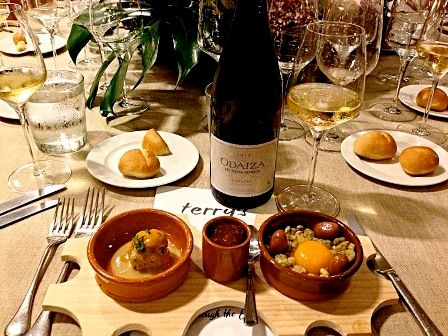 Next was a stunning trio of dishes of small, delectable
Truffled Longanizas by Melsa over Young Lima Beans and La Catedral Leek Tips Confit; Melsa Pyrenese Beef Longaniza on Baby Potatoes & Pine Nuts Moistened with Cherry Tomato Consommé; and, Tempura of Tudela Artichoke Stuffed with Presa Ibérica Sprinkled with a Cumin-Ñora Pepper Sauce Enriched with Picón de Tresviso Cheese
.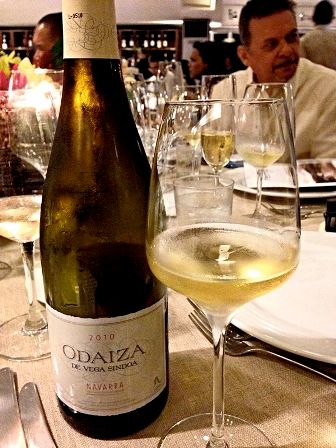 The pairing wine was the lithe and light-footed, palate-cleansing single vineyard
2010 Nekeas Odaiza De Vega Sindoa Chardonnay
from Navarra D.O.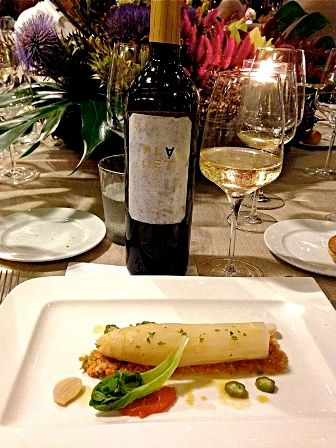 The large, tender, juicy
Navarran Asparagus over Arbequina Vinaigrette infused with a Balsamic Aroma of Banana Confit
was a studied presentation in fine ingredients speaking for themselves. This was deliciously simple, and simply delicious, especially with the buxomly ripe, yet pure and well-focused
2009 Placet de Valtomelloso
by world-renowned Spanish winemaker Alavaro Palacios.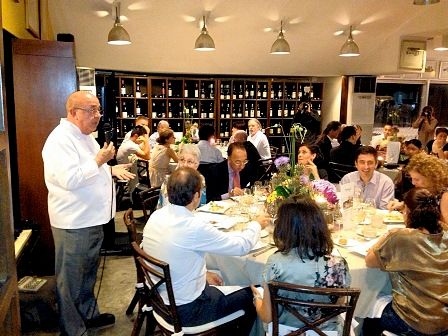 JC passionately explains each dish in great detail.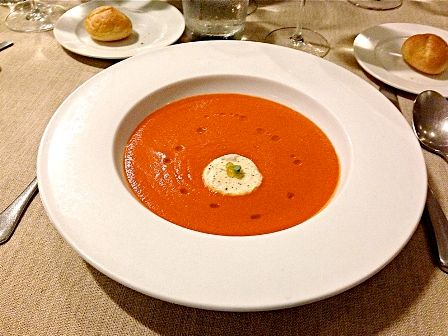 Diners' palates lulled by the asparagus' fresh, bucolic charm were perked up by the dynamic red spiciness of the
Piquillo Pepper Gazpacho with Kokotxas Quiche
.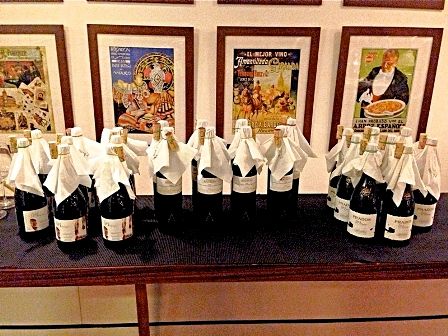 The reds breathing gently since the morning.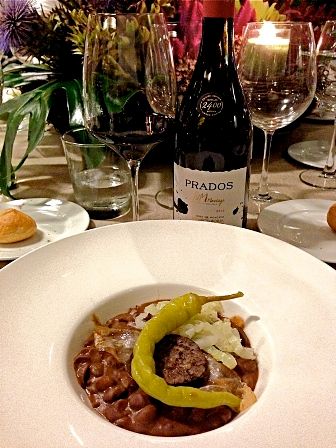 Having had just a small sandwich for lunch, I was in good form for the robust, yet contemplatively earthy masterpiece of virtually molten
Black Beans enhanced with Morcilla and Cured Pancetta with Pimentón de la Vera
, paired with an equally robust, unabashedly forward, super-concentrated and jammy
2011 Pagos de Moncayo Prados
from Campo de Borja D.O.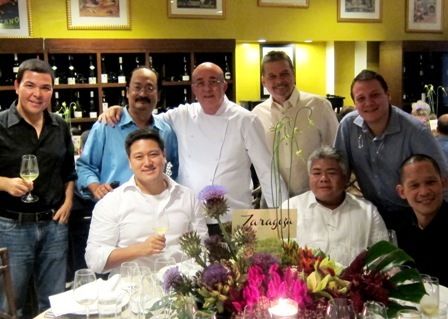 JC with The Usual Suspects (photo by Cyrene de la Rosa)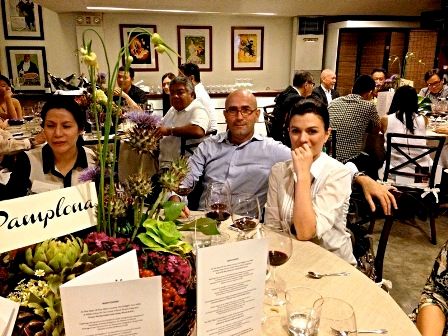 Javi & Lexi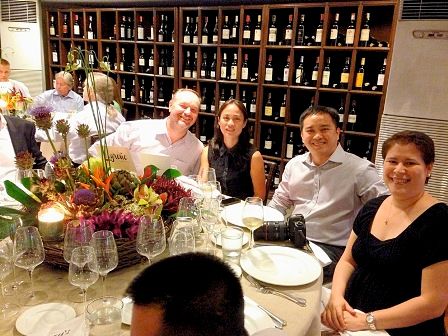 Cyrille & Anna, with Rommel & Cris.
The place was packed for the event.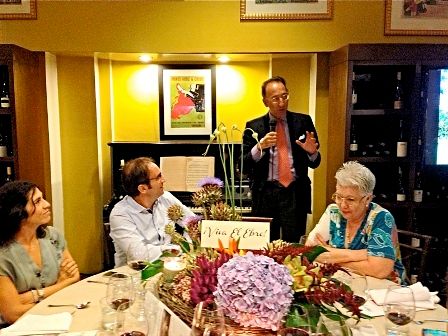 Spanish ambassador, H.E. Jorge Manuel Domecq Fernández de Bobadilla, says a few words.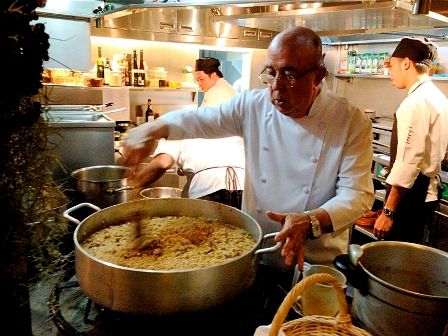 JC back in the kitchen for the next dish.
Pan to plate...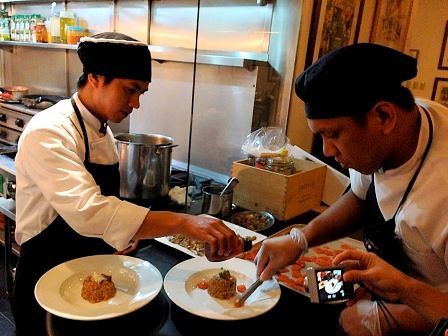 ...finishing touches made...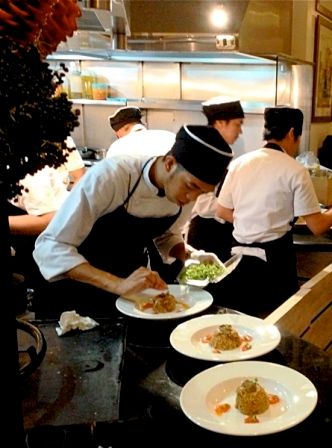 ...by Team de Terry...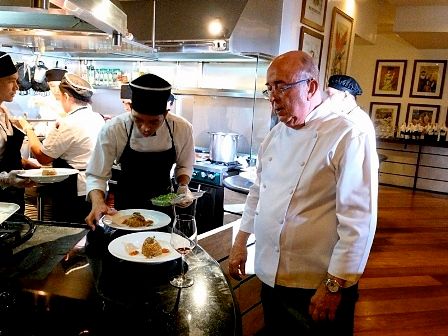 ...always under JC's watchful eyes...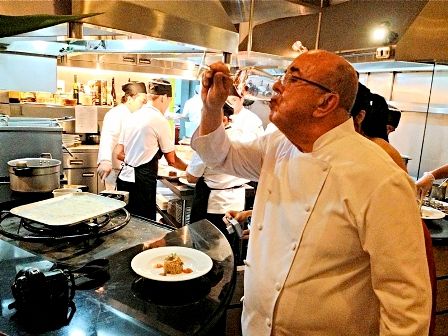 ...and guiding palate for wine pairing.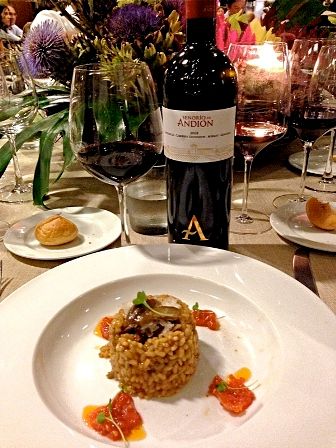 To ensure survival until dessert, I regretfully ate only half of the alluringly gamey penultimate course of smooth
Chilindrón Risotto cooked with La Catedral Wild Boletus crowned with Shepherd's Roncal Cheese
. With this was the notably ripe, comparatively more ready
2008 Señorío de Andión
from Navarra D.O.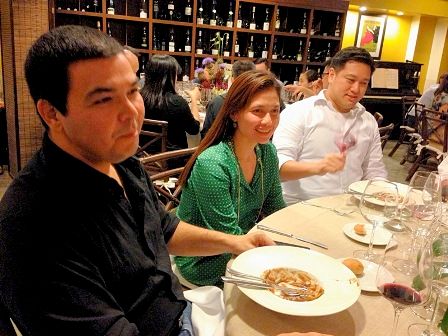 Jim & Alex look like they're about to burst.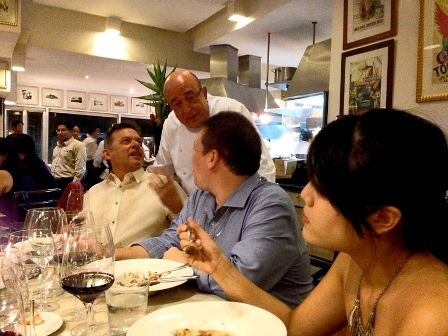 JC chats with Johnny & Migs as Nicole munches on.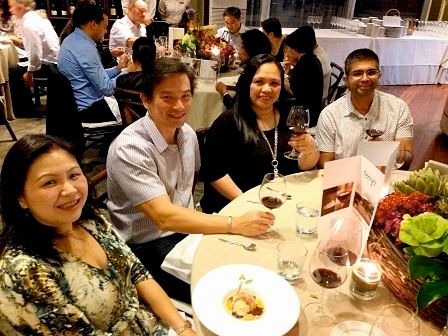 Cyrene & Sanju apparently still in fine form...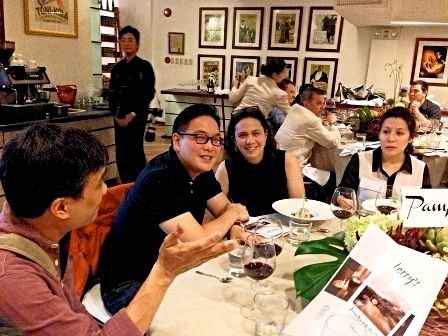 ...as seem Chris and Alicia as well.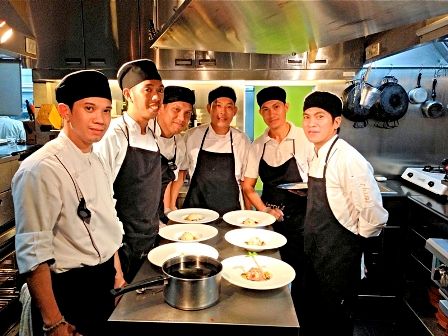 Team de Terry ready to make dessert.
Efficient and precise, like a well-oiled machine.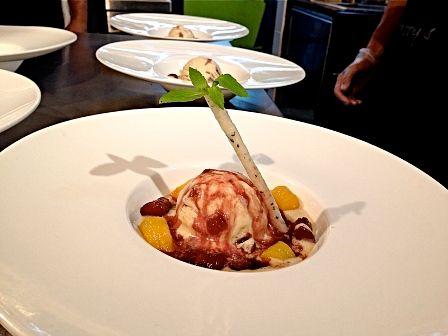 My half-hearted attempt at moderation was handsomely rewarded by a tour de force of
Peaches from Calanda D.O. & Goat's Milk Tronchón Ice Cream amidst Peach Cubes, embraced by Grenache Wine Syrup
...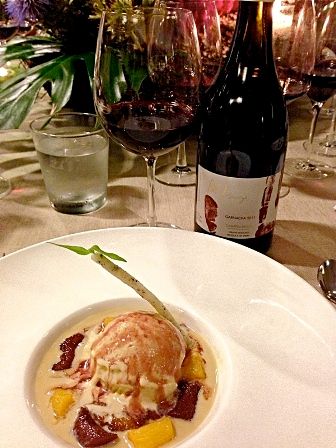 ...served,
naturalmente
, with the typical, yet stylish
2011 Pagos de Moncayo Garnacha
from Campo de Borja D.O.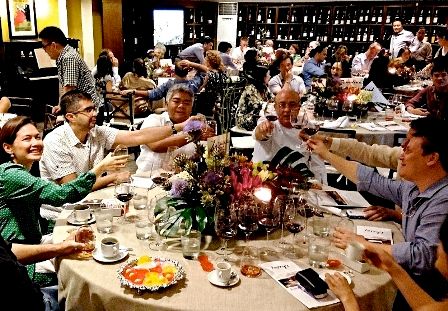 ¡
Salud
! A joyous and educational culinary adventure; and, indeed, it was an auspicious start of yet another successful festival.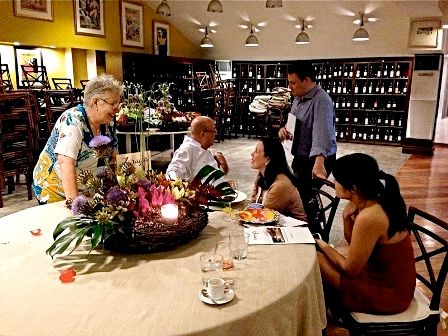 Catha arrived much later from a dinner with her high-school friends, joining us for the quiet aftermath with a tired JC. We were the last to leave (as usual). ¡
Mil gracias, Juan Carlos, y hasta la próxima
!