Red wine and fish
The old saying about "red wine with red meat, white wine with white meat" is such consistently useful advice that it's sometimes worth a periodic reminder that it isn't always so.
The basic rule is worth remembering, because you just about can't go wrong by ordering Cabernet Sauvignon with a steak or Chardonnay with lobster. Or Chianti with spaghetti and meatballs and Zinfandel - red, of course - with a juicy burger. These are good things to know, particularly for a nervous wine novice wrestling with a restaurant wine list.
But how about chicken, with its light breast meat and dark thighs? Or pork, "the other white meat"? Most of these dishes will go delightfully with red wine
or
white, and your choice of sauce or side dishes may weigh more heavily in the balance than the meat itself.
The ultimate in-your-face exception to the rule, though - so much so that it was the title of a purportedly cheeky and daring wine-matching book of the '80s - is "Red wine and fish."
If there's any dish that seems obviously made for white wine, it's seafood and fish: Sole, cod, haddock, scrod, scallops, lobster and crab are all delicate, white-fleshed items that you'd expect would lose their identity against the competition of a dark and hearty red wine.
But take a look at a slab of salmon ... or a bluefish fillet, a chunk of mackerel, a slab of tuna, a sack of mussels. That's not white! Darker, stronger-flavored fish can easily stand up to red wine, particularly if you choose a more delicate, fruity and non-tannic red. In the classic pairing, fresh wild salmon goes so well with Pinot Noir that many wine enthusiasts wouldn't consider a white with this noble fish. Well ... an excellent Oregon Pinot Gris, maybe, but still ...
Tip the scales even further, if you will, by looking up French and Italian recipes for white fish poached or braised in red wine, a preparation that demands a glass of red ... perhaps the same wine used in the recipe.
The moral of today's sermon should be obvious: Know the rules, but don't be afraid to break them. It's OK to drink what you like.
Today's featured wine, an excellent Pinot Noir from Santa Barbara - the California wine region that gave Pinot its 15 minutes (and more) of fame in the movie "
Sideways
" - made a brilliant match with a juicy, literally "beefy" yellowtail tuna steak.
<table><tr><td>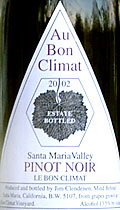 </td></tr></table>
Au Bon Climat 2002 Santa Maria Valley Pinot Noir "Le Bon Climat" ($17.99)
This is a very dark garnet wine, clear but not transparent. The aromas define classic Central Coast Pinot Noir, plums, cherries, an unobtrusive dash of warm spice and a hint of "cherry cola." Big, juicy and ripe, fruit-forward but nicely balanced, with pleasant earthy notes that become more evident as the wine opens up in the glass. It's frankly not as "Burgundian" as some of Au Bon Climat's Pinots, but the brown spices and cola character, which can become overbearing in some of the region's Pinots, are held in proportion here as flavor accents. It's an amiable, pleasurable Pinot. (April 7, 2006)
FOOD MATCH:
Makes a great "red wine and fish" match with an excellent yellowfin tuna steaks, crusted with black pepper and black mustard seeds, pan-seared
meuniere
-style and sushi-rare at the center.
VALUE:
Not a cheap wine, but a very fine value in the upper teens.
WHEN TO DRINK:
Drinking beautifully now and not really meant for long-term aging, but I wouldn't hesitate to hold it for a year or two on the wine rack or several in a temperature-controlled cellar.
WEB LINK:
Au Bon Climat is finally online, with an easily navigable
Website
that offers online ordering and a wine-buying club (in states where the law allows).
FIND THIS WINE ONLINE:
Look up prices and locate sources for
Au Bon Climat Pinot Noir on Wine-Searcher.com
.