(From today's 30 Second Wine Advisor)
What ever happened to corks?
Pulling the cork from a wine bottle the other day, I suddenly realized with surprise that I was actually pulling a
cork
.
A
real
cork, that is. In that "Eureka" moment, I suddenly realized that it had been a long time since I encountered a whole, natural cork, as opposed to a metal screw cap, synthetic (plastic) stopper, or "technical" cork made of reassembled cork granules treated to deter "cork taint."
Natural cork is still around, all right. Industry surveys
like this 2015 report in Wine Economist
, using data from a
survey by Wine Business Monthly (registration required)
, suggest that more bottles are stopped by cork than with all the alternative closures combined.
But the gap is shrinking, Wine Economist writer Mike Veseth reports, with cork down from 70 percent to 50 percent of wineries, while screw cap use has increased from about 10% to 30%, technical cork is up from about 20% to 30%, and synthetic closures are roughly stable at about 10%. (The numbers add up to more than 100% because many wineries use more than one closure for different wines, often reserving carefully selected natural cork for the most high-end products where the cork tradition remains strong.)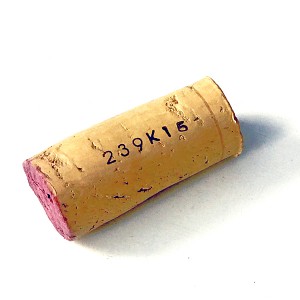 Confusing the issue further, Veseth points out, "Natural Cork is #1. So are Synthetic Closures. Discuss." How's that? Simple: "The devil is in the details. ... The unit of analysis for the Wine Business Monthly survey is the
winery
, whether it is big or small, which changes up the conclusions you might otherwise draw. Many more wineries use natural cork, but many more bottles of wine here in the U.S. are sealed by synthetic closures." The 10 percent of wineries that use synthetics include such giants as Gallo. So, "about half of all wine bottled in the U.S. comes with a synthetic closure even though only about 10% of wineries surveyed use it."
Perhaps I'm not seeing as many natural corks as in the past because I don't buy much expensive wine? Could be, but I'd guess that the wines I usually report here are about equally divided between screw cap and technical corks like DIAM, with much smaller incidence of either plastic stoppers or ... natural cork.
We've come a long way since the early years of the
Wine Advisor
, when on Nov. 1, 1999, almost 18 years ago, I wrote a then-edgy piece,
"Farewell to the cork?
" in which I talked about screw caps, synthetics, and even beer bottle-style caps as rarities that might, someday, gain market share in the fight against cork taint. The passage of time makes me look like quite a prophet now. I only wish I were that good in my stock-market picks.
What do you think? Are you seeing less natural cork? How you feel about that?