(From this week's [30 Second Wine Advisor)
What if my wine freezes?
Last year was the second-warmest year ever (or at least since reliable record-keeping began 138 years ago),
NASA scientists reported yesterday
.
The only hotter year on record was 2016.
But climate is not weather, so we can't find any relief from fears of a warming climate in the icy reality that the past few weeks in the Eastern U.S. and Canada have been as cold as the proverbial well-digger's elbow.
The ice caps are melting, wildfires are raging, built-up coastal areas are threatened by rising water, and monster storms are threatening almost everyone.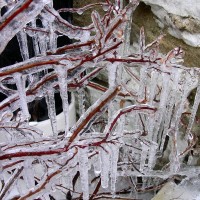 But it's really cold outside right now, and this raises a serious wine-related question: What happens if I forget and leave a bottle of wine outside in my car when the temperature drops close to zero?
The good news is that wine contains alcohol, so – like antifreeze, only less so – it will not freeze at 32°F or 0°C. Depending on the alcohol level in the wine, it will start to freeze around 15–F, maybe even a little less so for a powerful wine like the Evodia or the Sherry featured below. What's more, unless you're stationed in Antarctica, it will likely freeze into a slushy slurry rather than a solid block of wine popsicle.
But this is not entirely reassuring. First, once the wine starts to freeze, particularly as the temperature drops below these margins, you run a risk that the cork will push out, or worse, the bottle will shatter, a bad thing not only for the wine but your upholstery.
Even at less threatening sub-freezing temperatures, though, there's a secondary risk: Cold storage, even a little above freezing, prompts tartrate crystals to precipitate out of the wine. You may have seen evidence of this in a collection of glassy white or pink crystals stuck to the cork of a bottle of wine, signaling that at some point it's been kept too cold. This is why fancy wine cellars try to maintain a constant temperature around 55°F (13°C) and set off alarms if the temperature significantly rises
or
falls.
Pulling tartrate out of the wine alters its acidic balance, rendering it less tart, more soft and bland. A small amount of crystals may not be significant, but longer exposure to cold will change the wine, and not for the better.
Broken bottle, lost cork or altered wine: These are not good things. If you ever realize around midnight that you've left a bottle stashed in the trunk, I recommend going out to get it, even if this does involve putting on a parka and snow boots.
Or remember to bring in your wine in the first place.