Good cheap Bordeaux
Earlier this month, when I announced the "Bargain Bordeaux" theme for April in our
Wine Tasting 101 Forum
, I made the rather cynical, if arguably accurate, observation that the quality that distinguishes high-end Bordeaux trickles down only spottily to the more affordable price ranges, adding, "Tthere's no really polite way to say that much of low-end Bordeaux is plonkish at best."
I'll stand by that remark as a general rule. But the good news is that there are always a few exceptions to prove the rule. For today's report, let's examine a couple of them - a decent red Bordeaux that I purchased for well under $10, and a very attractive white Bordeaux that sold for just a bit over that price point.
It's interesting - and possibly not coincidental - that both these wines were from the much-debated 2003 vintage, the record-hot summer in Europe that yielded hugely ripe fruit that made many offbeat wines that lovers of classic style and "typicity" found bizarre. It should be noted, though, that most observers didn't find the 2003 Bordeaux quite as crazy as some of the truly wacky '03s from places like Burgundy and the Loire.
Today's tasting also suggests another generalization: In more normal vintages, the problem with "lesser" Bordeaux in normal vintages is usually
under
-ripeness, producing thin, lean, tart and herbally "green" wines that aren't easy to like. Perhaps the heat-wave vintage that pumped up the more desirable vineyards to almost California-style ripeness had the unanticipated but happy side effect of bringing the less-favored vineyards up to the mark.
Could be ... at least, based on this experience, I'll be a little more open to trying very-low-end '03 Bordeaux. At this price point, it's not much of a risk.
<table><tr><td>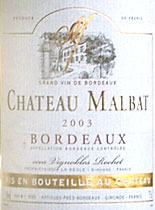 </td></tr></table>
Chateau Malbat 2003 Bordeaux ($8.99)
This is an inky blackish-purple wine, almost opaque. Simple but pleasant, it shows typical Bordeaux aromas of blackcurrant and cedar, with subtle herbal background notes. Ripe, rather full black-fruit flavors show the fruit-forward character of the 2003 vintage, but there's plenty of zippy acidity and soft tannins to hold things in balance. If it's a bit on the simple side, it's definitely a cut above most generic Bordeaux, and a noteworthy bargain for this low-end price. U.S. importer: International Gourmet Corp., Tucker, Ga. (Nov. 30, 2005)
FOOD MATCH:
Fine with pan-seared lamb chops, a classic partner with red Bordeaux.
VALUE:
Absolutely no complaints at this price; you'll be hard pressed to find a drinkable Bordeaux for less.
WHEN TO DRINK:
Not a Bordeaux meant for cellaring, although its good balance of fruit and structure should hold it for at least a few years.
FIND THIS WINE ONLINE:
Find vendors and compare prices for
Chateau Malbat on Wine-Searcher.com
.
<table><tr><td>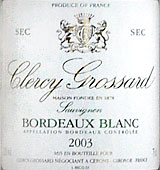 </td></tr></table>
Clercy Grossard 2003 Bordeaux Sauvignon Blanc ($11.99)
The wine is pale and almost transparent, but it flashes glints of bright gold against the light. Its aromas and flavors are simple but fresh, melons and citric lemon-lime, characteristic young White Bordeaux. So crisp and clean that it seems light at first, but an attractive medium- bodied texture becomes apparent on the mid-palate. Its typical White Bordeaux blend consists of 90 percent Sauvignon Blanc and 10 percent Semillon. U.S. importer: Eurowinegate N.A., Manhasset, N.Y. (April 16, 2006)
FOOD MATCH:
Its crisp acidity, simple fruit and slightly creamy texture made it a surprisingly good match with Easter ham.
VALUE:
A fine buy at the just-over-$10 price.
WHEN TO DRINK:
Only the best White Bordeaux reward aging; enjoy this one over the next year or so.
WEB LINK:
I can't immediately find information about Clercy Grossard on
the importer's Website
, but there's plenty of information about a variety of wines and producers.
FIND THIS WINE ONLINE:
There's no information about Clercy Grossard on Wine-Searcher.com, suggesting that this negociant wine may have been a one-time production. If you're keen to track it down, I suggest contacting the importer at the Web link above.