Right Bank Bordeaux
When we talk about Bordeaux, as we're doing a lot this month with our focus on the great French wine region's budget-level wines in
Wine Tasting 101
, there's a strong tendency to focus on the Médoc.
This gravelly, low-lying peninsula, extending north of the city of Bordeaux along the Left Bank of the Gironde River, is the repository of much of the region's wine history and heritage; and the lion's share of Bordeaux's more pricey and sought-after wines - those identified as "Grand Cru" or "great growth" in the great Classification of 1855 - come from there.
But Bordeaux bargain-seekers will do well to cross the river (and its upstream tributaries, the Garonne and the Dordogne) in search of value. With a few notable exceptions (such as the remarkably pricey Chateau Pétrus, the grand Chateaus Cheval Blanc and l'Angelus, and such late-coming "cult" wines as Chateaus Le Pin and Pavie), the Right Bank appellations offer relatively fertile ground for value-seekers.
What's more, the Right Bank
cepage
(blend of grapes) is usually dominated by Merlot and Cabernet Franc, with the Cabernet Sauvignon that stars on the Left Bank taking a back seat. This yields wines that tend to be more approachable and even mellow than the stereotypically hard and austere Left Bankers.
Unlike the Médoc classification, which has been essentially fossilized for over 150 years, St. Emilion's classification system is relatively modern, having originated just 50 years ago; it's updated every 10 years, making it a bit more difficult for a producer to rest on ancient laurels. Only a relative handful of chateaus qualify for the top-rank "Saint-Emilion Premier Grand Cru Classé" and the second-tier "Saint-Emilion Grand Cru Classé." But hundreds of properties, including today's featured wine, make the grade as Saint-Emilion Grand Cru," so while it's far from an exclusive title (in confusing contrast with Burgundy), it does indicate that the wine has passed a certain standard. If the price and the vintage are right, it's usually a safe buy.
<table><tr><td>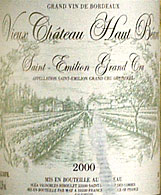 </td></tr></table>
Vieux Chateau Haut Béard 2000 Saint-Emilion Grand Cru ($20.99)
This is an inky blackish-purple wine with a reddish-violet edge. Spicy cherry-compote aromas add an herbal back note reminiscent of oregano or classic Bordeaux "lead pencil." Flavors are consistent with the nose, black cherries, lean and tart; good fruit and herbs on a structure of fresh-fruit acidity and smooth tannins. An earthy but clean whiff of leather appears with time in the glass. U.S. importer: Ex-Cellars Wine Agencies Inc., Solvang, Calif. (April 17, 2006)
FOOD MATCH:
A fine match with lamb chops pan-roasted with fresh rosemary and a hint of fresh ginger.
VALUE:
Considered as a quality Bordeaux or as a quality Merlot blend, it's more than fairly priced either way.
WHEN TO DRINK:
It's not a long ager, and it's certainly drinking well now, but fruit, acid and tannins suggest that it can be kept, and may evolve, for at least another five years under good cellar conditions.
PRONUNCIATION:
Haut-Béard
= "
Oh Bay-ahr
"
WEB LINK:
The chateau's somewhat homespun but enjoyable and informative Website is published in French and English.
Here's the English-language start page
.
FIND THIS WINE ONLINE:
Look up prices and locate sources for
Vieux Chateau Haut Béard on Wine-Searcher.com
.