A rosé blooms in January
I don't know about you, but when I think about pink wine - if I think about it much at all - it strikes me as a wine for summertime, to be sipped chilled with alfresco fare, or by itself to take the steam out of a sultry July afternoon.
But who drinks rosé in midwinter? Not me! Or not, at least, until now.
The other day, I spotted a few stray leftover bottles of last summer's best pink wine, Edmunds St. John "Bone-Jolly" Gamay Noir Rosé, looking lonely in my neighborhood wine shop.
"Summer wine," I thought, nostalgically. I shrugged and went home. Couldn't get it out of my mind. Thought about it a little more. Put my coat back on, hiked back up to the corner store and picked up a couple of bottles.
Later on, I picked up one of my treasures and held it up to the light, remembering how
this
rosé was no wimpy pale pink wine but a cherry-red beauty almost dark enough to pass for a red. A Pinot Noir, say.
Hmm.
Come to think about it, where is it written that a pink wine
must
be served chilled? Time to challenge the conventional wisdom!
I threw together a casual dinner of beans and smoked sausage, earthy flavors that I thought would merge well with the Gamay rosé's Beaujolais-style fruit, and popped the wine in the fridge for just a half-hour, no more, only long enough to bring it down toward cellar temperature but far from cold.
The results were splendid. The wine had aged hardly at all under its sturdy screw cap since
my last tasting in April
, at the peak of springtime. Serrved just cool in January, my notes were generally consistent, although the wine's acidity was more evident and a bare trace of tannin was lost. Crisp, tingling acidity is no flaw in a table wine, of course; if anything, it seemed even more food-friendly, more like a light red than a pink.
I might not try this with a lightweight, delicate rosé. But I'd gladly do it again with a sturdier pink wine, from Domaine Tempier to Mas de Gourgonnier from France or Melton Rosé of Virginia from Australia, to name a few.
Have you tried serving hearty-style rosé at warmer temperatures as a substitute for a light red wine? Tell us about your experiences!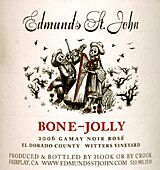 Edmunds St. John 2006 Witters Vineyard El Dorado County "Bone-Jolly" Gamay Noir Rosé ($18.99)
Clear, pretty herry color, on the dark side for a rosé. Fresh strawberry scent and an underlying heady, tropical note reminiscent of papaya. Bone-dry, freshly acidic; mouth-watering acidity really shows at this warmer serving temperature, not that there's anything wrong with that. I noticed a faint touch of tannic astringency last spring that's not showing now, but fruit, structure and balance make this an inviting "light red" for any time of year, even a chilly January evening. (Jan. 11, 2007)
FOOD MATCH:
Fine with a down-home dish of Florida butter beans turned into a quick barbecue-bean dish with smoked sausage, sauteed onions and garlic and black and red pepper.
VALUE:
Bone-Jolly sells locally for a dollar or two
more
than the winery price, so you may be able to find it for less. I'm still willing to pay at this level for one of the best rosé wines I've ever enjoyed.
WHEN TO DRINK:
As with most rosés, freshness adds to the delight. But the body, balance and character of this wine - and the sturdy screwcap - should keep it going strong for at least a couple of years and maybe more.
PRONUNCIATION
Gamay
= "
Gam-ay
"
WEB LINK:
Here's a fact sheet about the Bone-Jolly Gamay Noir Rosé on the winery's Website:
[url=http://www.edmundsstjohn.com/wines/2006-bone-jolly-gamay-noir-rose-witters-vineyard.html]http://www.edmundsstjohn.com/
wines/2006-bone-jolly-gamay-noir-rose-witters-vineyard.html[/url]
FIND THIS WINE ONLINE:
Distributors in many states of the U.S., Canada, the UK and Japan are listed on this winery page:
http://www.edmundsstjohn.com/WhereToBuy.html
Check prices and find vendors for Edmunds St. John Bone-Jolly Gamay and Roséon Wine-Searcher.com:
http://www.wine-searcher.com/find/Edmun ... g_site=WLP