Recession, inflation
There's been a lot of talk lately about inflation and economic recession, and we've been responding in recent weeks by focusing many of the wines featured in these pages at the $10 point or even below.
Even $10 is a bit of a shock to those of us who remember when the cutoff between "affordable" and "special occasion" wines fell around $5. If inflation in wine prices doesn't quite approach the shock of gasoline at $3.50 to $4 a gallon in the U.S., it's startling enough, and prompts wine lovers to watch our budgets a little more closely than we might have done in the past.
To put a number on just how inflation is affecting our wine buying habits, we've resurrected the old Wine Lovers Voting Booth and invite you to select the point at which budget discomfort begins for you in the wine shop. The poll invites you to check off the most you're comfortable paying for a bottle of "everyday" wine: $5, $10, $15, $20, $25, $30 or even more?
To ensure a meaningful result, I hope as many of you as possible will take a moment to
click to the Voting Booth
and select the choice that feels right for you. (If you're outside the US, simply guesstimate the conversion between your local currency and US dollars.)
Then, if you'd like to discuss this issue in more detail, come back here and post your comments in this discussion topic.
Now, here's my recommendation on another good $10 wine: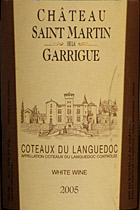 Château Saint Martin de la Garrigue 2005 Coteaux du Languedoc Blanc ($9.99)
Clear straw color. Simple white fruit, citrus and a hint of almond; a "vinous" character suggests higher alcohol than the label's 13% would provide. Fresh, medium-bodied, seems richer and more complex on the palate than the nose with melon and delicate citrus with a hint of beeswax over tart acidity. The subtle flavors and sharp acidity work particularly well with the mixed toppings and cheese on an excellent veggie pizza. U.S. importer: Kermit Lynch Wine Merchant, Berkeley, Calif. (March 9, 2008)
FOOD MATCH:
A natural match with seafood or fish; fine with vegetarian fare such as my choice, primavera pizza with spinach, red and green bell peppers, red onions, tomatoes and artichokes.
VALUE:
Very good buy at $10.
WHEN TO DRINK:
Not a cellar keeper, but no rush to drink it. It should hold up well for the next year or two.
WEB LINKS:
For a brief comment on the 2006 vintage, page down to the end of this PDF newsletter on the importer's Website:
http://www.kermitlynch.com/0710-October2007.pdf
FIND THIS WINE ONLINE:
Check prices and find vendors for Château Saint Martin de la Garrigue Coteaux du Languedoc Blanc on Wine-Searcher.com:
http://www.wine-searcher.com/find/Marti ... g_site=WLP