Does a wine glass need a stem?
<table align=right width=165><tr><td>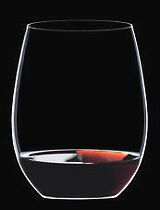 </td></tr><tr><td>
Look over Riedel "O" glasses on Amazon.com
.</td></tr></table>Certain topics are almost certain to start a joyous debate among wine enthusiasts: Are screwcaps better than cork? Is Robert M. Parker Jr.'s influence on the wine industry good or evil? Can mega-corporate industrial producers ever make great wine?
But who ever thought wine lovers could get so worked up over such the seemingly small matter of whether your wine glass needs a stem? Since I wrote about the Riedel "O" series of fine but stem-free wine glasses in
Standing O
in the Feb. 23, 2005
Wine Advisor
, the archived article has become one of my most frequent topics for E-mail questions.
Just about everyone has an opinion, and it's usually a vivid one, ranging from "glasses without stems are just plain tacky" at one end to "only wine snobs care if the glass has a stem" on the other.
Pro-stem fundamentalists cite long-standing tradition, and add that the stem keeps your hand from warming the wine in the glass and avoids smearing the bowl with greasy fingerprints. Anti-stem radicals argue that simple tumblers are good enough for
trattoria
and
taverna
, where wine-loving revelers understand that the purpose of the vessel is nothing more than to convey the precious fluid from bottle to mouth. Add wine-geek points to the Riedel O, they say, for turning the modest tumbler into something much more worthy for fine wine: An elegant crystal vessel with a properly shaped bowl, rendered casual and portable by the deletion of the fragile stem.
Just for fun, I've opened a simple poll on one of our WineLovers Discussion Group forums, inviting you to cast a simple up-or-down, yes-or-no vote on the question, "Does a wine glass need a stem?" Once you've cast your vote, I hope you'll stick around the forum to add a comment or two about your preference.
WHERE TO BUY THEM
Riedel glassware is widely available from online and bricks-and-mortar vendors, but it's hard to beat Amazon.com's current sale prices, which offer the Cab/Merlot glass at $18.99 for a pair, a 24 percent discount from the $24.90 list price. Here's a link to buy, with the usual small commission to WineLoversPage.com for
purchases made through this link
.
For a look at Amazon.com's full line of Riedel O glasses,
use this link
.
Or
use this link
for all types of Riedel glassware and decanters.