Screw cap Bordeaux
A couple of months ago (
Oct. 1, 2007

Wine Advisor
), when we were talking about emerging problems with synthetic plastic "corks" as a practical alternative to natural cork, I mentioned that the sturdy modern version of the metal screw cap, conversely, seems to be gaining market share.
"Screw caps, initially abhorred because they evoked the cheap, rotgut wines that had long been packaged with a lightweight, simple version, have been gaining ground strongly in recent years," I wrote then. "Particularly Down Under, it is becoming hard to find a white wine with any other closure, and the [screw cap] is making strong inroads among reds.
"Even in the more wine-conservative U.S. and Europe, screw caps are becoming more and more common - and wine-savvy consumers are learning to embrace them, especially as lingering concerns about long-term aging begin to fade and producers master minor alterations in the bottling process."
Still, with the limited exception of Germany and Austria, where alternative closures have become common on white wines, Europe has largely stood as the last bastion for the natural cork.
So it came as a landmark moment this week when a savvy local wine merchant (Chris Zaborowski at Westport Whiskey & Wine in Louisville) pointed out a newly arrived Bordeaux that he declared a great value at $12.
I got it all the way home before I noticed the closure. A screw cap. A sturdy, modern screw cap on a Bordeaux. A Bordeaux! A historic wine region in the heart of France, perhaps one of the most traditional, conservative wine regions in the world.
Granted, it will be a long time, if ever, before natural cork departs the market entirely. But bear in mind that it has been less than 10 years since screw caps first entered the fine-wine market to any significant degree. At that time, screw capped fine wines drew "gee whiz" media coverage because the very notion of such a downscale closure on upscale wines seemed peculiar. Screw caps have come a long way in a relatively short time.
Frankly, with the possible exception of wines destined for export, I would have expected France to be the last European country (before Portugal, the primary source of natural cork) to start putting screw caps on even low-end reds from the respected Appellation Controllee regions.
Nevertheless, Chateau La Freynelle 2006 Bordeaux bears its sturdy screw cap proudly. Better yet, the wine within is, as my trusty merchant assured me, quite a value.
Although its appellation - Entre-Deux-Mers, a broad, flat region between the Dordogne and Garonne rivers, is well separated from Bordeaux's more sought-after zones, the wine is chateau-bottled on a 225-acre property held in the Barthe family's hands since the French Revolution. Veronique Barth, who inherited the property in 1990 and is its first female oenologist and wine maker, has won numerous awards for the estate's wines. And now they're closing it with screw caps.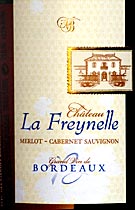 Chateau La Freynelle 2006 Bordeaux ($11.99)
Very dark purple with a clear garnet edge. Red berries and currants on te nose, attractive fruit, with just a hint of spice. Good, balanced fruit flavors follow the nose, fresh and crisp, with plenty of fresh-fruit acidity for structure and food-friendliness. Tannins barely perceptible as red-fruit flavors linger in a good, long finish. A blend of 65% Merlot, 35% Cabernet Sauvignon, made at a discreet 12.5% alcohol. Fine, modest everyday Bordeaux, and the screw cap fosters unusual freshness. U.S. importer: Republic National Distributing Co., Louisville. (Dec. 10, 2008)
FOOD MATCH:
Oven-seared natural pork chops with black pepper and a dash of pimenton (smoked paprika).
VALUE:
Even a generic red Bordeaux is a pretty good deal at just over $10, and this generic Bordeaux stands well above the median for its genre. Buy up.
WHEN TO DRINK:
Although generic Bordeaux isn't particularly ageworthy, its structure - and the screw cap - suggest it will keep well for at least a couple of years on the wine rack.
WEB LINK:
The Barth family Website is published in French and English, but it's heavy with Flash animations. With detemined clicking, you can work your way down to a page about Chateau La Freynelle, but there's no direct link. Here's the home page:
http://www.vbarthe.com
FIND THIS WINE ONLINE:
Find sources and compare prices for Chateau La Freynelle Bordeaux on Wine-Searcher.com:
http://www.wine-searcher.com/find/Freyn ... g_site=WLP