<table><tr><td>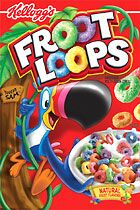 </td></tr></table>
Froot Loops
Last week, delving into those mysterious wellsprings that inform our tastes by connecting adult experiences with fond memories from childhood, I postulated that a grown-up love of minerally character in wines - that delicious subtlety of slate and stone and chalk and red clay and rainwater running over rocks - must somehow harken back to youthful fun in mud puddles on rainy days.
Today let's return to childish things, recalling how much most of us used to enjoy the crisp sugary sweetness of those bright, fruity breakfast cereals that the corporate food industry aimed right at our immature little taste buds. Even if most of us have outgrown that craving for a bowl of Froot Loops as an after-school snack, I suspect that the fruit-forward style of wine still speaks to our inner child with a quiet voice that's hard to ignore.
Featured are two fruit-forward wines: a dry Portuguese red made in the Douro Valley from Port varieties, and a Spanish red from Calatayud, near Aragon, made from the notably fruity Garnacha (Grenache) grape. Although I'm a mineral-lover myself, I find the focus on fruit in these wines appealing, perhaps because they're both nicely structured wines with good, mouth-watering acidity and a framework of tannins to support the fruit ... and perhaps, just a little, because they evoke memories of a happy bowl of Trix or Froot Loops.
ONLINE POLL:
Fruit or rocks: Which style wins our affection? Here's another quick poll in our Netscape WineLovers Community. The more votes, the more meaningful the totals, so please take just a moment to participate by
clicking to the poll
.
<table><tr><td>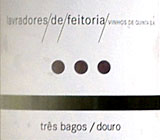 </td></tr></table>
Lavradores de Feitoria 2003 "Três Bagos" Douro ($16.99)
This is a very dark garnet wine, almost black in the glass. Port-like scents are appealing and forward, black plums and cherries and even a warm brandy-like note. The full-bodied flavor is fruit-forward, ripe black fruit and dried fruits shaped by grippy acidity and firm tannins. The similarity to Port ends at that point - it's dry, of course, and it's not fortified. But you can sense the shared heritage, and for that matter the shared fruit. U.S. importer: European Cellars LLC, Charlotte, N.C., Eric Solomon Selection. (March 27, 2006)
FOOD MATCH:
Breaking away from the obvious red meat, I fashioned a sweet'n'savory pasta dish to work and play with the wine's ripe fruit, lavishing baked penne with a "pink" sauce of ricotta and goat cheese with fresh and sun-dried tomatoes.
VALUE:
Despite my skepticism about fruit-forward wines, this one's a winner, keeping all that sunny Port fruit in perspective with splendid acidic structure and balance. Well worth its mid-teens price, and probably available for less, as I bought it at a retailer known for high markup.
WHEN TO DRINK:
Drinking beautifully now, but the Port varieties, almost ageless in fortified wine, should hold up nicely for five years or more in this dry and hearty table wine.
WEB LINK:
This link will download the importer's fact sheet
about Lavradores de Feitoria in Adobe Acrobat (PDF) format.
FIND THIS WINE ONLINE:
Find vendors and check prices for
Lavradores de Feitoria Douro
on Wine-Searcher.com.
<table><tr><td>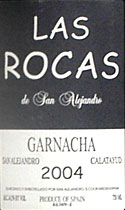 </td></tr></table>
Las Rocas de San Alejandro 2004 Calatayud Garnacha ($10)
Very dark and slightly hazy reddish-purple. The aromas are classic Grenache, a heaping bowl of fresh raspberries with "green" back notes of leaves and tree sap and a dash of white pepper. It's mostly raspberry on the palate, juicy and tart, with plenty of acidity and even a dose of scratchy tannin to save it from "fruit bomb" status. U.S. importer: European Cellars LLC, Charlotte, N.C., Eric Solomon Selection. (March 28, 2006)
FOOD MATCH:
Fine with pork or poultry or even beef, it made an excellent match with chicken in a light tomato ragù over farfalle, the dish inspired by Mario Batali's oxtail gnocchi that I featured in yesterday's 30 Second Wine Advisor FoodLetter.
VALUE:
Not a bad buy, but $10 is toward the upper end of the range of asking prices for this bottling; the Vinas Viejas (old vines) bottling goes for more.
WHEN TO DRINK:
Despite the tannins, I don't see this one as an ager. It's generally best to watch for the new arrival of this Spanish bargain every year and enjoy the current vintage while it's fresh.
WEB LINK:
This link will download an importer's fact sheet
on San Alejandro in Adobe Acrobat (PDF) format.
FIND THIS WINE ONLINE:
Look up prices and locate sources for
Las Rocas de San Alejandro
on Wine-Searcher.com.