After last weekend's overdoing it with assorted German reislings, craft beer, mixed drinks at The Blind Pig, and Long Island Iced Tea and uncounted tequila shots at Dada's '80s party, I had to watch myself for the rest of the week. Though I did have very little wine at last Monday's Les Toques Blanches Charity Dinner by Tony Khoo, and a few beers Friday night, I was watching myself (reasonably enough) the rest of the week, lest my blood pressure start acting up again.
Thus, after my regular Saturday golf game yesterday, 11th August 2012, I figured on lighter, healthier fare nearby. What better to have for light/healthy, yet tasty, grub than Japanese? To
Hanakazu
, then, just the four of us, as Joaqi was celebrating his cousin's birthday at the latter's house.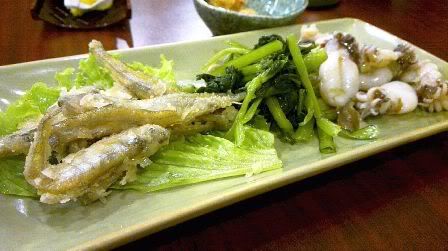 Appetizers, of which the delightful, sweetly fresh
Baby Cuttlefish
on the right was the only thing interesting.
Our usual, very efficient and knowledgeable waitress attended to us. After receiving the menus, I asked her what was on special that night, and the iced styrofoam box of special Japanese goodies was quickly brought to me for inspection. Not too much that night: no
mirugai
(i.e., Geoduck) that I was hoping for, but some large
Japanese scallops
and a few
sanmas
(a.k.a., Pacific Saury and "Mackerel Pike"). I did the ordering and we had not long to wait until our food started hitting the table.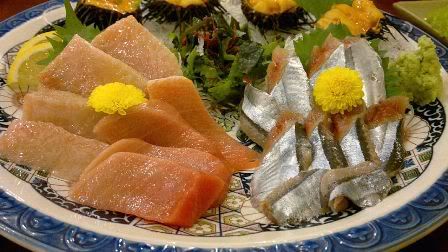 Sashimi: Japanese
Toro
&
Sanma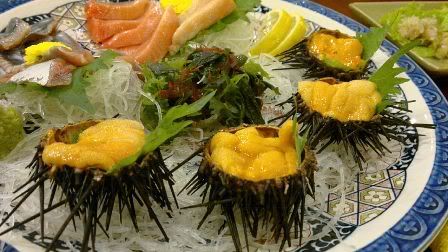 Japanese
Sea Urchin
(i.e., Uni), more expensive than local, but with a justifying world of difference in texture and taste.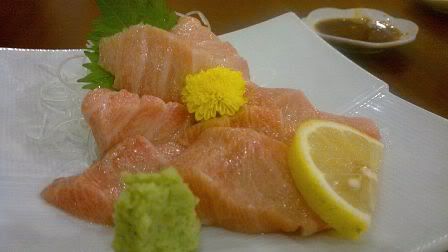 We got an additional order of Japanese
Toro
later on, this much fattier than the first.
This time, I made sure to try their
Daikon Salad w/ Goma Dressing
, not only "para healthy", but mainly because Cyrene de la Rosa and Rob Pengson had both mentioned that they like it. They were right as it really is quite nice, and I will surely have this again - a great way to eat well and healthily.
Crispy Sanma Carcass
- not only Max's fried chicken is "sarap to the bone"!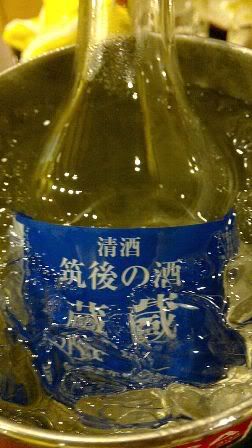 The boys and I killed a bottle of chilled saké. Catha stuck to glasses of cold tea.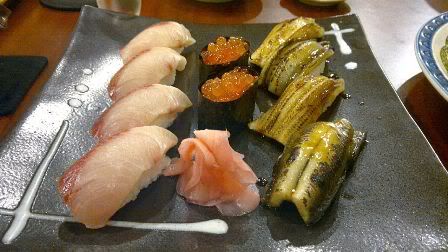 Nigiri Sushi:
Hamachi
,
Ikura
, &
Anago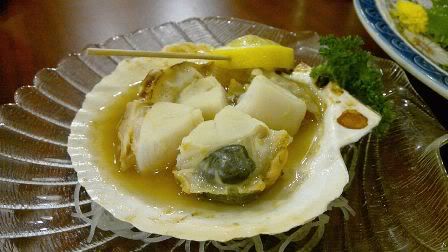 Grilled Japanese Scallop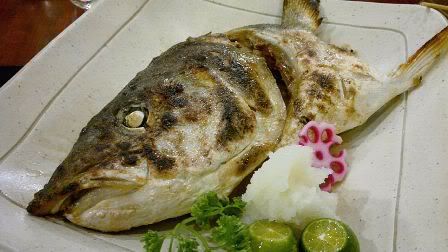 Grilled Hamachi Head & Collar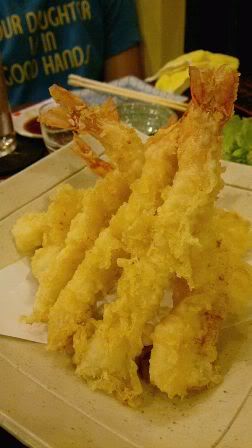 Of course, the mandatory
Ebi Tenpura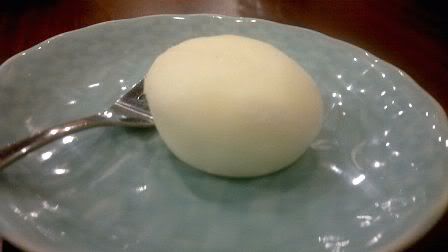 For dessert, Catha & the boys got a box each of Japanese
Mochi Ball Ice Cream
...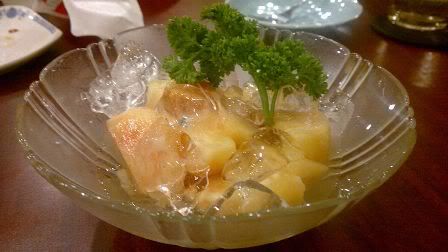 ...while I enjoyed the complimentary chilled, fresh
Japanese Peaches
that chef-proprietor Hiroaki Otsuka sent over. Loved this - the best fresh peaches I've ever had anywhere.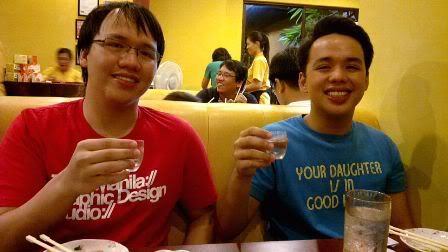 Kampai! Until the next!