The evening of this past Tuesday, the 9th October 2012, was the IWFS Manila Ladies' Branch's 11th Anniversary Dinner. To commemorate the event, the Ladies chose to have
The Goose Station
's Homage to Rizal Menu. Since my own dinner that night was postponed, and, dutiful husband that I am, I accompanied Catha (who is a board member) to the dinner. Anyway,
I've had the Rizal Menu before
, and knew it was good; plus, it was BYOB (bring-your-own-bottles) - which I always enjoy. In addition, some regular drinking/eating buddies would be there too.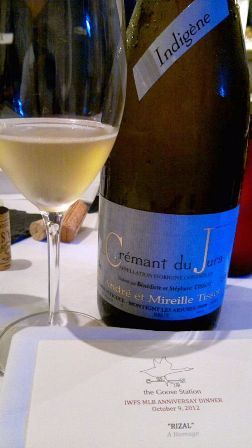 We arrived at the appointed time and were welcomed with chilled flutes of
Domaine André et Mireille Tissot Indigène Crémant du Jura
(which came with the dinner) - A very fitting welcome bubbly since the
Crémant du Jura AOC
was obtained on the same date as the dinner 17 years ago (1995) I've had this bio-dynamically produced crémant (at least 50% chardonnay per AOC regulations, blended with pinot noir) countless times and my notes have been pretty consistent throughout:
Alex's bottle; one I last enjoyed 10 months ago during

a wine lunch with Jerome Philippon at the Prince Albert

. My notes from that time are still applicable:

We started off with some bubbly of course, the Domaine André et Mireille Tissot Indigène Crémant du Jura.

I first tried this back in late November 2010

. My notes then were as follows:

Hmmm...probably my first bubbly from the Jura region that is not a predominantly poulsard-based Bugey Cerdon. Per Jérôme, this bio-dynamically produced bubbly is a champagnesque blend of chardonnay and pinot noir. Bright, vibrant and lively with well-focused, clean lines of soft, creamy apple, pear, white flowers, slight minerals and a whisper of caramel, this also presented an entertaining, underlying white chocolate- milkiness that I associate with pinot noir in young champagnes. Nice, entertaining and dangerously drinkable, this is a good and, at approximately P2500/bottle, more-or-less, full retail*, definitely affordably-priced alternative to champagne - perfect for Christmas get-togethers.

Now, almost a year later, this bubbly is as lively and charming as ever, its soft, pinot noir-milky, creamy fruit delightful to hold mid-mouth making it very easy to enjoy and drink a lot of. I actually had to hold myself back so as not to get quickly tipsy before lunch proper began. Fortunately, I did not have long to wait. (notes from 3 August 2012).
The only thing I can add now is that there is a creamy nuttiness (almond paste) to this bubbly, notably towards the back-end and through the finish.
The Rizal Menu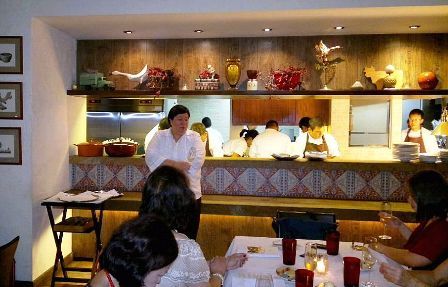 IWFS Manila Ladies Branch President, Bunny Fabella, made the opening statements...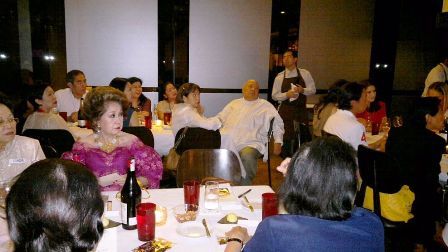 ...to the event's full house...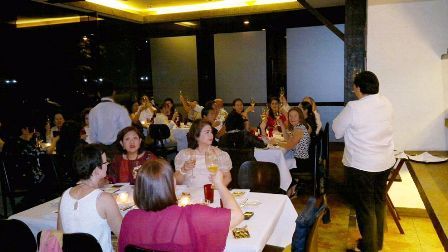 ...and toasted to their 11th anniversary.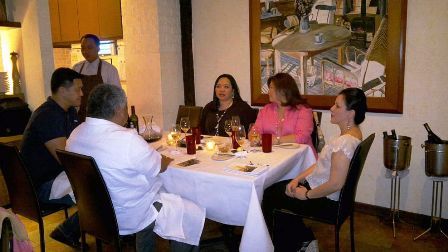 Actually, our table was already over halfway done with 2 bottles of white...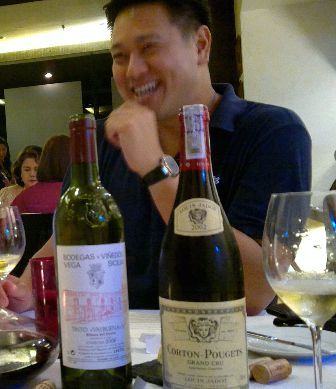 ...due to Alex Tiu's usual "eagerness" and powers of temptation.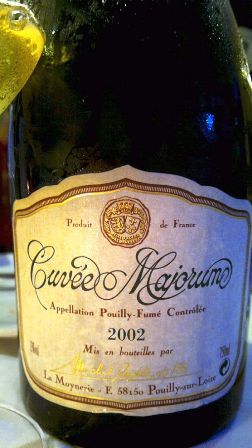 2002 Domaine Michel Redd Pouilly-Fumé Cuvée Majorum
- Alex's bottle. On the nose, initial notes of toasted wood and match stick held sway, but this blew off eventually, and were, replaced with an alluring bouquet of lightly honeyed ripe guava, hints of peach, and fragrant floral scents. These were mirrored on the palate and joined by grapefruit, gooseberry, peach pit, white minerality, cold limestone, and flowers. Quite a long-lived Pouilly-Fumé, but I'd say drink up now and soon with some good
chèvre
, bread, and maybe some dried apricots.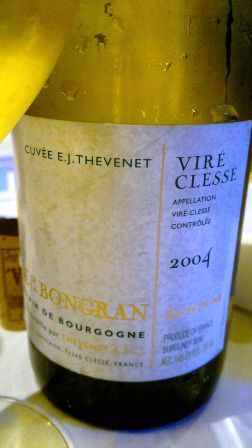 2004 Domaine de Bongran Viré Clessé Cuvée E.J. Thevenet
- also Alex's bottle. This is a nicely concentrated, charmingly curvy, slightly past medium-bodied, typically chardonnay-based white from a relatively young Mâconnais AOC (since 1999). Rounded, ripe apple, pear, bit of white peach, honeysuckle, with a nervy tension, slight minerality, underpinned by nougat and vanilla/oak. As earlier mentioned, we were already half done both above-mentioned bottles...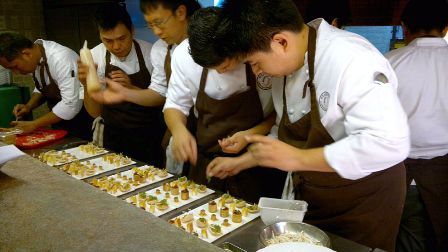 ...though the crew was still assembling...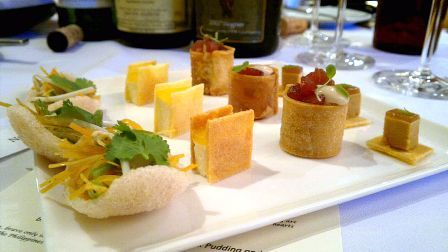 ...the
First Course
was made up of 4 bite-sized delights of
Laguna Cheese & Mango; Foie Gras-Guava Tart; Tuna Tartare "Kilawin"; and, Vegetable "Lumpiang Hubad"
. Alex said his favorite was the Lumpiang Hubad. I retorted that I wasn't surprised since he likes everything "hubad" anyway.
2007 Corté Riva Vineyards Viognier
- Jay Labrador's bottle. This was a bit of a revelation to me - the first Californian viognier I've ever had - which I couldn't help but admire. The unabashed nose reminded me of crème brûlée and lemon custard with hints of orange blossom; the palate of ripe apricot, orange, with mere hints of lychee and guava. Very fruity, yet nicely dry. Quite forward, but in a charming way. Acidity is just enough to prop up the ripe fruit. This matched especially well with the first course's foie gras component.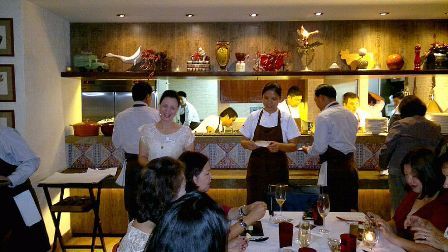 Catha then briefly explained how the subject anniversary dinner came to the Goose Station, gave a few words about the Rizal Menu, and introduced the young crew member who, in Rob Pengson's absence, would explain the phases of Rizal's life that served as inspiration for each dish...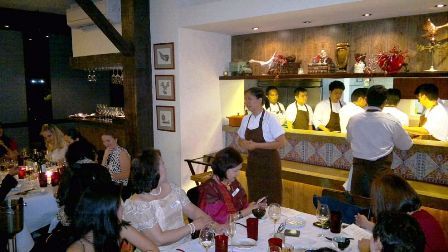 ...a task in which she acquitted herself quite well.
The
Second Course
:
Lightly Cured Tuna with Bacalao "Aioli", Coffee & Cocoa, Marinated Hearts of Palm with Green Olive Purée & Jamón Chip
.
The
Third Course
was
Scallop & Shrimp à la Plancha, Spiced Pumpkin, Fennel, Nut Crumbs, Curried Squid Ink Crackling
. With this course I served my bottle of
2010 Dönnhoff Riesling Qba
- a bright, zippy, pure, nimble, light-footed, and well-focused riesling from, for me, the best producer of Germany's Nahe region. The scallop and prawn were perfectly seasoned and precisely seared. Very well executed. The pairing was acceptable as the wine's lightly dancing, mineral-laced, barely off-dry fruit, buttressed with bright acidity, complemented the brine-reminiscent shellfish and cut the creamy spiced pumpkin.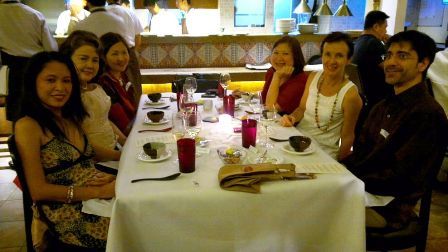 Lindy Castillo & CJ Juntereal's table.
The
Fourth Cours
e was a tribute on Rizal's being more than what he appeared to be:
Foie Gras "Taho" with Pedro Ximénez Sherry Reduction & Tapioca Pearls
. We continued with the rest of the 2010 Dönnhoff Riesling Qba, which really didn't have enough body or push for the dish. J-Lab opined that a good
oloroso
sherry would have been a fine match - and I totally agreed. Pity we'd not thought of that earlier, as we both had some good
olorosos
in our respective home stashes.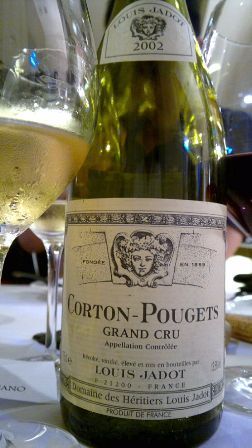 My bottle of
2002 Louis Jadot Corton-Pougets Grand Cru
was, unfortunately, virtually popped-and-poured as I'd forgotten to open/decant it earlier for aeration. Too bad as it is still a relative youngster, and, thus, was a bit reticent and tight without material breathing time - and I did bring it along specifically for the Fifth Course of
"Garlic-Smoked French Pigeon "Inasal", Beet "Sinamak", Red "Atchara", Mustard Leaves, and Santol "Bagoong"
(as roast pigeon with red beets is a typical Burgundian peasant dish which I love).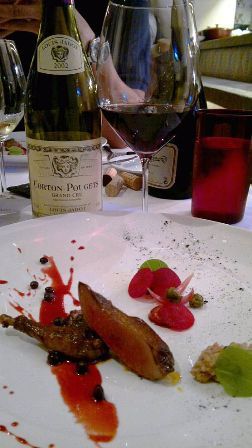 The wine wasn't bad, it did show well enough its medium-bodied, black cherry, dark raspberry, underlying damson, red beet and wood-related spices, but I could tell it would have gained weight and more expressiveness had I prepared it properly before serving. In any event, we made do with it for the aforementioned fowl course - which course I loved, by the way. I could've polished off twenty of this, I bet.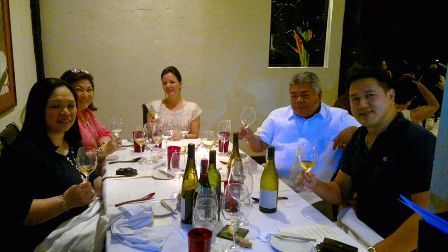 Our table: Cyrene dela Rosa, Minnie Chiongbian, Catha, J-Lab, & Alex.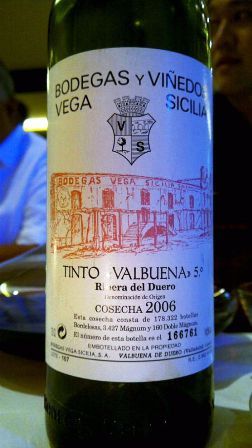 Fortunately, I had prepared my young bottle of
2006 Vega Sicilia Tinto Valbuena 5º
well, having decanted it for aeration upon my arrival - specifically to pair with...
...the
Sixth Course
of
Bistek Tagalog with Charred Onion, Black Pudding & Confit of "Tubers"
. J-Lab loved the pairing as the wine was already very open, displaying a commanding palate presence. Lush, very deep, concentrated, moltenly ripe, smoky black cherry, dark raspberry and plum, kirsch, crème de cassis, anise, chocolate with generous lashings of vanilla. Still a baby, yet already showing the power and palate push of Ribera del Duero. Very long finish. Very stylish. I'd like check in on this wine again maybe 5-7 more years down the road and every 3-5 years after that to see how it progresses.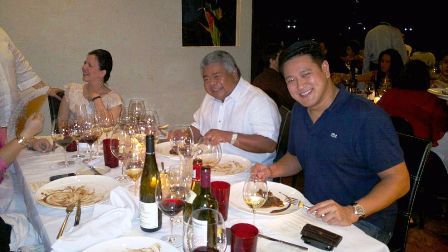 The bistek Tagalog's portions were but a tease for growing boys J-Lab & Alex. Luckily for them, Felicia and Kim Atienza had to leave early, so the guys got
doble ración
of the meat course - much to their obvious delight.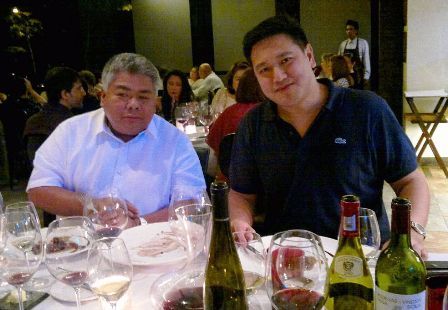 Alex seemed to simply inhale his two servings of the meat course. Above, J-Lab looks to be wondering if anyone else had happened to have left early so they could luck on even more of the beef.
Everyone looked to be enjoying all courses throughout the evening.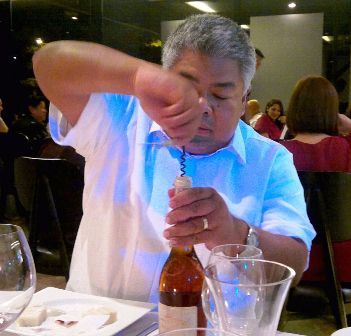 J-Lab carefully uncorks his bottle of..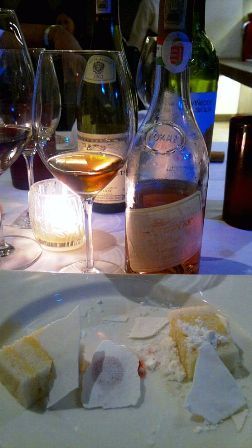 ...a simply stunning
2000 Domaine Királyudvar Tokaji Aszú 6 Puttonyos
- spicy wild honey, sweet cling peach, candied apricots, honeysuckle, orange marmalade, dark caramel, vanilla bean, pinch of underlying tobacco, healthy balancing acidity, unctuous, opulent but in balance, complex. Lovely. Easily the wine of the night for me.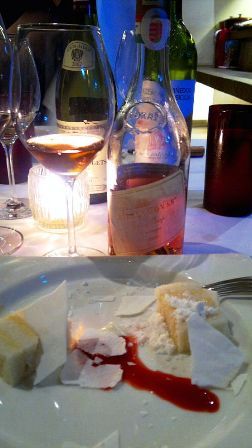 With the
Seventh (Dessert) Course
of
Tres Leches Cake with Aroma of Sampaguita
, it was a heavenly match.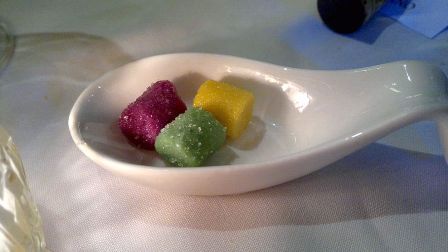 For
friandises
,
Pastillitas de Leche of Pandan, Queso and Ube
.
In the meantime, Nana Ozaeta and Bunny conducted a raffle. In the photo above, CJ picks the winning ballot...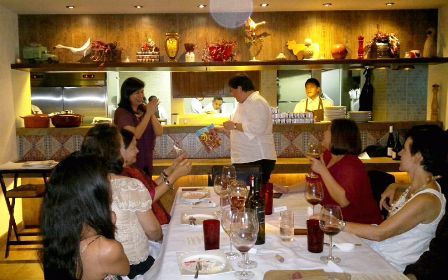 ...which, lo and behold, turned out to be Bunny's own.
Several other prizes were raffled off, which I did notice that only board members seemed to be winning - prompting me to jokingly demand for COMELEC representatives to be present.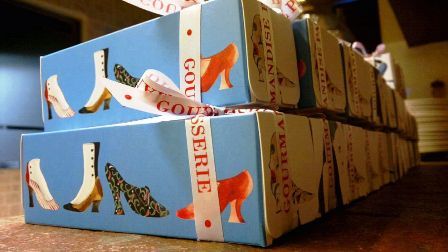 Well, it turned out nobody from our table won; but, no matter, as I was more than consoled by the giveaways of
Gourmandise Patisserie
's delicious eclairs.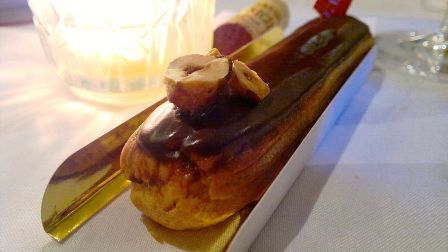 Mine lasted a mere bite-and-a-half.
Rounds of hearty applause for the staff and the event's organizers followed.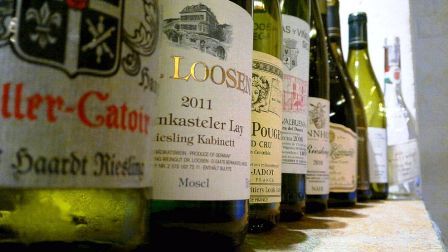 Our table's bottle count.
Congratulations to the Ladies' Branch! Until the next!