This past Tuesday, the 2nd October 2012, was a special tasting of Spanish reds (Toro and Ribera del Duero) and Asturian cheeses at, where else but
Terry's 2º Piso
. At JC's request, Cyrene organized a small group of winos specifically selected for their knowledge of and experience in wine, cheese, and the pairing of the two. Including our generous host, JC de Terry, we were 9 in all with Colin Mackay (chef-proprietor of Sala Restaurant, Sala Bistro, & People's Palace), food Cyrene de la Rosa (food writer/photographer), Tonji Ramos (international man of leisure/birdwatcher), Jay Labrador (a.k.a., "J-Lab"; wine writer/proprietor of The Wine Steward), Alex (epicurean businessman), and myself, with Catha (my better half upon whom I rely for wine visual descriptors, among other things) and Sylvia (Tonji's life/birdwatching/wine & food partner) arriving later as they had to attend a friend's art exhibit.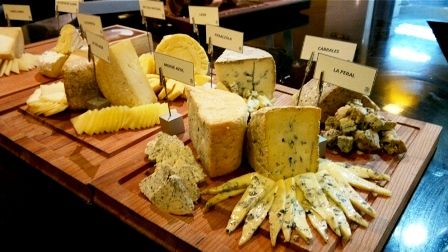 The luxurious array of Asturian cheeses was properly set far away from the wine tasting table, so that their scents would not distract the tasters (leave it to JC, a Phd in oenology no less, to know and provide for all the small details of a proper wine tasting). All the cheeses were unique in their own ways, and there were far too many to commit precisely to memory (especially since we had so much of them after the wine tasting and with the wine drinking). Some of the the ones that come immediately to mind though were...
The
Queso La Peral
is a relatively mild, unctuous, creamy Asturian blue cheese made of pasteurized cow's milk mixed with some sheep butter. During Terry's recently concluded Asturian Festival, JC used La Peral cheese in two of the featured dishes: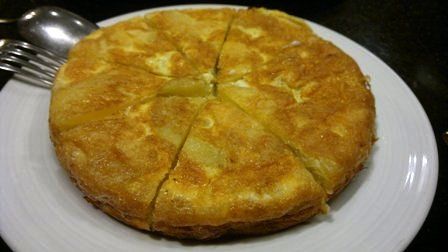 (1) In the was the familiar and well-loved
tortilla de patatas
which JC kicked up a notch by incorporating La Peral cheese within. Lovely - a comfort food with a compelling, creamy, discreetly gamy twist.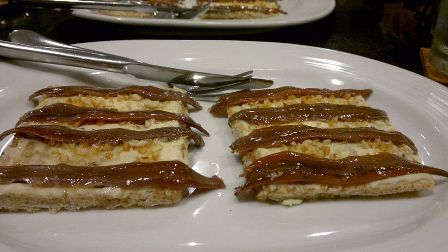 (2) Hands down, the
Anchoas de mi amiga Beatriz empapadas en puré de almendras al queso La Peral
("My friend Beatrice's Anchovies drenched in Almond purée on La Peral cheese"), was the festival's biggest hit. So many people were ordering this gem of a dish, and coming back for more of it, that around mid-way through the festival, orders thereof were rationed as stocks were running too low. Even JC, who had been gushing about these artisanal packaged Cantabrian Sea anchovies months before, did not anticipate Metro Manila's
aficionados
' overwhelming demand therefor. Nobody ever seems to get enough of this - and with good reason. These, in a word, are superb.
The
Afuega'l Pitu
is a very creamy Asturian cheese made from Friesian and Asturian (and crosses thereof) cows' milk, which milk can be either raw or pasteurized, but the latter is, in modern times, more prevalent. Mildly flavored, it reminds me somewhat of
fromage blanc
and was incorporated in, among others,...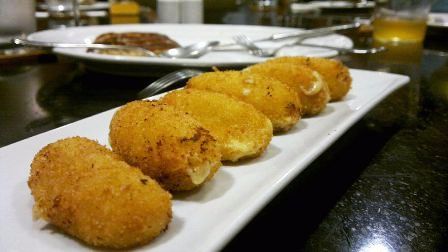 Compango Croquetas
which I could/did eat like popcorn.
One of my personal favorites was the
Queso La Cueva de Llonín
, an Asturian delight from the town of Alles in Peñamellera Alta, made of cows' milk (a triple cream grade I believe), matured for 3-4 weeks as I understand. Though visually similar to brie and camembert, it brings more to mind the more pungent, mushroom-touched, nutty, complex, and slightly sauvage
reblochon
but with a little more freshness and a comparatively lighter tread on the palate. Give me a chunk of this, a loaf of good bread, maybe some grapes, walnuts and dried figs, and I will be more than happy.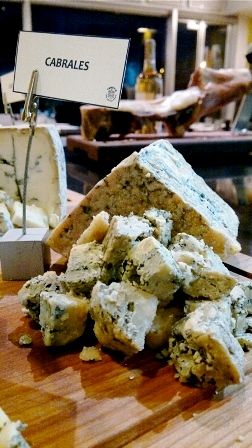 The
Queso Cabrales
(
Denominación de Origen Protegida
in 1981) is a crumbly, rather salty blue cheese made of a mixture, as I understand, of cows', sheep's, and goat's milk; and all said cows, sheep, and goats must be registered with the regulatory council, the cows must feed from mountain pastures. To say that this is a rustic blue would be an understatement - it is downright, dyed-in-the-wool macho - I'd say to be taken with either a Sauternes or, better yet, some fine
oloroso
or
Pedro Ximénez
.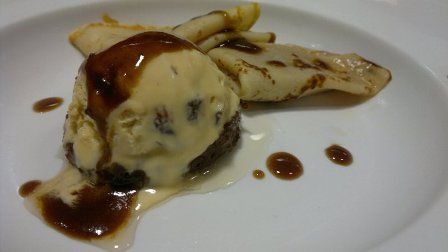 During the Asturian Festival, JC magically coaxed and transformed this robust, bruiser of a bleu into the immediately above-depicted unforgettable dessert of
Cabrales Ice Cream with Dauro Extra Virgin Olive Oil and Pedro Ximénez Grape Syrup on Frixuelos filled w/ Caramelized Apple Cream Flambéed w/ Salvador de Obispo Aged Apple Brandy
. Absolute heaven. I, and many others, hope JC keeps this on the menu. It was a revelation for me.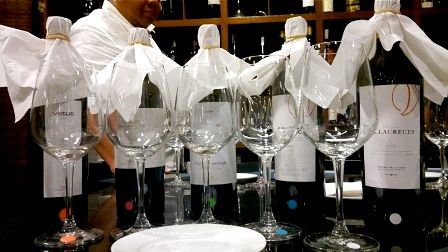 The Wine Tasting. All bottles gently breathing since 9:00am.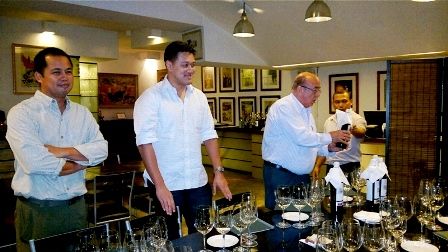 The 1st Flight of Tasters (excluding myself): Tonji, Alex, JC...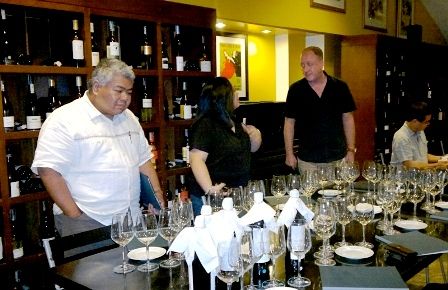 ...J-Lab, Cyrene, and Colin.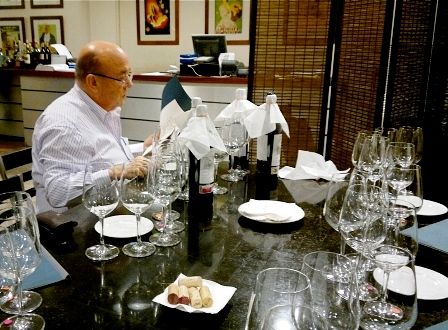 JC gives one last check...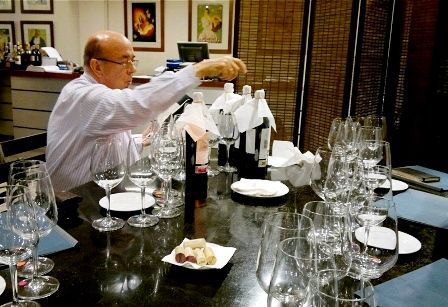 ...making sure everything is in order...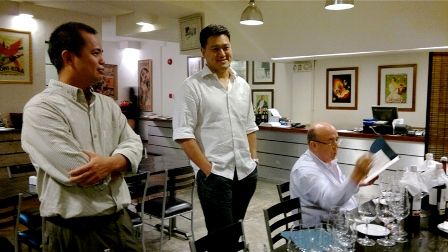 ...as the panelists eagerly await.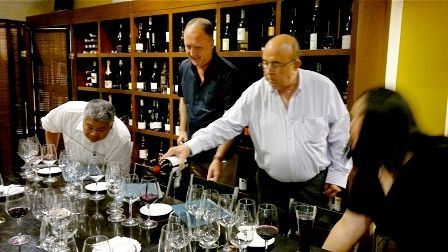 And so it begins....
JC gave a brief, concise introduction to the wines...
...to which the tasters paid close attention.
Here we go...
2010 Bodegas Vetus Flor de Vetus (Crianza, Grupo Artevino)
- a relatively light-bodied tinto del Toro showing lightly spiced strawberry, black cherry and a little bit of cassis. Fresh enough, lively, albeit straightforward and casual. A quaffer for those who prefer reds as an apéritif and with some pica-picas of
jamónes
,
cecina
, etc., maybe even a little aged
manchego
.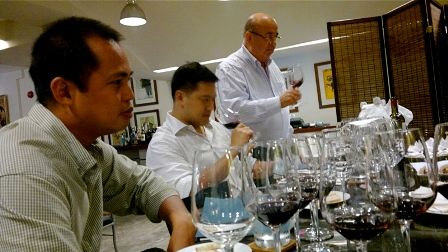 2010 Bodegas Villacreces Pruno
- Also a crianza, but this time from Ribera del Duero. There is more apparent heft and concentration of fruit (baked, creamy, lush) in this and more oak-related spice notes (vanilla, licorice, and even a hint of cinnamon), violets, cedar, as compared to the 2010 Flor de Vetus. Over-all better balance too, to my mind anyway.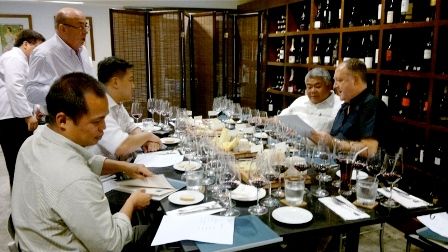 2007 Bodegas Vetus Vetus
- Big, full, rich, concentrated, very ripe, speaks of hot/dry climes, lots of toasty new oak in this, acid a bit low, alcohol a bit high for me - but that is Toro wine for you. Tannins are very noticeable too. Needs several more years, I'd guess, but, in all, it seems like it will come around well after some years. We shall see. Notably, Alex, who is fond of full-bodied California cabernet sauvignons, favored this wine.
2009 Bodegas Vetus Celsus
- Another big, full-bodied one from Toro. Huge on the palate, very rounded and with a powerful attack and mid-palate (big round tannins, underlying chocolate), but seems to fall off on the finish, abandoning the palate leaving me wondering where it went off to. Colin and Tonji noted this disappearance of the finish as well. Abrupt. When taken with food, though, this showed its strengths. It really needed food to shine (as did all of the wines in varying degrees). With the food, this was probably the best.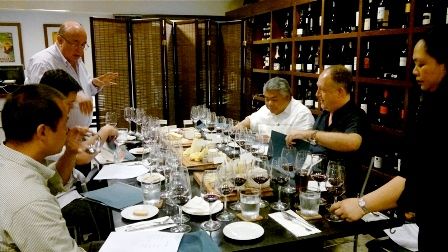 2006 Bodegas Villacreces Villacreces
- My and several others' favorite red of the night, definitely the most complex with nice gamey, slightly raunchy notes - when taken alone. I, unfortunately, tried it with some of the Cabrales cheese later on and the pairing was less than desirable. With a hunk of roasted meat, however, I believe it would have been fine. Seeing its suggested retail price, this could be something to buy by the case for big steak dinners.
Only when the formal wine tasting was done did JC summon the cheeses to table, giving us a detailed account of each and the order in which they were to be tasted.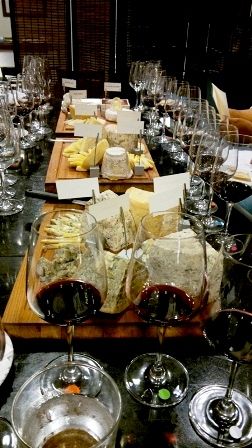 The heavily laden table was truly a sight to behold.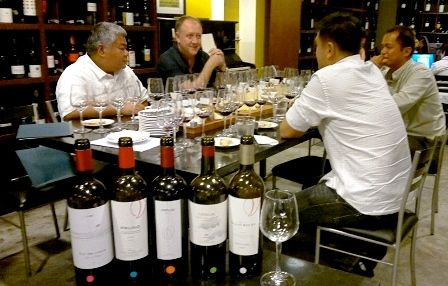 The panelists continued discussing the wines...
...while pairing them with cheese.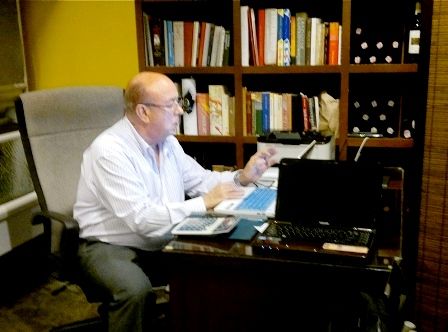 JC did a bit more work, then left to join Mari for The Phantom of the Opera....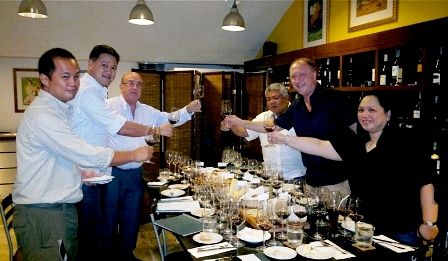 ...but not before a parting toast. ¡
Salud
!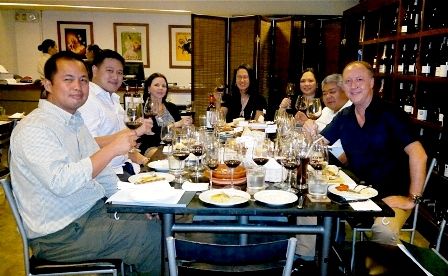 Catha & Sylvia arrived shortly thereafter from the art exhibit. Naturally, they also tasted all the wines and the cheeses as JC suggested. Aside from all the cheeses, we all enjoyed platters of
chorizo
,
gambas al ajillo
,
tortilla Española
,
stuffed Asturian piquillos
,
crispy bacalao
, etc. with the wines. Spanish wines, aged or young, really show their strengths when taken with the right food; and, for me, that is what wine is all about - a most enjoyable drink to have with meals with good friends and family...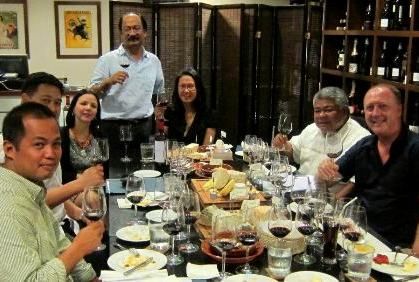 ...all of which were in attendance that night. ¡
Muchisimas gracias de nuevo
, JC! ¡
Hasta la próxima
! (last photo by Cyrene de la Rosa)