Last night, Wednesday the 21st November 2012, was Rene's advanced birthday dinner at his mom-in-law's, Tita Bella Yuchengco's, place. Naturally, Tita Bella designed and executed the entire menu. Naturally, there was no way I'd miss it.
The hosting couple, Rene & Aimee, were there when we arrived. Surprisingly, Catha & I were the earliest guests (we're normally the last though we live walking distance away). Deeg Rodriguez, Maite Araneta (
sans
Santi who is on a business trip in the US), Tirso & Katrina Ripoll followed very shortly.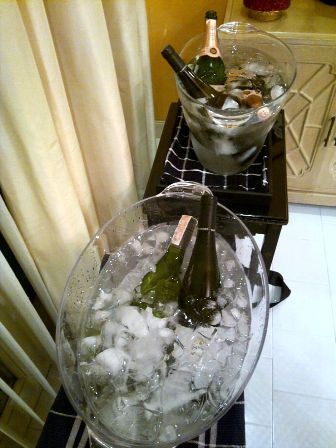 Champagne & whites chilling patiently.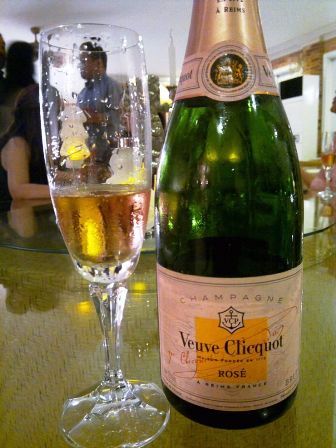 All guests enjoyed flutes of
Champagne Veuve Clicquot Brut Rosé
as a welcome drink. Fresh, light straightforward strawberries, touch of redcurrant underneath, crisp enough, and a more than acceptable palate primer for the feast to come. In order to plan the wines, Rene had informed Miguel and I earlier on that the menu was Japanese-inspired. All bottles mentioned in this post, unless otherwise specified, were Rene's.
Ever stylish, svelte, & serene, Tita Bella hands-on at her kitchen.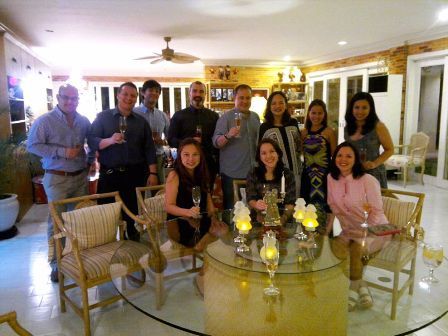 With Miguel & Ria Vecin, and Joe & Anne Chan, we were complete.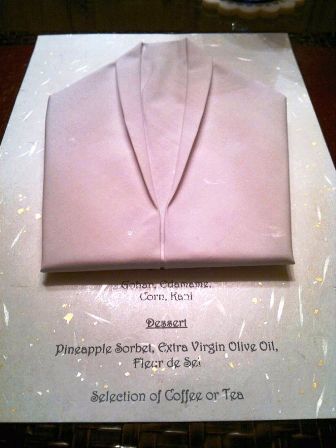 At Tita Bella's impeccable table, even the napkin, folded as a dinner jacket, is in proper attire.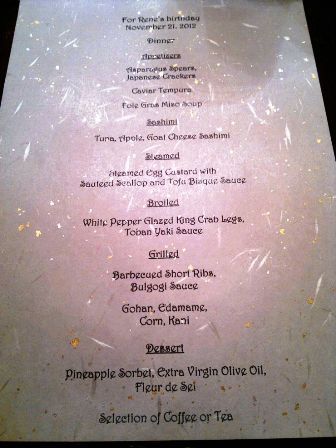 The Menu
Anticipating another great meal.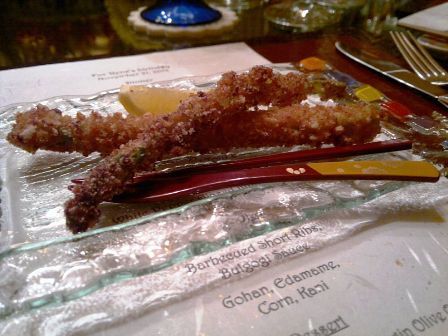 Aparagus Spears "Furai"
...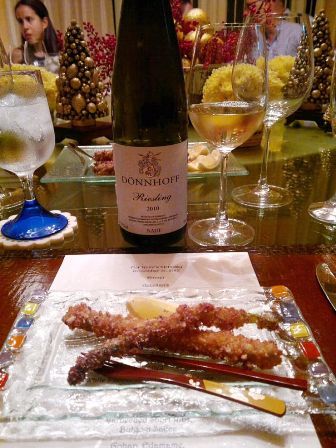 ...paired with, very likely, the last couple of bottles of
2010 Dönnhoff Riesling Qba
in the country (read: Rene bought out Premium Wine Exchange's stock). Lean, clean, zippy, bright, light-footed, slate nuanced, apple and pear just a light touch off-dry. Riesling with asparagus? Of course!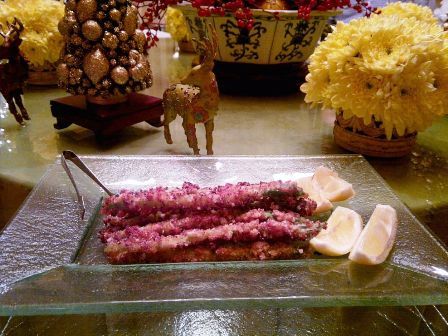 Tita Bella always sets an extra platter of the courses for those who care; and, when it comes to her cooking, we are all very caring people.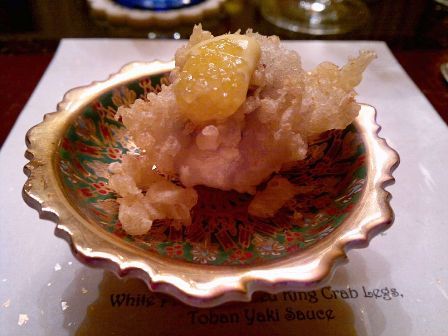 Caviar Tempura
- Wonderful.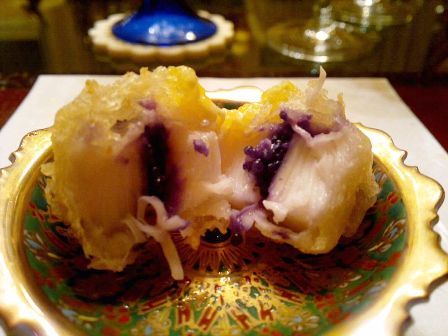 I needed a 2nd helping...just to photograph the inside of it.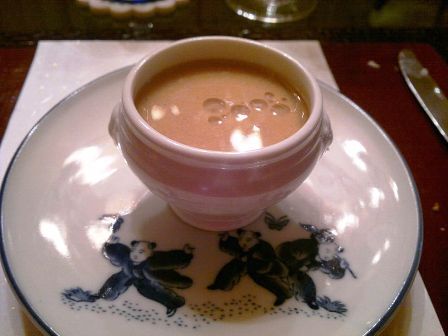 Foie Gras Miso Soup
- Heavenly; and Joe's dish of the night.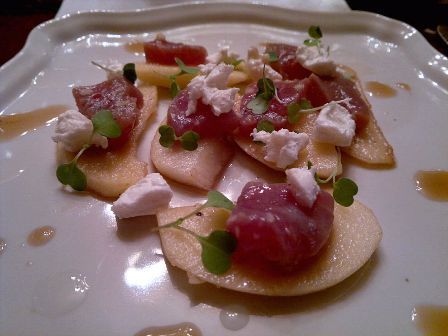 Tuna, Apple, & Chèvre Sashimi
- Wow.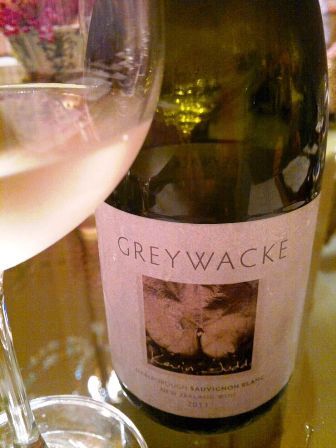 With the sashimi-inspired dish, Rene served the immediately above-depicted
2011 Graywacke Sauvignon Blanc
(a gift from Miguel from his recent business trip to New Zealand) - Per Rene, this is produced by Kevin Judd, the former/longtime winemaker of Cloudy Bay. This presented a ripe guava dominated nose, and quite forward gooseberry with a good dose of grass on the palate. A notably hefty, driven, and rather stylishly rustic sauvignon blanc with good purity of fruit. Beside it...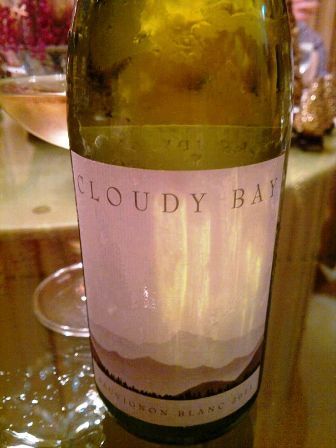 ...Rene also served some
2011 Cloudy Bay Sauvignon Blanc
- comparatively cleaner lines, with more focus, and proper restraint. At the outset, this showed brighter acidity, elegance and poise (traits also noted by Catha and Tirso), more green apple and white grapefruit than gooseberry, the fruit exposing a somewhat tropical and rounded character, with guava nuances emerging as it warmed in glass. Both nice in their own ways.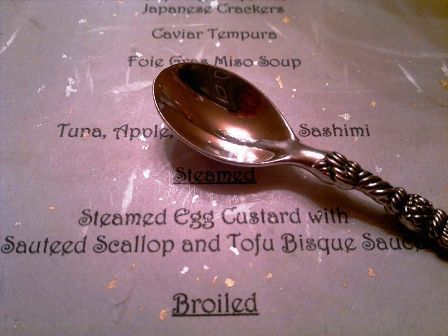 Little Parisian spoons were set for the next dish of...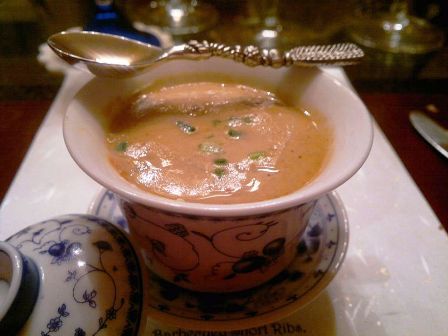 ...
Steamed Egg Custard with Sautéed Scallop & Tofu Bisque Sauce
- Tita Bella's sublime take on chawan mushi. With this I preferred the cleaner-lined, better focused, 2011 Cloudy Bay Sauvignon Blanc for acid cut and palate freshness.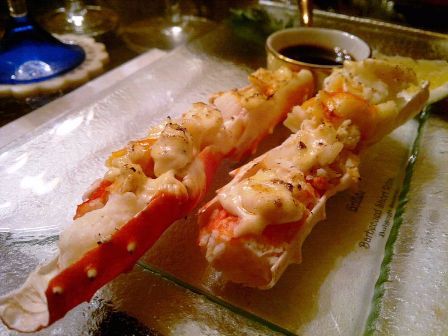 With my helpings (yes, I had two) of the spiced and more robust
White Pepper Glazed King Crab Legs with Toban Yaki Sauce
, I preferred the 2011 Graywacke Sauvignon Blanc because of its fuller body and precociousness.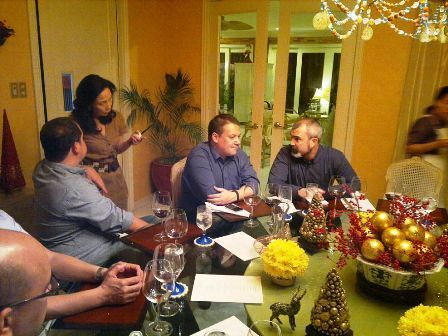 Tita Bella would check on us every so often.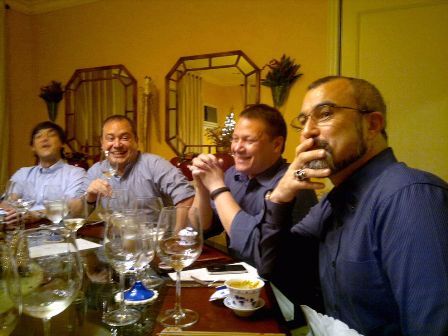 As to conversations at table, topics were pretty much anything under the sun, from memorable dishes, new ramen shops, wines, new local rums, our children growing up too fast, coming concerts, all the way to higher excise taxes on wines, liquor, and tobacco products and senate hearings thereon.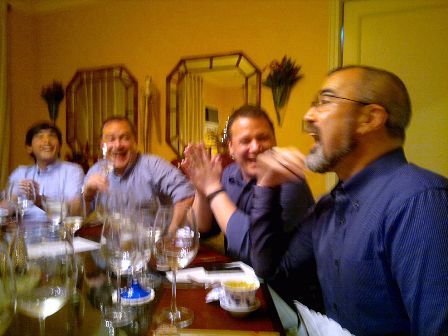 Of course, we had a lot of laughs too.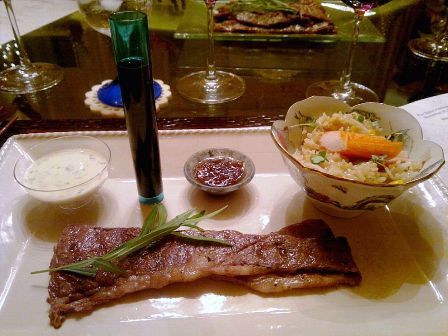 The meat course was a meltingly tender and juicy, deeply, yet precisely flavored
Barbecued Shortribs
, the
Bulgogi Sauce
of which was served in a tube in the modern fashion. On the tube's right is some of Tita Bella's
homemade XO sauce
which I mixed with the
Gohan, Edamame, Corn, & Kani
- giving it such a savory boost I had an extra helping of rice (though I've been trying to avoid carbs - it was well worth it).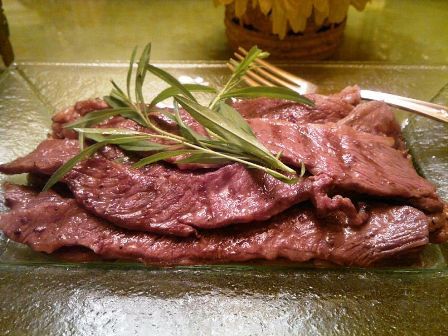 The extra servings were wiped out quickly. With this course...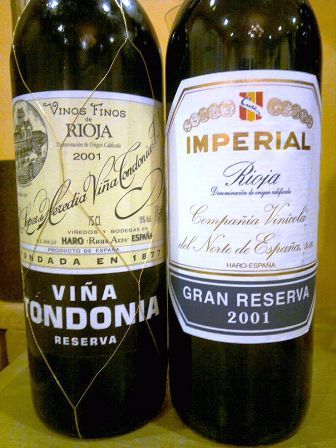 ...a pair from La Rioja.
2001 R. López de Heredia Viña Tondonia Reserva
- from yours truly; and, since Aaron and I import this, I shall accordingly refrain from making any comment thereon.
2001 CVNE Imperial Gran Reserva
- which Rene brought back from a recent working trip to Singapore. Very different in style from the immediately above-mentioned tinto, in that this was very big, full-bodied, mouth-filling, virtually chewy, with lots forward of creamy oak to its dark, concentrated, rather dense fruit. Big, round tannins; very long finish.This should be able to last and improve for at least a couple decades.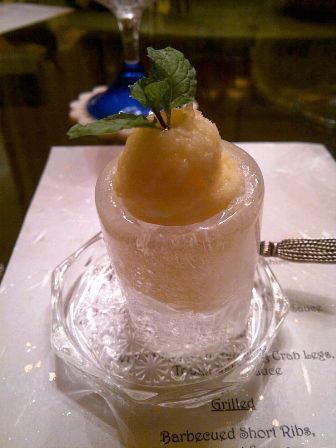 Dessert was a refreshingly bright, light, precisely flavored
Pineapple Sorbet, Extra Virgin Olive Oil, Fleur de Sel
, the dessert's vessel made of carved ice.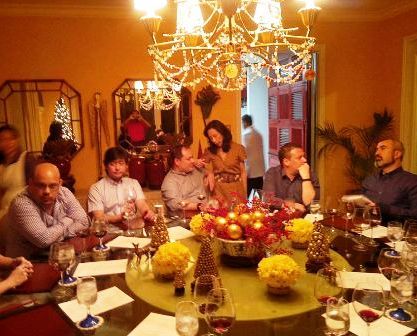 Everyone full and happy.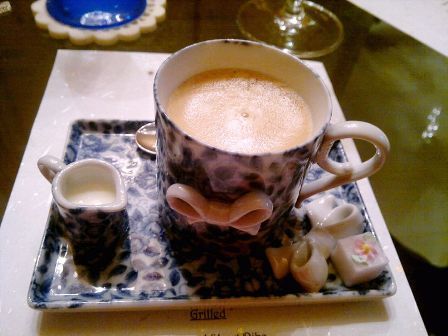 A double espresso to cap a wonderful meal.
Catha & I, both tired from work and successive nights out, called it an early night as the guys started on a bottle of scotch. Many, many thanks again to our hosts, to Tita Bella for yet another most memorable meal, and, to, Rene, advanced happy birthday anew, amigo. May you have many, many more to come. Until the the next!