The Stockbroker's been spending time in Vancouver, so he was away during his birthday. A couple of weeks ago, he called for a small get-together at
The Goose Station
, during which he treated us to dinner in belated celebration. Naturally, on the appointed date, Wednesday, the 28th November 2012, we sallied forth, armed with our bottles, prepared for vinous battle.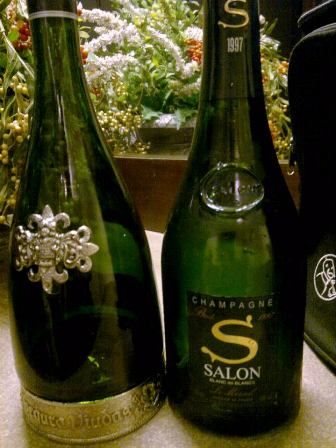 As usual with our get-togethers with the guys, we started off with some bubblies: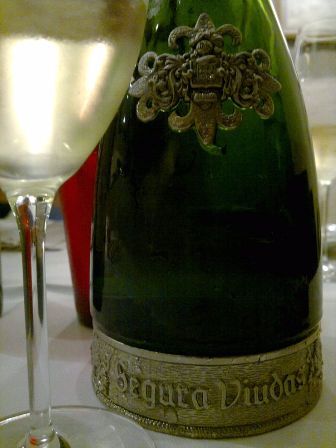 Segura Viudas Heredad Brut Cava
- Light-footed, bright, steely, dry, piquant green apple, white grapefruit and citrus, turns lightly creamy in the middle and towards the back. A whisper of green bean there somewhere. Slightly heftier than many other cavas I've had, but not as much as the Freixenet Reserva Real, but with zippy acidity. Good focus. Casually vivacious. More than just acceptable as an
apéritif
.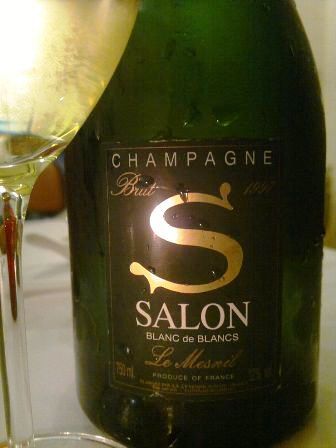 1997 Champagne Salon Brut Blanc de Blancs Le Mesnil
- The general theme here is again apple, but with a softer/softening pear and white peach underbelly, bit of toastiness, nice white minerality. Notable freshness and precision here. Curvy in feel as opposed to the comparatively linear preceding cava, and less dry as well. Very nice, and nicer still to have two such different bubblies at the same table.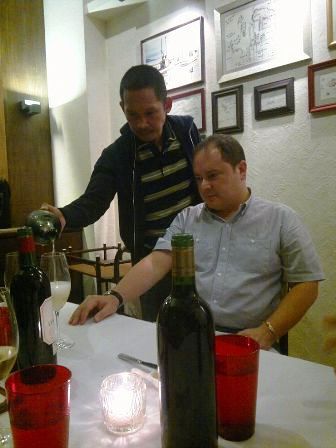 The Stockbroker pours for Rene.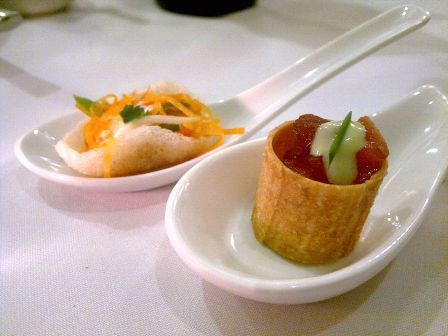 The
amuse bouche
trio was made up of the signature
Foie Gras Cone
(which I ate before remembering to photograph),
Lumpiang Hubad
(left), and
Kilawin na Tuna Spring Roll
(right). With the latter two, I had the cava as its dryness and bright citrus and acidity made for a better pairing.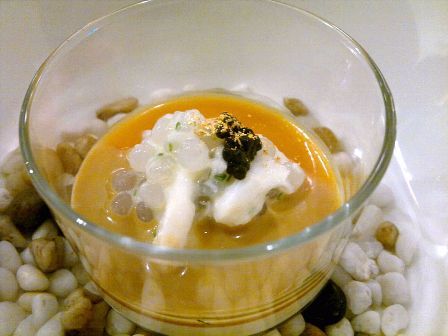 Next up was the
Caviar Parfait: White Asparagus Flan, Crab Jelly, Yuzu-Uni Sauce, Crab Meat, & Avruga
.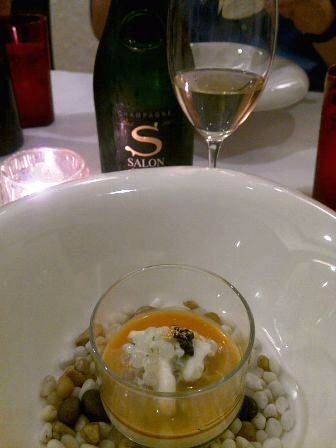 With this, because of the more substantial white asparagus flan and crab jelly, and the sweetishly fresh crab meat, I turned to the vintage champagne.
Meanwhile, Rene had opened some of the reds to slowly breathe.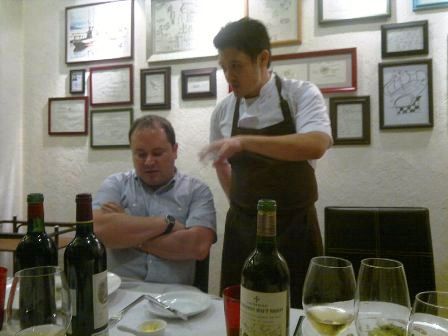 Rob was hands-on that night, and checked in on us every so often.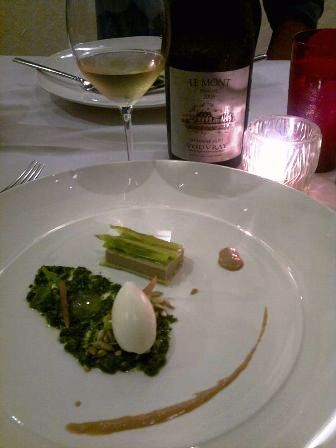 With
"An Obsession with Asparagus": Terrine of Shaved and Compressed "Olive Oil" Green Asparagus with Truffle Mushroom Flan, Sunflower Seeds, Asparagus Ice Cream, Spheres and Swirls, & Mocha Froth
, we turned to a bottle of
2008 Domaine Huet Le Mont Demi Sec
- (ordered off the restaurant's wine list, the Stockbroker's
Premium Wine Exchange
distributes Domaine Huet's wines locally) looking through my old notes, I realize that it's been almost a year since I've had this wine (I've had other vintages in the interim). From
my last notes
:
One thing notable about this particular single vineyard Vouvray Demi Sec (i.e., "off dry"; 100% chenin blanc; Le Mont is Domaine Huet's premier vineyard, producing the comparatively deepest, lushest fruited wine - the other two being Le Haut Lieu and Clos du Bourg), is that it is so food friendly and versatile in its, clean, vibrant/exuberant, membrillo, ripe pineapple, citrus fruit; its thrilling acidity; razor-sharp focus; and, impeccable poise and balance. It does just as well with richer seafood dishes as it does with foie gras...
Now, the wine's aromas seemed more honeyed, with a sweet truffle topnote, and seemed marginally fleshier as well. Still a delicious and eminently drinkable wine. Lovely. Because of its versatility, I continued with it with the next dish of...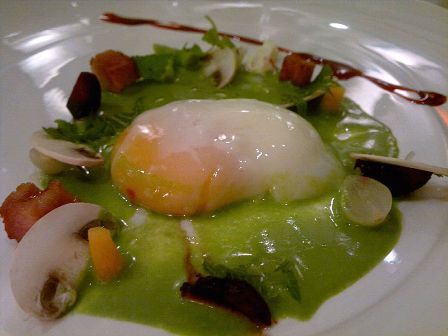 Green Eggs & Ham: Salad of Liquid Herbs, Pancetta, Pickled Beetroot Purée, & Mushrooms.
With the
Scallop with Pork "Bourguignon": Pan-Seared Scallops, Pork Trotter "Bourguignon", Tzatziki,Watercress Emulsion, & Fennel
, we then enjoyed...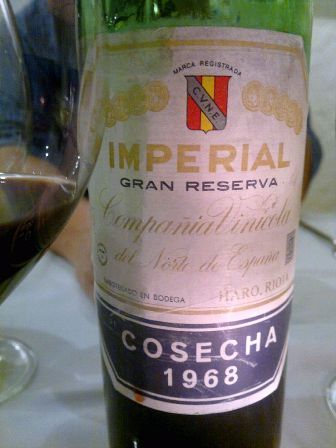 1968 Comapañia Vinicola del Norte de España (CVNE) Imperial Gran Reserva
- the Stockbroker's bottle; an extra special treat for we whom he well knows love aged
tintos Riojanos
. Sublime bouquet and flavors of cedar, violets, deep ripe strawberry, red cherry, bit of plum, with blackcurrant underneath, and a light hint of balsamico. A light-bodied red, just a bit of bottle-age sweetness to the ethereally silken red fruit essence. There is a suggestion of earthiness to this. What a treat. Wonderful.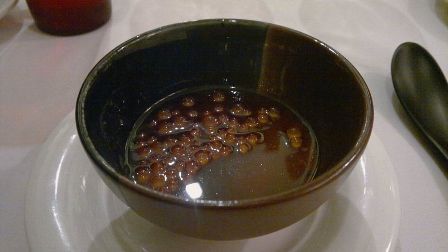 File photo since I, again, ate before taking a shot.
Foie Gras Taho: Foie Gras Chawan Mushi and Pedro Ximénez Sherry Reduction and Tapioca
, which I ate before remembering to take a photo. Because of the pedro ximénez reduction, I had this
sans
wine.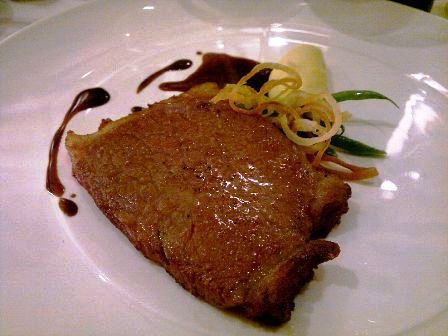 The meat course was
A3 Grade Wagyu with Haricots Verts, Light Jus, & Smoked Mozzarella Mashed Potatoes
- rare for me, as usual. There was, to my nose and palate, a bacon-like aroma and taste to this. I noted how difficult it is (for me, anyway) to get a steak this thin properly rare, but Rob managed it well. It may not look the best, but it sure did taste good, believe me.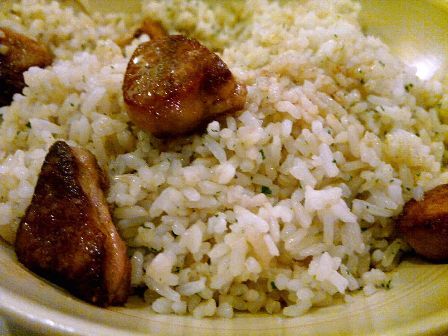 Accompanying the wagyu steak was an extra special treat from Rob - a concession to our Filipino palates (we eat rice with pretty much anything) -
Foie Gras Fried Rice
. The reds for the meat that evening were...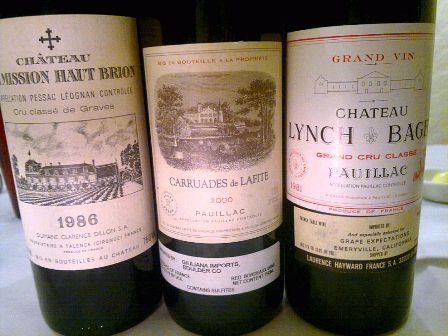 1986 Château La Mission Haut Brion
- Aaron's bottle. Maculine, somewhat burly, undeniably solid structure, the vintage's tannins give it a slightly rustic air. Typical dried herbs in the leather, black gravel, and tobacco nuanced deep, dark fruit. Long and strong, confident wine. A fine specimen of a Bdx '86, this has many, many years to go. Probably one of the best '86 Bordeaux rouge's I've had.
1981 Château Lynch Bages
- My bottle. I've not had this before, but I've had its more famous brothers (e.g., '82, '85, '89, and '90) more than a few times. Though I've not had many from '81, in my experience, this seems to be an unjustifiably ignored vintage (the Stockbroker, who, most likely, has had materially more experience with '81 Bdx than I, shares the same perception).
This wine (well, bottle, anyway) is in fine form and shows no signs of being tired. Nicely rounded, with good, reasonably deep, precisely concentrated fruit, it is a light-heavyweight - more than halfway between medium and full body. Good Pauillac typicity too. At its reasonable price (thanks to precipitate predictions of certain professional reviewers), it's definitely a repeat buy for me. This is a good Lynch Bages.
It being a working day the next day, Rene's bottle of
2000 Carruades de Lafite
was handed a suspended sentence and shall, perforce, be enjoyed at another meal.
Dessert was a "
Chocolate Plate
" from Sunshine's recent "Dessert for Dinner" menu. It's simple, straightforward name is belied by its rich indulgence. Loved it. Enough said.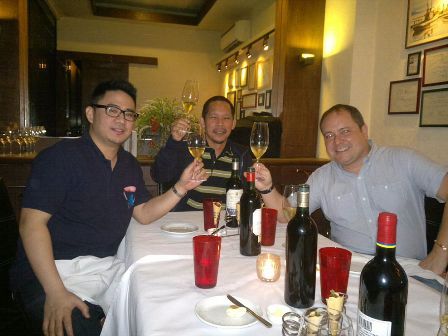 Many thanks again to the Stockbroker for such a fine, fine dinner, wines, and even finer company. Belated Happy Birthday anew, buddy. It's great to have you back in Manila. Until the next!