Last night, Sunday the 2nd December 2012, was a lavish wine dinner at
Jessie Sincioco's Restaurant at The Rockwell Club
, featuring all 1855 first growth Bordeaux plus Château Pétrus and, from Napa valley, the enigmatic (to me, anyway) Screaming Eagle. All those present were members of the International Wine & Food Society Philippines Branch ("IWFS"), and all the wines were provided
gratis et amore
by one most generous member. Being somewhat reclusive, the generous donor prefers to be (and shall remain) unidentified (as in 3 of such dinners he previously hosted which I was invited to and attended). Despite his aversion to publicity, however, pretty much all those of Manila's tiny/serious wine circle know who he is.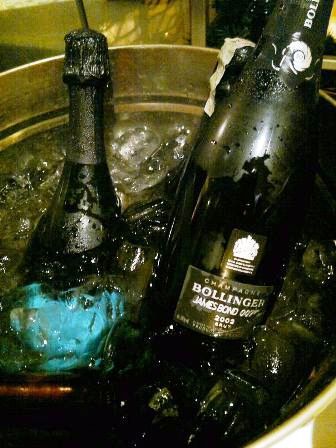 For cocktails and various pass-arounds, there was a selection of three (as far as I could see) champagnes to be enjoyed -
Laurent-Perrier Grand Siècle
(the bottle I tried was oxidized so I quickly dumped my glass and moved on),
2000 Dom Pérignon
(which I passed on as I've had it a few times before), and
2002 Bollinger La Grande Ainée "James Bond" Limited Edition
- I've had this recently but didn't pay much attention to it, so this was a good opportunity to give it another whirl - Quite tight and a bit linear initially, showing laser-focused, citrus dominated white fruit with a virtually Chablis-reminiscent minerality, it needed to be "worked in the mouth" (a.k.a., chewed, gargled) to release its captivating vanilla cream, honeysuckle, bit of
sampaguita
(a.k.a., Arabian jasmine), and nougat nuances. Quite lovely.
Freddie Dy, Joe Ledesma, & Jojo Madrid.
Richard Joye, JoeLed, & Johnny Revilla.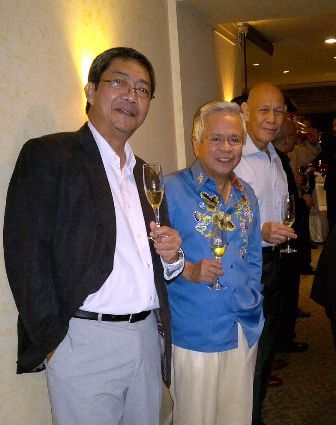 Richard Dalao, Jun Sison, & Freddie Pio de Roda.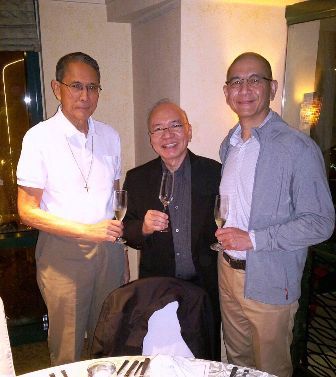 Jorge "Nene" Araneta with JoeLed & Freddie Dy.
Happily, I was seated with several regular drinking buddies, knowledgeable, experienced and sincere in their love for wine: Jay Labrador, Rene Fuentes, Jr., Richard Joye, Johnny Revilla, Vince Tan, Mark Abada, Guido d'Argensio, & Jerome Philippon.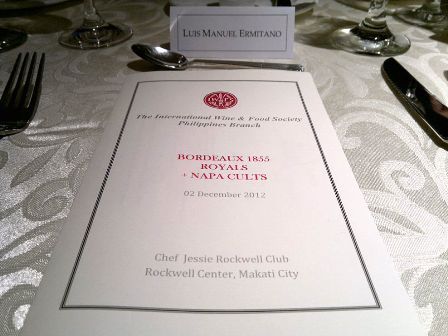 The Menu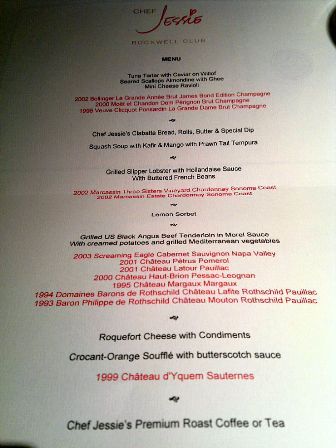 The night's dishes & pairing wines.
Dong Puno, Robbie Delgado, Rene Fuentes, Sr., & Luciano Zanirato.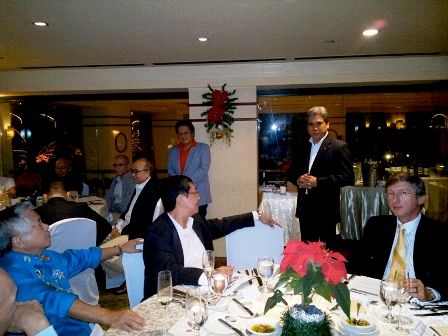 IWFS president, Oscar Ong, then took the floor, gave a brief background on how this event came to be, and, on the Society's behalf, gave heartfelt thanks and appreciation to the night's most generous wine donor. With due respect to our benefactor's generosity, I actually brought a notebook within which I wrote detailed tasting notes on each wine (something I rarely do unless at Vinexpo or
en primeur
tasting events).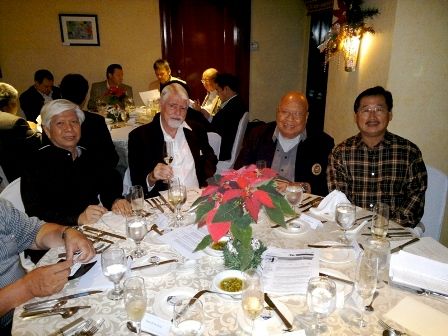 Ernie Fajardo, Bill Stone, Fil Juntereal, & Eddie Yap.
With the first course of
Squash Soup with Kaffir & Mango with Prawn Tail Tempura
was served a pair of Marcassin chardonnays:
2002 Marcassin Chardonnay Three Sisters Vineyard
&
2002 Marcassin Chardonnay Marcassin Vineyard
. Both wines presented unmistakable Napa chard forward, uber-opulent/over-the-top vanilla-oak and butter in their creamy, super-ripe, wild honey and almond nuanced, baked apple, pear and lemon cream. The 2002 Marcassin Three Sisters was notably bigger, fatter, oakier and even more flamboyant than the 2002 Marcassin Vineyard, the latter exhibiting a bit more focus and citrus and mineral purity shining through the bombastic baked fruit
*
.
My notes from around August 2007 on the 2002 Three Sisters
, surprisingly, still match with my impressions from last night:
2002 Marcassin "Three Sisters" Chardonnay

- As big a Cali chard as I've ever tried. I've tried only one other chard from Marcassin, can't recall which it was, but today's was much bigger. Unmistakably Napa, rich, big, roaring, no shyness here. It doesn't pretend to be anything else but what it is. Gobs of butter, oak, spice, butterscotch, some orange rind, maybe a touch of nutmeg, honeysuckle, long/slow baked/caramelized apple base. Tons of glycerin, potent alcohol. Very long.

If one likes Cali chard, this is definitely something to buy. I, myself, drink big Cali chards every so often and enjoy them for what they are. My wife likes them a lot and the richer/riper Chassagne Montrachets as well (e.g., the 2003 Neillon). I can see a parallel, the difference being in size, weight, power, balancing acidity and finesse. Dominant flavors are pretty similar though.
*
I also noted "minerality" in the attack of a 1997 Marcassin Vineyard back in July 2008, whereas, in my above old notes on the 2002 Three Sisters, I could only dwell on its no-holds-barred fruit.
Notably, I quickly finished my share of the 2002 Marcassin Vineyard and happened to leave a couple of sips of the 2002 Three Sisters in my glass. As regards the dish itself, Richard, J-Lab, Jerome, & I did not find that the mango bits at all worked with the squash-kaffir soup, and it certainly did not do either of the chardonnays any favors. Anent the pairings, in my opinion, the mango killed whatever chance of a peaceful marriage with either wine.
In any event...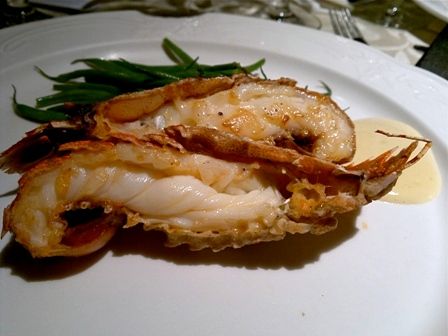 ...with the
Grilled Slipper Lobster with Hollandaise Sauce & Buttered French Beans
, what little left I had of the 2002 Marcassin Chardonnay Three Sisters paired fairly well (it was still too rich, in my opinion, and would have likely done better with a richer, creamier lobster thermidor). Though I did not have any of the 2002 Marcassin Vineyard to try the lobster with, I imagine it would have fared even better than the 2002 Three Sisters with the pairing dish due to its marginally better purity, focus, and more pronounced mineral-touched citrus notes.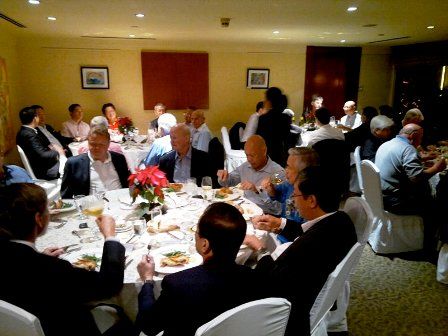 The Society members hard at work.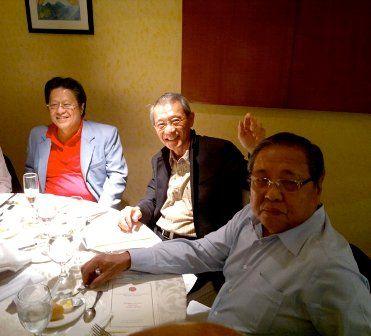 Cilio Pedro (in red) seems happy enough at his table.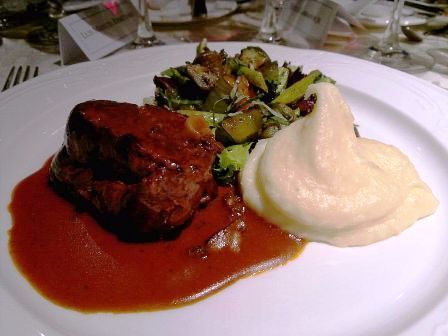 The meat course of
Grilled US Black Angus Beef Tenderloin (rare for me) in Morel Sauce with Creamed Potatoes & Grilled Mediterranean Vegetables
was served with a succession of rarefied reds.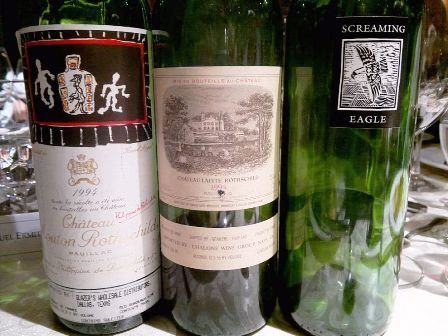 1994 Château Mouton Rothschild
- My share of it initially had some faint, though nonetheless worrisome, mustiness and dustiness, but, thankfully, it blew away after a while. There was a touch of '94's greenness to the dark, sober, cedary , licorice-noted fruit, and drying tannins on an abbreviated finish. J-Lab's glass of it had a peculiar bretty/unclean tinge to it, which, unfortunately, just got worse, so he set his glass aside. Johnny's & Richard's glasses of it smelled ok though, and, according to them, were pretty good.
1994 Château Lafite Rothschild
- Charming minty topnote to the deftly dark mineral laced blackcurrant, pencil lead shavings, cedar, and violets. A notch or three over medium-bodied, this shows markedly better ripeness than the '94 Mouton, and its tannins much better resolved. A graceful, typical, elegant Pauillac. Going by this side-by-side, Lafite was much more successful than Mouton in 1994.
To my mind, for vintage 1994, the most successful 1855 first growth was, and is, clearly, Haut Brion (I've had the '94 Margaux twice before and never thought that much of it).
2003 Screaming Eagle
- I've had this and a couple of other vintages of Screaming Eagle before (some more than once, and all from the same benefactor) and, honestly, have, to date, failed to grasp its allure. Its forward minty notes and scents of baked, super-concentrated-and-sweetly/candied ripe dark fruit-and-vanilla/oak/licorice/cinnamon-laced compote, together with its highly concentrated, markedly extracted nature and bold (though well-rounded) full-bodied chewiness are, to my mind, along the same lines as the cabernet sauvignons of Staglin - which are also not to my taste.
With due respect to the wine and its generous donor, I took a couple of small, confirmatory sips and offered my glass to the others at the table who wanted and appreciated it.
2001 Château Pétrus
- As with the 1971 Pétrus I had from the same benefactor back in late November 2007, Hugh Johnson's phrase "
merlot in excelsis
" in reference to Pétrus came to mind (and, no, cheval blanc, excellent as it is, doesn't qualify since it uses a lot of cabernet franc). I am not one to gush, and less am I one to readily jump on any bandwagon (in truth, I have more than once been described as "contrarian"), but with Pétrus, so far, I cannot help but be easily taken.
Though young and still primary, this wine is alluring and seductive in its pliant, fleshy, discreetly oak-spiced ripe plum, dark raspberry, kirsch and violets. Everything is rounded and in balance. I sense that there is more power, depth, and complexity hidden behind the youthful curves and coyly come-hither facade, and only time will tell if I am right. Loved it in any event.
2001 Château Latour
-
My old notes from November 2005
were not flattering since the wine was way too young at the time:
Latour 2001

– Lighter ruby blush than the 2003 Les Forts. Initial "band-aid" scent ("iodine" said the Doc) that lifted after a few minutes, revealing a sweet cedar and blackcurrant nose. Cassis, cedar and slight leather suggestions in the mouth. The fruit seemed comparatively thinner than the 2003 Les Forts at this point – not very interesting, though pleasantly smooth and with good weight. Needless to state, it is much too young to fairly judge now.
Having gone through over a case of the "little brother" 2001 Les Forts de Latour through the past several years, however, I always suspected that the 2001 Latour
grand vin
would grow up to be impressive...and, now, I know I was right all along - great structure, smooth, rounded muscles on strong bones. Great typicity (pencil lead shavings, warm asphalt/gravel nuances in its blackcurrant, etc.), precision, and balance.
Like the 2001 Pétrus, this is also still quite young, and I suspect it will take at least 10-15 more years before they fully mature. Excellent wines both.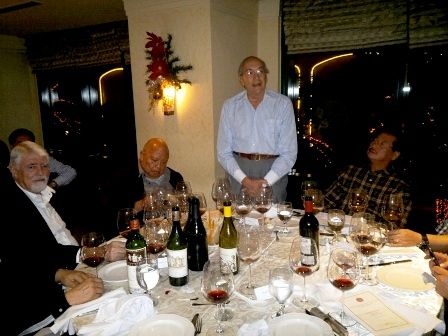 Alain Miailhe recounts the history of Château Margaux.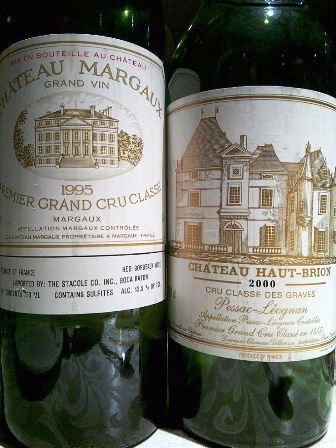 1995 Château Margaux
- Chalk up the 1995 Margaux as another '95 Bordeaux that's showing well now (some others being, off the top of my head, Pichon Lalande, Grand Puy Lacoste, etc.). Though also young, complexity and grace are readily apparent in its perfumed, silken depths. Lovely. A definite beauty now, and, to my mind, will continue and gain on this same path for many, many years to come.
2000 Haut Brion
- Another beauty of a wine, it shows its typical vintage lush, ripeness, and strength. Remarkable balance and harmony. Once again, still rather young, but, even now, the word "complete" echoes in my mind. Superb.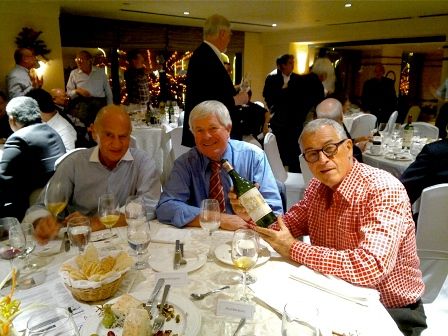 Above are Markus Ruckstuhl, Dieter Lonishen, and Hans Brumann, Hans appreciatively posing with a bottle of the aforementioned 2000 Haut Brion. J-Lab, Rene, Jr., Johnny, and Richard, among others, had the last two reds with the cheese course of
Roquefort with Grapes & Walnuts
, but I had none of the cheese - preferring to have the wines on their own.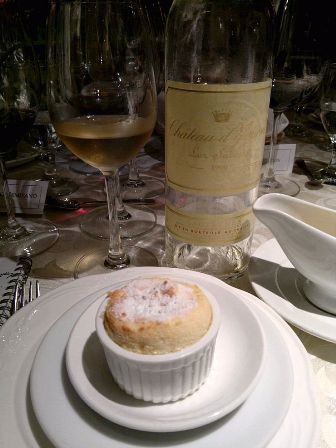 Dessert was a
Crocant-Orange Soufflé with Butterscotch Sauce
(mine was eggy and under-cooked at the bottom), paired with a
1999 Château d'Yquem
- I've had this vintage of Yquem more times than I can remember - certainly more times than the 4 or 5 I've posted on it in my blog - bottles of my own, the Doc's, the Stockbroker's, and the IWFS. At this point, I can say that although it is a wonderful specimen of a Sauternes and a good representative of Yquem, I do not believe it will come close to the Yquem's '94, '97, '98, or '02 (much less its stronger vintages like the '67, '88, '89, '90, etc.). That said, Yquem, in 1999, is still Yquem; and it was certainly good to have tried it again after around 2½ years.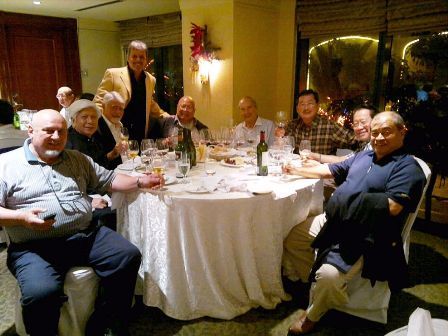 Johnny with Luciano, Ernie, Bill, Fil, Alain, Eddie, Dong & Rene, Sr.
Johnny (again?!?) with Doc Leelin, Nene, & JoeLed.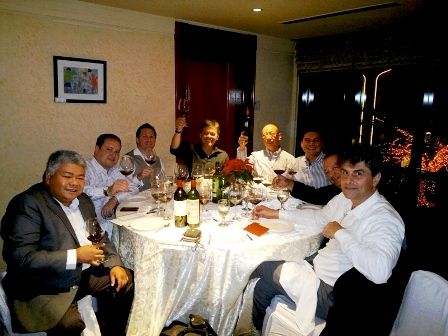 Though I cannot properly thank the night's impresario due to his preferred anonymity, you know who you are, and, from our table and the rest of the IWFS, a million thanks again! Your generosity, kindness, and humility, together with your dinners are stuff of legend. Until the next!