Let's try this again ...
1. Three fresh free-range eggs. The yolks are paler in autumn and winter when the hens don't have so many bugs to eat. Let's not think about this. (On Facebook, Jenise started an interesting discussion about whether the yellow summer yolks are the result of bugs or sunlight or both. Maybe she'll bring it back here so we can chew on it some more.)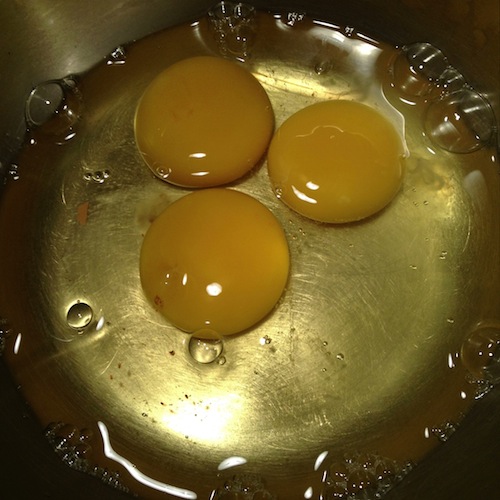 2. Melt a li'l butter with chunks of garlic and ginger to give it a delicious scent. This is one case where a good quality nonstick omelet pan is a plus.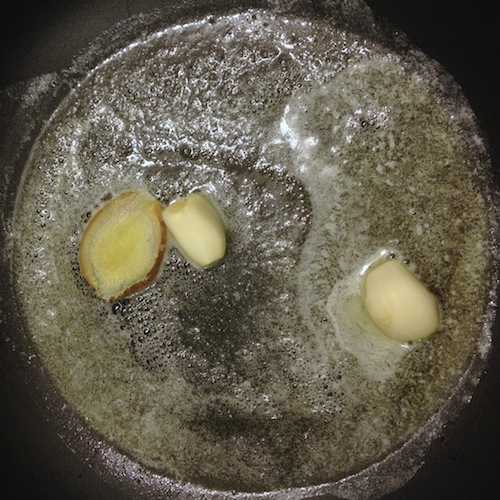 3. Kosher salt, fresh-ground Telicherry pepper and a few dried red pepper flakes. Add them to the eggs with 1 tablespoon water for each egg, and mix with a fork.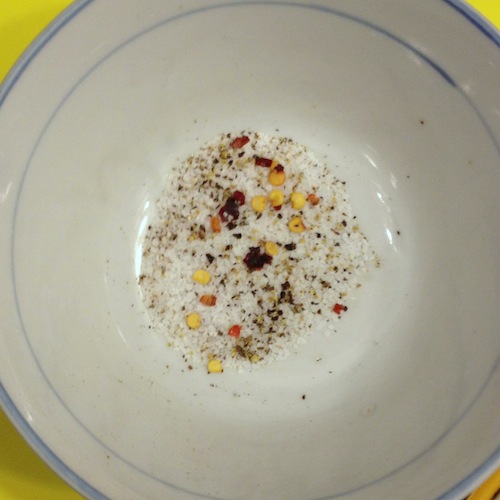 4. Working over high heat, discard the ginger and garlic. Pour the seasoned eggs into the sizzling butter and let it sit for 60 seconds. Then stir it up in the center with a fork to "scramble" the center a bit. Stop to let the bottom re-set, shaking the pan to ensure it doesn't stick.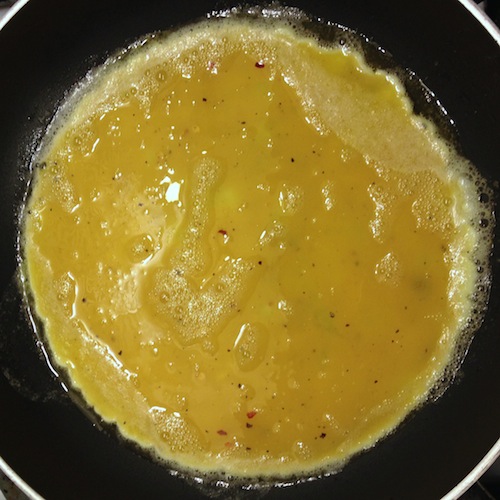 5. Lift the edges here and there and tilt the pan to let the liquid egg on top flow underneath. This step is the real secret to a successful French omelet.Moving quickly and shaking the pan, keep tilting the pan and lifting the edge so the liquid part on the top flows underneath, building up the cooked bottom in layers. This is the only way to make that even cooking happen with an omelet (high heat, fast cooking) as opposed to a frittata or tortilla which cook at lower heat and may get a quick broil or flip at the end to finish the top.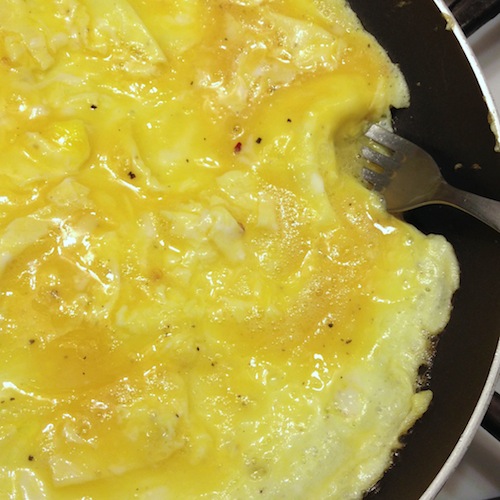 6. As soon as all the egg liquid is solidified but while the top is still creamy, add filling if any (I left this one au naturel), roll the finished omelet onto a warmed serving plate. Serve with a salad or veggies and enjoy.