Last December 2, 2012, the Philippine Branch of the International Wine and Food Society was treated to an extraordinary display of some of the world's most coveted wines by an extremely generous member who prefers to remain anonymous. Dubbed "1855 Royals and Napa Cults," the French lineup included three vintage Champagnes, all the five Bordeaux First Growths, Pomerol's Chateau Petrus, and for dessert, Chateau d'Yquem. From Napa were two chardonnay Cult wines from Marcassin and Napa's ultimate trophy wine, Screaming Eagle. Dinner was at Chef Jessie's at Rockwell and the food was kept simple to allow the wines to shine. Chef Jessie is a good friend of the Society and knows the requirements needed to make a successful wine event. She certainly doesn't mind having the food as a backdrop if the wines are of such exalted status. Despite the unseasonably warm weather, Society President Oscar Ong asked the members to honor the occasion by wearing a sports coat or blazer, in contrast to our usually more casual events.
Champagne was being handed out as I arrived and my first glass was of Veuve Clicquot La Grande Dame 1996 – I've had this on previous occasions and I've noticed some bottle variation. On this evening it was showing quite well. Rich, sweet brioche, a little nutty and café au lait. More youthful than some previous bottles. Based on this example, I would say there are still quite a few years left in this wine. Excellent. Second Champagne was Dom Perignon 2000 – Very young, deeply flavored, crisp green apple and yeasty sourdough. A touch metallic on the finish but very long. Definitely no hurry to drink this up but certainly a crowd pleaser. The last Champagne was the recently released Bollinger 2002 James Bond 007 Limited Edition – Bollinger is one of my favorite houses as I favor the full-bodied style of their wines. This Limited Edition bottling was quite fresh, full of fruit, and very lively. Dangerously easy to drink and a great match for the tuna tartare starters. Perhaps not as full as the Bollinger I remember but still most enjoyable. No doubt the superior quality of the vintage making a large contribution. This bottling comes in a case that looks like it contains the warhead of a nuclear bomb as it has a combination lock as well. No doubt this contributes to the price of this wine being almost twice the price of the regular bottling. The cases were interesting enough that the empties were carried off by some members as they left.
The serious tasting was kicked off by a pair of Marcassins, highly regarded California chardonnays made by superstar winemaker Helen Turley. First up was the Marcassin Three Sisters Vineyard Chardonnay 2002 – This wine has presence! High alcohol heat, lots of oak and a very woody finish. There's also a honeyed quality to it. However, it must be said that for all its outsized qualities, it doesn't sit heavily on the palate. I confess this is a style I would have loved some years back but I've outgrown this style. The second white was the Marcassin Vineyard 2002 – This is the top wine of Marcassin and can easily cost well in excess of $ 700.00. More of the same on this wine although it seemed a touch more rounded and possibly sweeter as well. With the whites went a squash soup with kaffir and mango accompanied by a skewered tempura prawn and mango cube. While I thought the soup was fine, the mango bits in the soup didn't do anything for me. Generally, I find fruit in savory dishes a distraction. I suppose the mango was supposed to mirror the tropical fruit character in the wine but in my opinion it didn't work. Also served was a very fine grilled slipper lobster with hollandaise sauce and buttered French beans. I thought the lobster was perfectly done with a sweet freshness about it.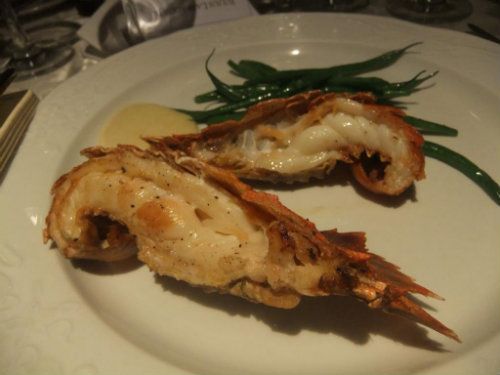 With the whites out of the way, the most anticipated wines, the reds, were up starting off with the ultimate cult wine Screaming Eagle 2003 – Again, there's some heat I detected on this wine. The fruit is nice and sweet, with a general impression of ripe mixed berries being given off. Initially dumb but after keeping it in the glass for an hour or so, some hazy chocolate and coffee notes emerged. Certainly a fine wine but maybe 5% of the going rate on this wine ($ 2000.00) would be a justifiable price.
Done with the New World, it was off to the Old and the superstars of Bordeaux. A pair of 1994s were in the first flight. Chateau Mouton Rothschild 1994 – Originally not a First Growth in the 1855 classification, Mouton , at the head of the Second Growths, was promoted to First in 1973 after intense lobbying by the owner, Baron Philippe de Rothschild. Unfortunately, my glass of Mouton clearly had something wrong with it. Very dusty, it got worse as it sat in the glass. I thought it was corked. I asked my seatmates for their impressions and one said it was obviously flawed and the other had a similar problem with his glass. A tragedy but it does happen. Good thing the second Rothschild wine, Lafite was in better condition. Chateau Lafite Rothschild 1994 – There was a bit of volatile acidity here, a very faint smell of vinegar. Not enough to spoil the wine but it does distract a little. Some however, find that it adds to the wine's complexity and are not put off by it as song as it comes in small doses. Leafy, very dry and austere. The fruit is completely faded but there are still some firm tannins in the finish. The wine is clearly drying out and should be drunk up.
Although not included in the 1855 classification, the tiny Chateau Petrus from Pomerol is just as prestigious as the First Growths. This can give the Screaming Eagle some competition in price. Chateau Petrus 2001 – A real beauty. All primary fruit over sweet spice. Soft and smooth with a layer of baby fat still on it, this wine is absolutely delicious and incredibly easy to drink. Despite its exalted status, it is eminently gulpable. Airing brings out more nuances, some dried fruit character comes out but at this stage it's all about the youth and fruit. Impressive length as well. Another 2001 was served alongside the Petrus, Chateau Latour 2001 – Scent of ripe berries, old leather and with some air, the classic pencil shavings of Bordeaux. On the palate, the wine shows good structure dense, solid and foursquare. Espresso and a touch of soy sauce also make an appearance. This wine is still very young and needs perhaps another 10 years to fully express itself. This will surely evolve into something very special. My favorite wine of the tasting.
Up next was one of the most anticipated wines of the night, coming as it does from the much heralded Millenium vintage. Chateau Haut Brion 2000 – This smallest of the First Growths was remarkably dark with a nose reminiscent of new-sawn wood. The palate shows the ripeness of the vintage with some candied cherry notes and sweet tobacco and spice. Again, a wonderful example of classic Bordeaux. Perhaps a little more evolved than the Latour, it was quite difficult to choose a favorite from among Petrus, Latour and Haut Brion.
The last red was Chateau Margaux 1995 – Fragrant and exhibiting some stewed fruit flavors, I found the finish on this wine rather tannic and not as long as I would expect from a wine of this pedigree. Perhaps it simply had a hard time competing with the previous three. We were fortunate to have with us Mr. Alain Miailhe of Chateau Siran, also from the appellation of Margaux. He was asked to say a few words on the history of Chateau Margaux and gave us a fascinating account of the history of the Chateau including much insider information and rumor.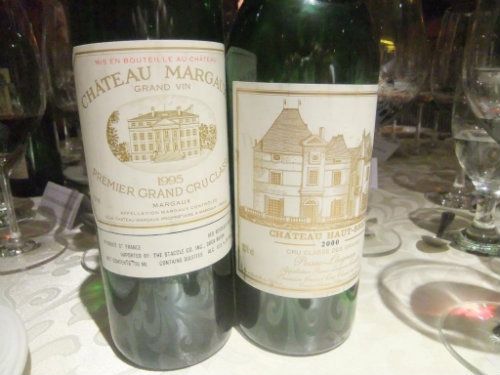 To accompany the reds was a grilled Black Angus tenderloin in morel sauce with creamed potatoes and Mediterranean vegetables. While the sauce may have been too much for the French wines, it did stellar service in favor of the Screaming Eagle, matching the American wine's strength and bold flavors.

The last wine of the evening was Chateau d'Yquem 1999 – I've been fortunate to have had Yquem on a couple of occasions and this 1999 seemed to be rather light compared to most of the others I've had. Still, it has all the hallmarks of Sauternes with candied pineapple, burnt sugar and apricots. A fine match for the Roquefort cheese that came before the dessert. I opted to have the wine with the cheese and just have the dessert of a small croquant-orange soufflé with butterscotch sauce with coffee.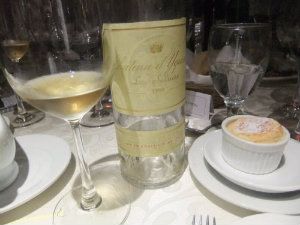 Certainly, this counts as the most memorable event the Society has had in a long time and we owe it all to the unbounded enthusiasm of our benefactor in sharing the treasures of his cellar.