New Year's Eve is an important festival in Belgium and we didn't fail to enjoy it as well as an excellent New Year's Day dinner.
The New Year's Eve dinner consisted of starters, oysters or smoked salmon and other fishy delights, lobster followed by Stilton and a refreshing creamy dessert with pineapple.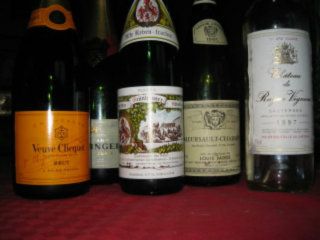 Champagne Veuve Clicquot Brut NV
– alc.12% was an excellent quite robust and not quite dry Champagne. Good 15.5/20.
Maximin Grünhäuser Abtsberg Alte Reben trocken – 20 – 2008 – von Schubert
– alc.11%. A year ago I found the crisp acidity and firm saline finish made this an ideal oyster wine but surprisingly it emerged as a tad too fragrant and soft this time albeit still very good. Passage of time, different oysters? Very good 16/20+++.
Meursault Charmes 1er cru 1995 – Louis Jadot
– Alc.13.5%. There was no trace of (p)ox. Opulent Meursault character well balanced by lively acidity showing secondary complexity, touches of minerals and nuts and still some backbone; very good 16.5/20.
Château de Rayne Vigneau Sauternes 1er grand cru 1997
– Alc.13% - was a rich forthright Sauternes with good complexity, very much marked by botrytis with enough fresh acidity to avoid cloying. It worked surprisingly well with Stilton, if not as perfectly as the Christmas Taylor's '77, but was perhaps a tad too assertive after the quite light dessert. Excellent 17/20.
Bollinger Special Cuvée
(bought 2006) saw in the New Year and showed a most welcome freshness but no signs of tartness in mouths still coated with Sauternes. A drier and IMO an altogether superior proposition to the already good Veuve Clicquot showing greater fragrance, more silky texture and greater length. Very good/excellent 16.5/20++¨
A lot of fun was had by all.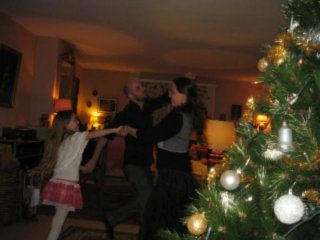 Dinner on New Year's Day consisted of venison steaks in a gamey sauce followed by more Stilton and the same dessert as on the Eve.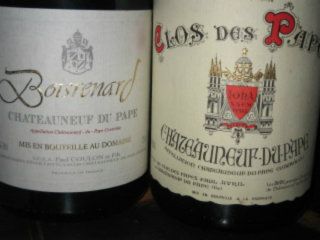 Châteauneuf du Pape 1999 – Clos des Papes, Avril
– Alc.14% - was more restrained and less full bodied than I expected but lovely and harmonious in a way that reminded me of Bandol with lots of herbs and tar and good length. Excellent 17/20.
Châteauneuf du Pape Boisrenard 1999 – Domaine de Beaurenard, Coulon
– Alc.14% - was slightly fuller and fruitier than the previous with firmer and rawer tannic structure and less herbs and harmony. Perhaps in need of more time. Very good 16/20+
Forster Pechstein Riesling Auslese – 13 – 1990 – Weingut Dr. von Bassermann Jordan
– Alc.11% surprised me by its freshness, relative lightness and restrained sweetness. There was lovely fragrance mixed with nice petrol notes, very lively juicy acidity, gentle roundness and sweetness and good length. This estate was one of the Pfalz's revered three Bs when I started my wine hobby but was supposedly much in decline in by the early 90s. Perhaps in their heyday there would have been more weight and sweetness but for me that's not necessarily a plus. With the Stilton the mid-palate seemed hollow but with and after the fresh light dessert it worked much better than the Sauternes of the Eve. Very good 16/20+++
Here are a connoisseur contemplating the Châteauneuf du Pape empties and another resting next to some of my old treasured LPs.