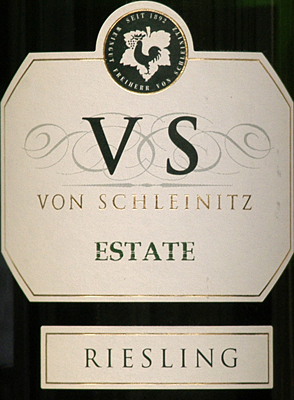 Okay, here's a German wine label. The wine is affordable ($15 in a market where prices usually range on the high side of the median). It's really quite good: Aromatic, crisp and balanced, with plenty of zippy acidity to balance the sugars. And speaking of "sugars," it is definitely not dry. Delicious, full of tangerine and mango, or maybe honeysuckle, or maybe both, and a shot of slatey minerality, a lot to like in a Mosel Qualitätswein. But not dry.
Now, who can help me explain the label in simple terms to readers who, mostly, like wine and want to know more but who really aren't up to a six-page, high-tech thread?
I'm particularly interested in the word "Estate" on the front label, and the absence of the extensive small print that most people expect from German wines. There's not even much tech info on the back label beyond "Qualitätswein" and APNr 16490171209. What has changed here, and when? What does the "Estate" tell us? (I thought it was limited to dry wines, for example, but this wine's not dry.) And so on.
Thanks in advance ... I'll probably write this up tomorrow, and since German wine law is not my strong point, I'd like to make sure I've got it right. And simple. Did I mention about keeping it simple?