Wednesday, the 10th April 2013
, was another lazy day for me. Catha had gone off earlier to take the kids to the Louvre, but the employees were on strike, so they moved over to the Musée d'Orsay. I slept in, and, at around 2pm, hoofed it over to the
Jardin des Tuileries
...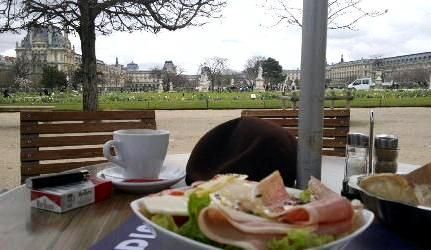 This is my usual hangout when I am tired and am biding time until Catha is through with the Louvre or whatever other museum she goes to. I usually just have some double espressos, maybe a sandwich and tarte citron, then a cigar here. Having made dinner reservations at
L'Atelier de Joël Robuchon (Saint-Germain)
for that evening, however, I just had a simple Italian-esque salad for lunch, and a couple of double espressos.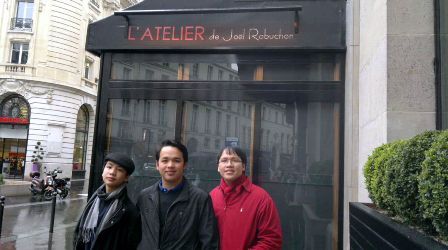 Only 1.5 kms from the apartment, we just hoofed it for the 6:30pm 1st seating.
Catha & I had dinner there twice before. Joël Robuchon had just come out of retirement the first time and, relatively new, it had no Michelin star (but was excellent). Sometime later, it had one Michelin star (and it was excellent). This, the third time, with the children, it has two Michelin stars (and it was very good, but a couple of dishes were opined to be not up to expectations).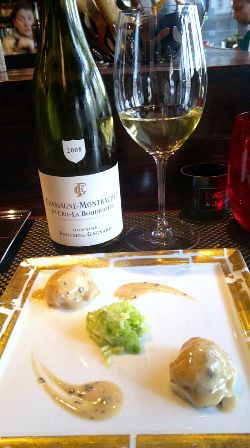 We all started with the
La Langoustine en Ravioli Truffé à l'Étuvée de Chou Vert
(langoustine-black truffle ravioli with braised cabbage). Very nice, but we all agreed
the langoustine ravioli at La Licorne
was better. With this first course, we started on a bottle of
2008 Domaine Fontaine-Gagnard Chassagne-Montrachet 1er Cru La Boudriotte
- Quite tight, vaguely nutty, a bit one-dimentional, citrus-led pear and green apple with a hint of white minerality. Clean and pure and with lively acidity. Still a bit tight and the citrus obtrusive when taken alone, even when it warmed down in glass. Maybe just too young for my taste.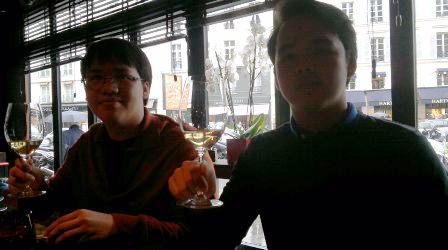 However, with our truffled langoustine ravioli starters, it did quite nicely - brightening the truffled richness and refreshing the palate between bites.
Salute!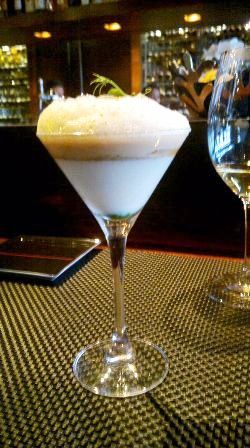 Joaqi's 2nd course was
La Oeuf Cocotte à la Crème Légère d'Ecrevisse et Truffe Noir
(egg cooked in crème légère of crayfish and black truffle). While he did enjoy it a lot, he said he prefers Rob & Sunshine's "Eggs Benedict" at
The Goose Station
.
Lorenzo's 2nd course was
Le Burger au Foie Gras et sa Sauce aux Aromates
(foie gras burger and spicy sauce). He didn't think much of it, saying it was "just an ordinary foie gras burger". I began to suspect that I spoil my kids with good food too much.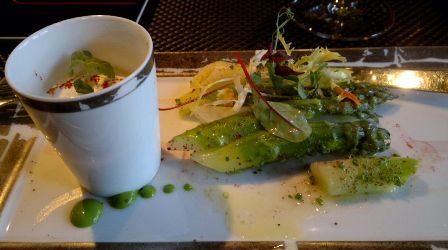 Mauro's and my 2nd course was the
Night's Special Asparagus
- definitely some of the best asparagus I've ever had, but, it's just asparagus - so difficult to get too excited about. With this, I finished the last of the white.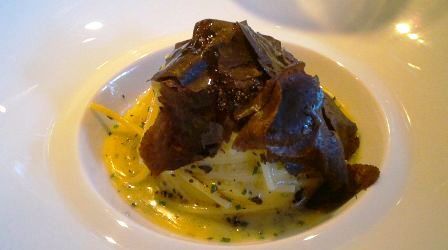 Everyone's 3rd course was
Les Spaghettis
, obviously generously enriched with in-season black truffles. This was fantastic, and easily the most memorable dish of the entire meal. Excellent stuff.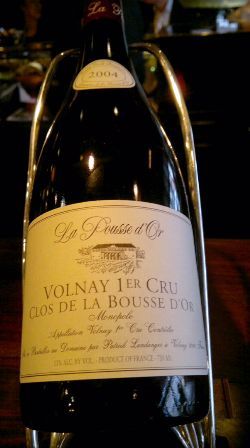 With the truffled langoustine ravioli, we started on the night's red which had been breathing in glass for around 35 minutes:
2004 La Pousse d'Or Volnay 1er Cru Clos de la Bousse d'Or (Monopole)
- Expressive, nicely minerally nose. Just a whisper of Burgundy decay can be detected. Still quite primary, but already enjoyable. Well-structured and properly, roundedly firm on the palate (no soft/mushy over-ripeness here), it, in whole, still manages to come off with a feminine lilt. Nice focus. Good middle. Good length.
Many immediately turn their noses up and away from 2004 red Burgundies due to professional reviewers' general vintage assessments (some, I believe, actually press hard "looking for" reasons to match said general assessments). I hope they continue doing so, as that leaves more for the likes of me.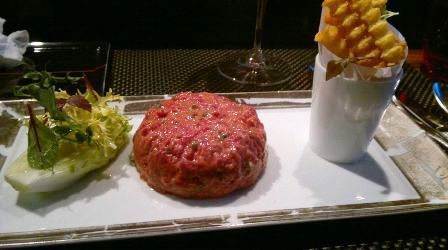 Joaqi's 4th course was, typically,
L'Onglet en Tartare et ses Frites à l'Ancienne
(tartare of beef onglet and old-style fries). He loved the tartare, but didn't think much of the fries.
Lorenzo's main (4th) course was
L'Agneau de Lait en Côtelettes à la Fleur de Thyme
(milk-fed baby lamb chops in thyme). He liked this a lot. I told him to just wait until he gets to try the grilled baby lamb in Spain (I did notice several Spanish-influenced dishes on the restaurant's menu, though this particular dish has been on it for several years - I know because I also had it there before).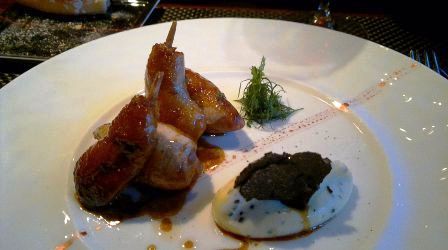 Catha, Mauro, and I had for our main course an order each of
La Caille Farcie de Foie Gras et Caramélisée avec un Pomme Purée Truffée
(caramelized quail stuffed with foie gras with truffle mashed potatoes). Very nice indeed, and excellent with the Volnay.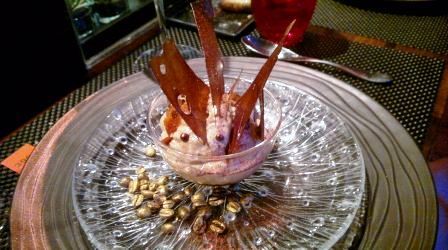 Mauro's dessert was
Le Cafe - Sabayon au Chocolat Manjari, Crumble au Cacao sur un Café Fort Glacé
(The Coffee - Manjari chocolate sabayon, cocoa crumble on strong coffee ice cream). Whenever there is a coffee dessert on a menu, Mauro will go for it.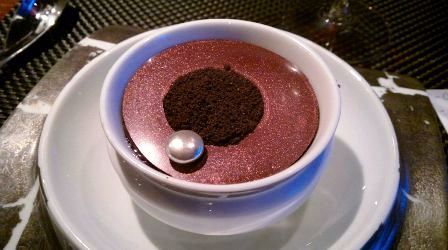 Lorenzo and I chose the same kind of dessert:
Le Chocolat Tendance - Ganache Onctueuse au Chocolat Araguani, Glace au Grué de Cacao, Biscuit Oreo
(The Chocolate Trend - creamy Araguani chocolate ganache with cocoa nibs ice and Oreo). Joaqi and Catha skipped dessert since they were too full.
Catha and I had double espressos after dinner. They served us a bunch of tiny madeleines and caramel blocks for
mignardises
and gave us a bagful to take back to the apartment as well. Not a bad dinner at all. We'll surely be back next we're in Paris.