The past couple of weeks were good ones; heavier than usual work over the past few months yielding some nice possibilities. Thus, I invited a couple of my LBC Express buddies (with whom I've been busy with on a project) and their significant others to the house for a simple end-of-the-work week celebration of dinner and wine.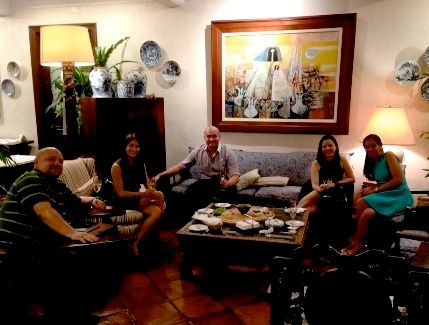 Enki Rey, Veronica Schlageter, Paolo Misa, Catha, & Mayette Rey.
Cocktails consisted of
Champagne Delamotte Brut NV
, with chèvre, reblochon, membrillo, grapes, Parma ham, salami Milano, and baguette slices. As regards the champagne,
I have described it from a recent dinner at Sala Restaurant as
:
Remarkably fresh, open, welcoming, with notable purity and breadth in its clean lines of white minerally, nicely bready apple, bit of pear pear, and discreet citrus. Just the right touch of lively enthusiasm and openness. Nice balance. What it may lack in complexity is more than compensated for by its sheer charm. Very amiable and dangerously drinkable*. At P4000 on the wine list (which is a reasonable restaurant mark-up from retail), I can easily and do readily recommend it.
That bottle was from the previous shipment of local distributor Premium Wine Exchange. The subject bottle, however, is from their recent shipment which had just arrived and was released barely a week ago. The subject bottle was notably tighter, more "nervous", less fleshy, and displaying much more pronounced/sharper citrus than the previous bottle at Sala Restaurant.
With some time in the glass, it did loosen up a bit, but wasn't as open as the bottle previously described. It was still good, but I'd say give this new batch some time to settle down from its long journey - maybe a month or so, to my mind.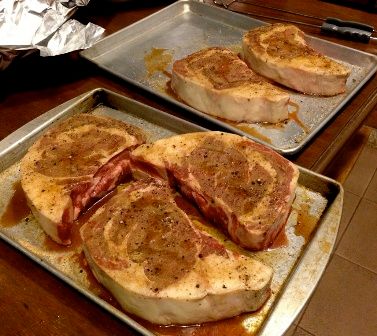 I then attended to grilling the steaks outside as the others had the
Tomato & Basil Soup
. I rejoined them during the second course of
Salad Greens, Tarragon Leaves, Pine Nuts, Parma Ham
, and the seafood course of
Seared Scallops
(hence, no photos of those). I paired the salad and seafood courses with
2011 Domaine Donatien Bahuaud Vouvray Les Grands Mortiers
- a fine, minerally, fuller/slightly heftier more ripely/lushly/pillowy-fruited, fleshier rendition of Vouvray chenin blanc. The pineapple and quince notes were there though, as well as a zippy character and healthy balancing acid. With the salad, I thought it was quite good, but a bit too sweetly ripe for the scallops (but that's just me who favors drier chenin blancs with simply prepared seafood). This wine is available at Terry's Selection at a very friendly and affordable price.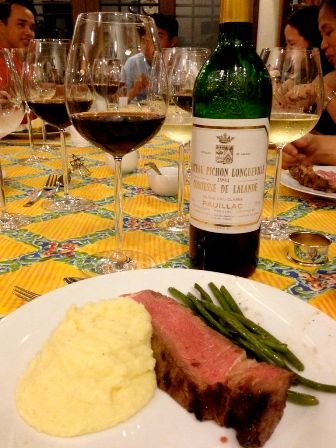 The main course was
Grilled US Prime Grade Rib-Eye Steaks with Mashed Potatoes & French Beans
. With this I served a couple of bottles of
1994 Château Pichon Longueville Comtesse de Lalande
- a notably rounded, well-curved, full-bodied Pauillac which I've had and posted on many times over several years - one of my favorite examples of how under-appreciated and misjudged vintage 1994 left banks have been by professional reviewers (another favorite example is the 1994 Haut Brion).
Its virtually creamy cassis, black cherry & dark plum dominated fruit is laden with notes of anise and cedar, and an underlying theme of loam and warm asphalt. A rather masculine Pichon Lalande, dry, well-structured, with a consistently good performance from definitive attack to long finish. Thanks to said professional reviewers, this is very reasonably priced in the US (depending where one buys).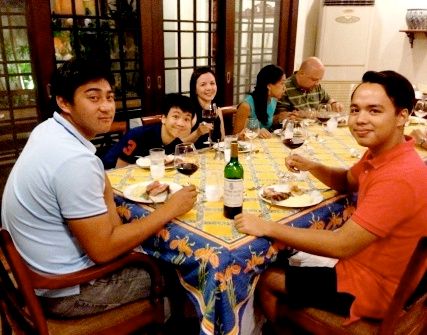 Lorenzo and his high school buddy, Do Puyat (who joined us for dinner and happens to be the nephew of our friend Department of Agriculture Under Secretary Berna Romulo-Puyat), both fine young men, are both vintage 1994 as well.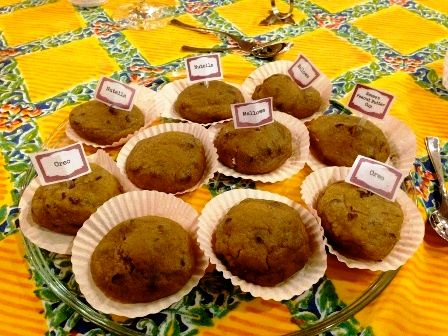 Paolo & Veronica brought over an assortment of cookies...
...which we all enjoyed together with...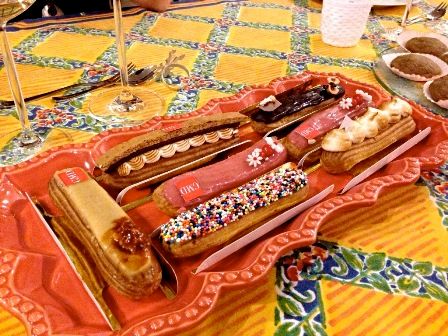 ...an assortment of eclairs by
Gourmandise Patisserie
.
Thereafter, we all eventually moved outdoors to the lanai for our espressos/coffees, some smokes, and to finish off the wine. I had some Cuban Hoyo de Moterey Epicure No. 1s on hand for the guys, but there were no takers. The night deepened with hilarious stories that got tears running. I haven't laughed so hard in a long time. Thanks again to everyone for making the trip southward in such horrible traffic.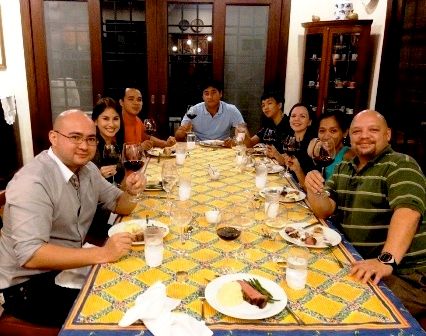 As always, until the next!