Dinner last Wednesday, the 31st July 2013, was at
COVA Tapas y Sangria
(No. 22 Jupiter Street, Makati - turn right onto Jupiter coming from Paseo de Roxas) hosted by celebrant, Mari de Terry, JC's better half. COVA is a
relatively
recent tapas bar which JC supplies with authentic Spanish products, run by young chef-patrón, Patrick Hesse (whose father, Uwe, I know from golf at ACC).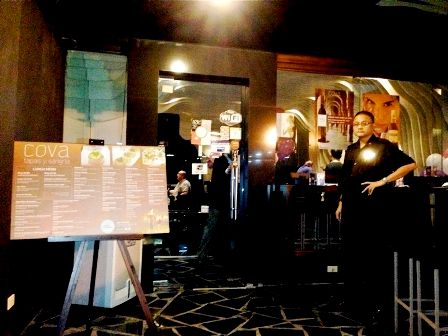 Though I've heard and read good things about COVA in the past from JC, Jim Araneta, &
Jin's blogpost
, this was my first time there. I looked forward to finally trying it out. JC had earlier e-mailed us Patrick's dishes that we were to have that night. We were 7 in all: JC & Mari, Rommel & Cris Hinlo, Alex Tiu, and Catha & I.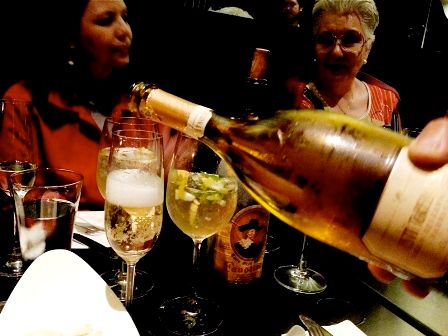 To start, some of us shared a pitcher of the
Lychee-Mint Sangria Blanca
, which was quite nice - bright, fruity, very refreshing and approachable - the alcohol quite mild.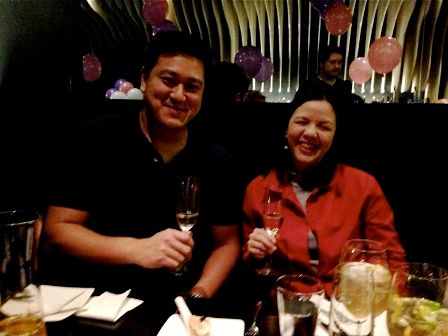 A cava toast to Mari's birthday: ¡
Salud
!
We then moved to one of the best cavas I've had, the
2008 Agustí Torelló Gran Reserva "Barrica"
- I've had this producer's 2007 Gran Reserva, 2009 Rosat Trepat, & Kripta around a couple of years ago from Aaron, so I am a little familiar with the producer. The subject 2008 Gran Reserva Barrica is the best I've had from them - rounder, nice heft and moderately creamy middle, good toastiness, very subtle vanilla to the green apple and slight pear. 100% macabeu from Penedès, 40% of which is fermented in French tronçais for 8 months, with the blend undergoing a minimum 30 months of ageing before release. Very nice indeed; and currently available at Terry's Selection.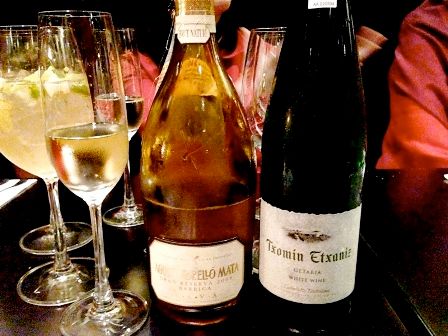 Of course, for the seafood-based tapas, I simply had to bring along a bottle of my favorite
Txomin Etxaniz Txakolin
(D.O. Getariako Txakolina; available at Terry's). Txakolin is traditionally poured at height to activate the wine. Since I've lost the txakolin spout Miguel gave me, and my hands were not so steady that night, I started to spill a bit. Noticing my difficulty, Patrick had one of his staff do the pouring, assuring me that they are trained for this as they also serve sherry - which was greatly appreciated.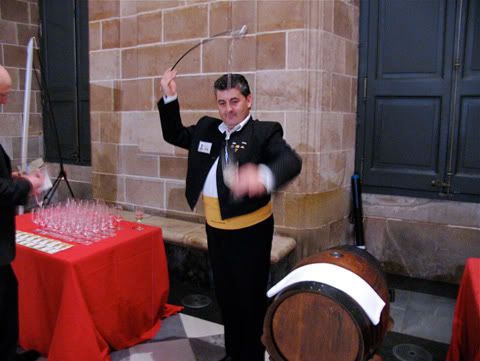 This is how sherry is traditionally poured.
The opening salvo of several tapas was Patrick's creative Spanish-Japanese fusion
Shrimp, Aioli, "Paella" Nigiri Sushi
. Very interesting dish, the "paella" base reminiscent of the toasted bottom part many enjoy and scrape from the bottom of the paellera (a.k.a., "tutong").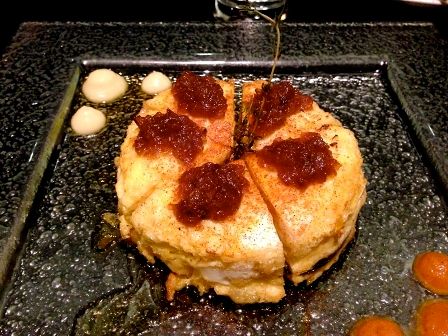 This was followed by the
Tortilla de Patatas y Morcilla topped with Caramelized Onion Jam
. I liked the tortilla fine, but could have done without the onion jam which I found too sweet with the rest of the dish. So, I just scraped off most all of the onion jam and I was a happy camper.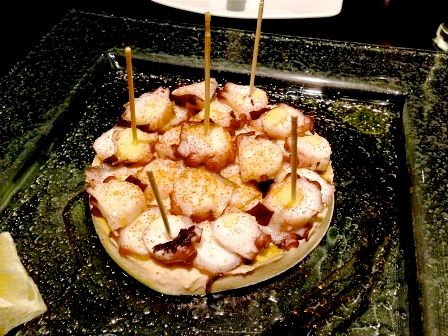 Next was a Moorish spin on a Galician classic:
Pulpo a la Gallega con Hummus
(apparently, this, and variations thereof, are currently making waves at many tapas bars in Spain). Excellent stuff, we wiped this clean. Rommel, Alex & I favored this dish for the night, and it went very well with the txakolin.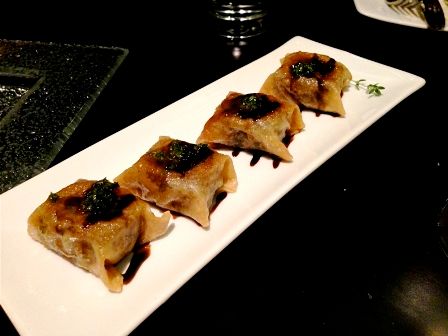 Then,
Crispy Ravioli of Rabo de Toro, Foie Gras & Mushrooms
. Very nice in themselves - nice play on textures, and hearty, robust, earthy, rustic flavors. It made for a fine pairing for the evening's reds to boot.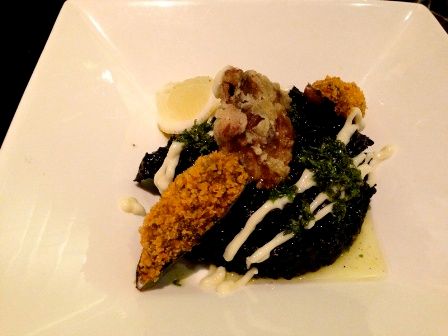 The earthy heartiness continued with a return to the sea in the
Arroz Negro with Softshell Crab & Mussels
. This was also quite good, and a good pairing for the reds as well.
The evening's reds, all Riojan Gran Reservas: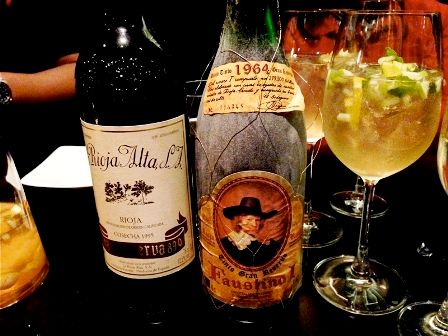 1995 Bodegas La Rioja Alta Gran Reserva 890
- Alex's bottle. I've had this wine countless times and have written about it repeatedly. My last notes (which may or may not have been the last time I had it) was from
a dinner at La Tienda on the 28th July 2011
), as follows:
1995 La Rioja Alta Gran Reserva 890

- Last bottle I opened was in late April 2011, paired with rack of lamb

during dinner at Sala

. I've had very many bottles of this and have enjoyed every single one of them:

"I had it decanted for about 45 minutes to an hour before service and it showed quite differently from when it is just popped and poured. After decanting, the otherwise explosive aromas of creamy oak, dill, licorice, black cherry, mocha and kirsch are more self-possessed/circumspect and show quiet depth. In the mouth, more leather, violets and herbs make their presence felt more; and the oak/vanilla and dill are more subtle and seem better integrated. What remains constant, however, is that it is undeniably an alluring wine. Loved it as I always do."

Consistent with the above notes, side-by-side the '97 GR 904, this is evidently heftier, more rounded and with a creamier-fruited feel as well as richer - but well-integrated - oaken vanilla and spice. This never fails to please the people at table. Beautiful wine.
This subject bottle of Alex was popped-and-poured, no decanting for aeration or otherwise - redolent with creamy vanilla, slight toffee, hint of cinnamon, likely displaying its American oak ageing. Lush, plush, full, deep, rich, loamy, spicy, complex. The smooth creaminess translated onto the palate. Finishes long and with a stylish flourish. It's bouquet, depth of fruit and well-integrated, creamy vanilla-oak reminded me of the old Castillo Ygays. Very nice indeed.
1964 Bodegas Faustino Faustino I Gran Reserva
- My bottle, from the last batch Aaron and I had flown in from Spain. Refined, cedary, just a few notches over medium-bodied, spicy and complex in its silky, streamlined, supple black cherry, raspberry, slight hints of ceps, leather, balsamico, sandalwood, and violets. It's a beautiful wine, if I do say so myself.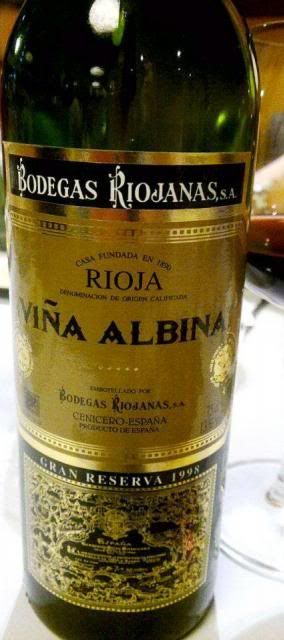 (File photo)
1998 Bodegas Riojanas Viña Albina Gran Reserva
- JC's bottle; he reminded me that it was a gift from me to him (I had totally forgotten). A patrician, Bordeaux-esque tinto Riojano, properly reserved and discreet. I've enjoyed countless bottles of these as Aaron & I used to bring them in; my last notes being from
a dinner at home for Los Golfos almost a year ago, the 29th September 2012
:
We also had some

1998 Bodegas Riojanas Viña Albina Gran Reserva

- This is one of my most favorite wines that Aaron and I bring in. I don't want to say too much about it now since I am seriously considering bringing more in, but suffice it to state that of all the wines we bring in, this refined, Bordeaux-reminiscent beauty is one I make extra sure I have a good number of for my own personal stash. Tito Linggoy, a confirmed Rioja aficionado, Quito, and, as I recall, Henry too, though they also enjoyed the preceding tinto del Bierzo, favored this wine last night.
All I can add now, is that this wine is definitely a class act. Enough said.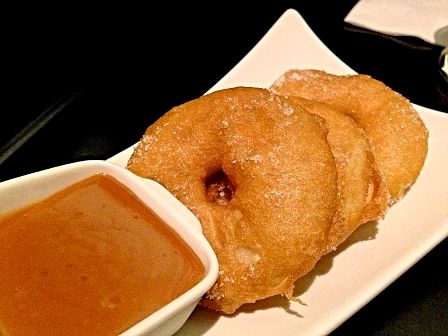 For dessert, some simple, honest, and delicious
Deep-Fried Apple Fritters with Dulce de Leche Sauce
, which paired wonderfully with...
...JC's bottle of
2002 Oremus Tokaji Aszú 5 Puttonyos
- Candied apricot, bit of orange marmalade, vanilla bean, slight spiciness, sleek, light-footed, with wonderful freshness from precise acid balance. A beauty of a wine - and I expected nothing less from Vega Sicilia's Hungarian venture. ¡
Olé
!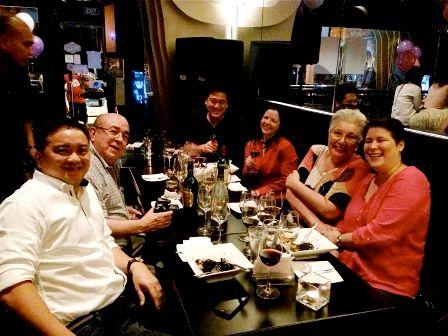 Wonderful night with good food, wine, and great friends. Many thanks again, Mari & JC! Congratulations to Patrick are in order for the meal. This was a tough crowd under any circumstances, but all were happy. My compliments to the chef. Until the next!