Wednesday evening, the 25th September 2013, was another of
Terry Selection
's events in homage to Spain's River Ebro, entitled
"Vino, Queso, Charcuterie, Pintxos & Tapas"
.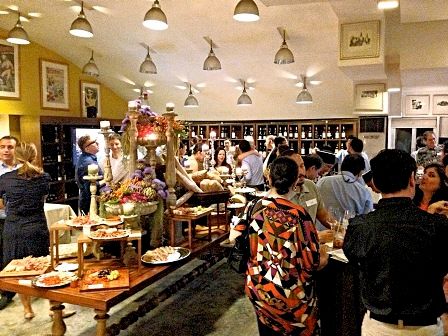 As it's title indicates, it was an evening where everyone engaged in
ir de tapas
, but, in this case, without having to leave the premises as the whole 2º Piso was transformed into a giant taverna with several different stations for regional wines, cheeses, pintxos, and ambulant tapas.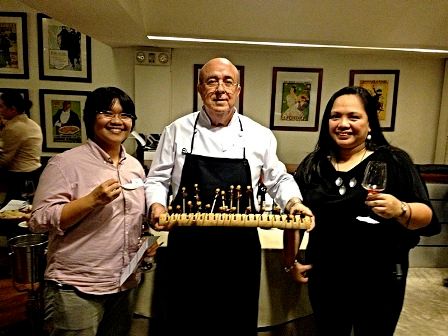 Maestro JC de Terry with Dr. Thea Ancheta & Chowhound Cyrene de le Rosa
Only 60 slots were made available, and each slot was hotly contested. The event sold out in a matter of a few days, with many clamoring to get in. Luckily, Catha & I, and many of our friends made the cut.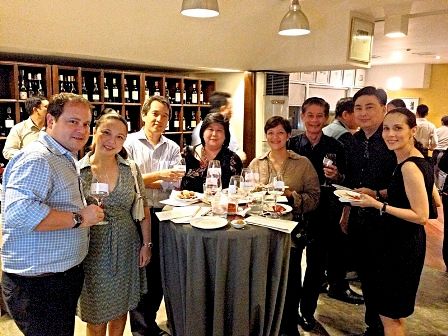 Rene & Aimee Fuentes, with Mich Server-Rapanot, Jon Fernandez, and Boozze & Margarita Fandiño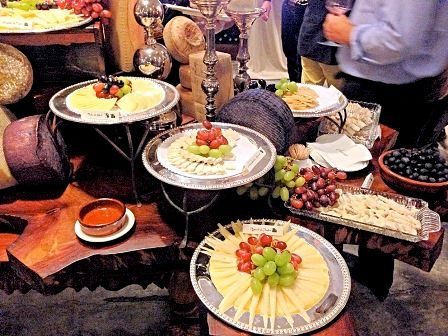 There were tons of different artisanal Spanish cheeses...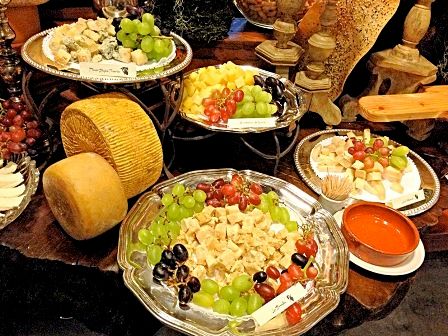 ...from Cantabria, the La Rioja, Navarre, Aragón and other regions...
...through which the Ebro River flows.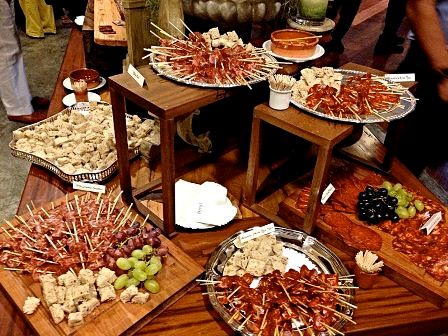 There were countless types of charcutería and pintxos...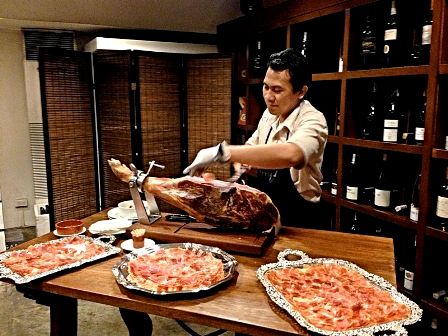 ...as well as a carving station of luscious, silken jamón...
...and no less than 48 different free-flowing regional wines...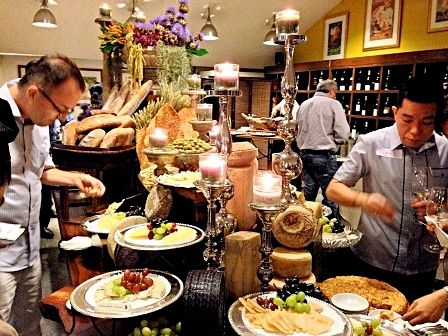 ...for everyone to enjoy.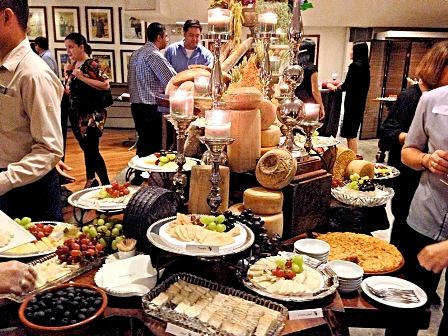 The biggest challenge was deciding where to begin!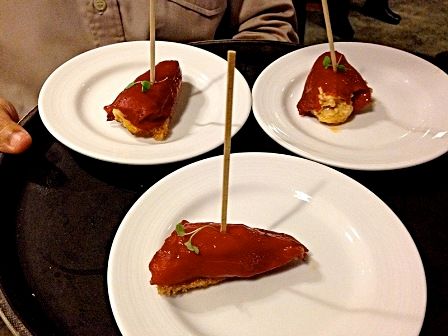 As if all that were not more than enough, a wealth of delicious tapas, all made
à la minute
, were offered throughout the night. These were
Piquillos Rellenos de Muselina de Cabra y Cardos La Catedral
(Piquillo Pepper Stuffed with Goat Cheese and Cardoons Mousseline). With the first several delightful salvos, I had glasses the bright, light-footed, welcoming, and lively
Bodegas Ondarre Selección Millennium Brut Cava
from Rioja - a great way to kick off the evening. Very reasonably priced at Terry's Selection, it is an absolute steal, and highly recommended.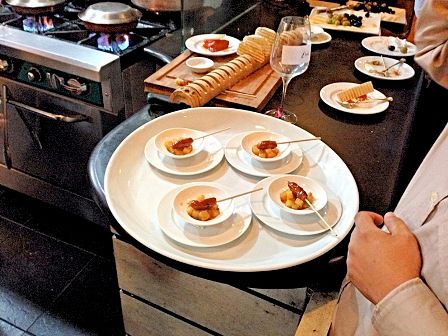 Ready to be served...
Pintxo de Patatitas y Chistorritos de Arbizu al Idiazábal de Pastor
(Mini Chistorra from Pamplona with Melted Idiazabal Cheese)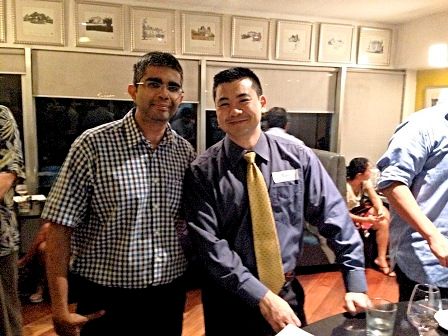 Sanju Gopaldas with Dr. Terrence Cham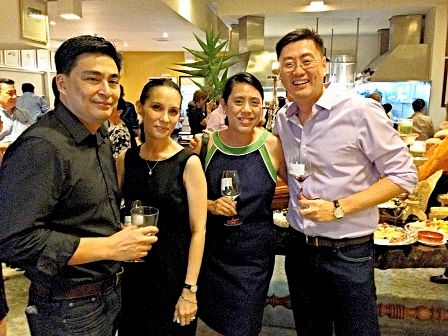 Boozze & Margarita Fandiño with Bambi & Jay Sy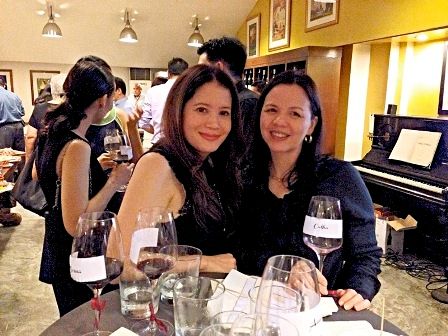 Catha & DA Usec Berna Romulo-Puyat enjoying some tinto Riojano.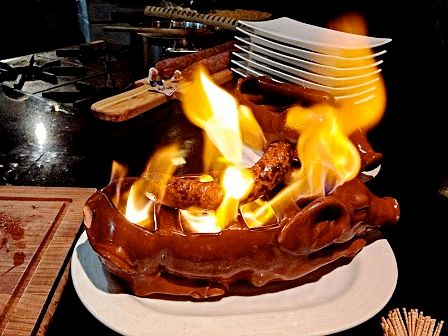 Chorizo Alejandro "Puchero" on Piggy Back
(Alejandro "Puchero" Red Sausage Flambéed in Brandy).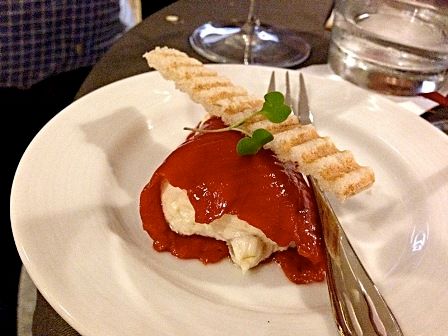 Piquillo Caliente Relleno De Béchamel de Chrorizo de Pamplona y Bejés Tresviso
(Grilled Piquillo Pepper Stuffed with Chorizo Pamplona & Blue Cheese Béchamel)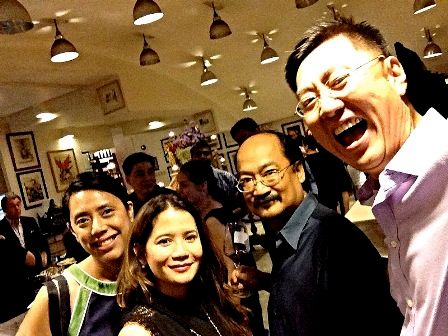 Only Jay has the wingspan needed for a "selfie" such as this.
One of my favorite tapas of the night was the
Habitas La Catedral y crujiente de Jamón de Teruel sobre Crema de Huevos Fritos
(Baby Broad Beans and Jamón de Teruel Crisps). I made sure to nab doble ración of this. Fortunately, these habitas are now available at Terry's.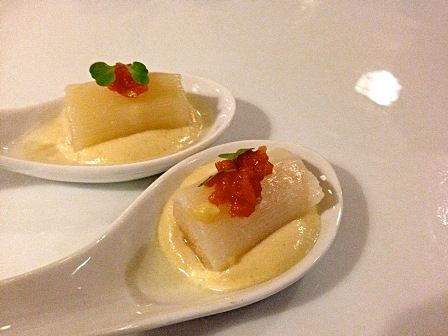 Pintxo de Espárrago La Catedral
(La Catedral Asparagus On Mustard Remoulade)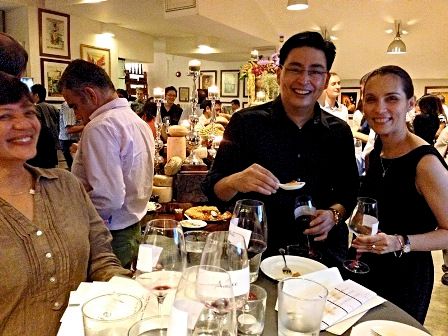 ¡Qué rico!
Croqueta de Morcilla Empiñonada
(Blood Sausage Croquette)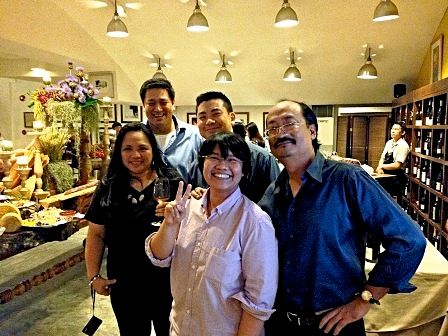 Me with some IKI Gangmates: Alex Tiu, Thea , Cyrene, & Terrence.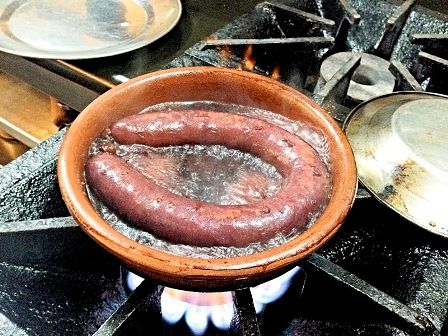 The making of...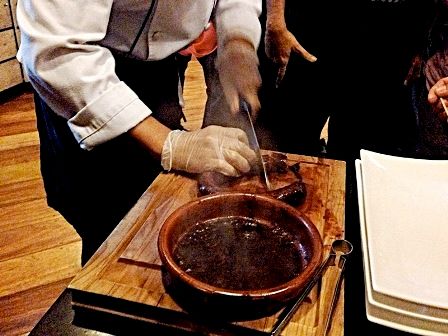 Chorizo Alejandro Clásico en Reducción de Cerro Añón Crianza
(Chorizo Alejandro Cooked in Rioja Wine Reduction). Fantastic!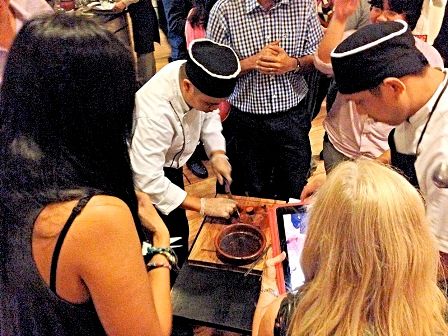 Lots of eager guests grabbed these hot off the chopping board.
¡Joder! ¡Alcachofas!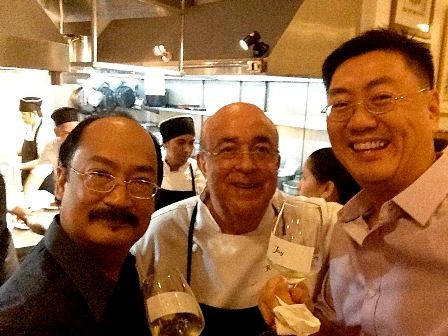 Me with JC & Jay Sy.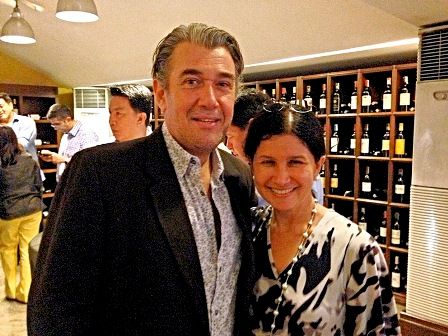 Antonio Garcia of the famous
Mabolo Flowers
looking extra dapper.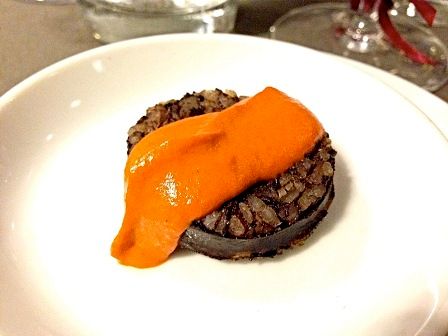 The superb Morcilla de Pastor a la Crema de Pìquillos Asados La Catedral
(Shepherd's Blood Sausage crowned with Roasted Piquillo Cream)
Alubias Rojas del Valle de Irati con su Pancetita Alejandro Adobada y Morcilla Ahumada
(Navarre Style Black Bean Stew With Marinated Pancetta and Smoked Blood Sausage)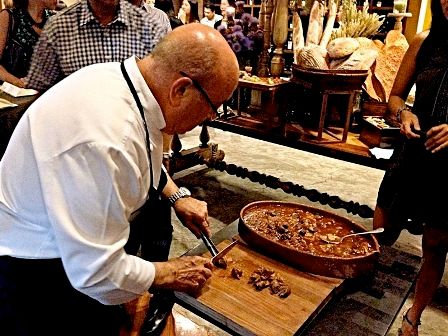 JC personally prepares an old, traditional, now quite rarely made...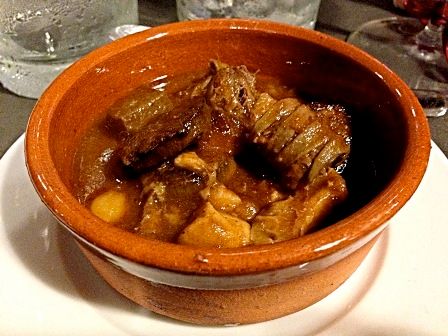 ...
Patorrillo al Estilo de Tafalla
(Navarra)
(A Goat and Tripe spicy Delicacy in Roasted Red Pepper Sauce)
There were so many other wonderful dishes served, but I was so busy enjoying myself that I was unable to photograph them all. Withe the heavier tapas, I and several of my friends enjoyed several glasses of the excellent
2005 Bodegas Ondarre Cerro Añon Gran Reserva
- deep, delicious, and always well-balanced, this is a moderately-priced traditional tinto Riojano gran reserva that I keep in ready stock at home (distributed by Terry Selection).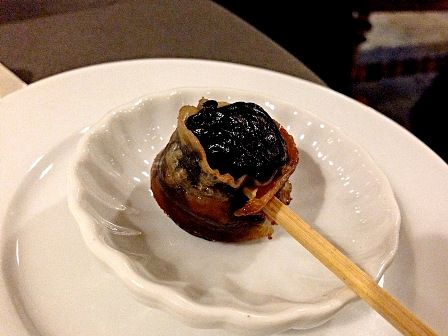 Dessert:
Crujiente de Ciruela de Calanda al Queso Estrell de Huesca
(Crunchy mix of Prune from Calanda and Estrell Cheese from Huesca)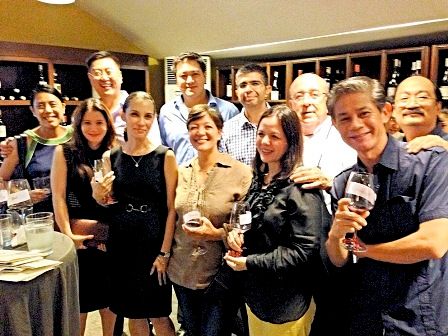 Chalk up another resounding success for JC and Team de Terry! It was yet another memorable night of celebrating life with excellent, passionately-made dishes and wines - all in the company of family and friends. What more could one really want? Congratulations again, JC!
¡Hasta la próxima (semana)!