(From this week's [30 Second Wine Advisor)
Don't water that wine!
Sometimes I try an experiment just so you don't have to. Take
Howard McGee's
riff on adding water to fine-tune the flavors of wines and spirits, for example.
Thanks to the miracles of social media optimization, McGee's July 2010 Curious Cook article in
The New York Times
, "
To Enhance Flavor, Just Add Water
," just popped up on my screen again. I may have missed it the first time around, but it definitely caught my attention eight years later.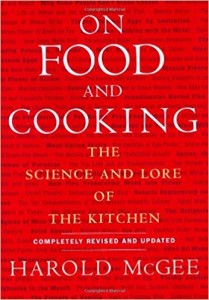 When McGee talks about food and drink, I listen. His magisterial, 895-page "
On Food and Cooking: The Science and Lore of the Kitchen
," an encyclopedic but approachable guide to food science, has been on my bookshelf for years and gets lots of use. (
Buy it at this Amazon.com link
and we'll earn a small commission at WineLoversPage.com.)
But this article made me wonder, when he declared that adding water – yes,
water
– to spirits, wine, even coffee, can make them taste better. I can see it with spirits, sort of, knowing that a splash of water in a glass of liquor can cut the alcoholic heat a bit and spread out the flavors on one's palate. But watering wine or liquor on the sly has a long and unsavory history; the practice was known to lead to gunfights in Old West saloons.
Still, McGee was persuasive, as he usually is. "Water is indeed a useful flavor enhancer, exactly because it dilutes other ingredients and can change their balance for the better," he wrote, following up with an observation that spoke directly to my personal low regard for overly alcoholic monster wines: "It's no secret that the alcohol in drinks can get in the way of our enjoying their flavors. When alcohol makes up more than 10 to 12 percent of a liquid's volume, we begin to notice its irritating, pungent effects in the mouth and in the nose."
Why, yes. Yes, we do. Or I do, anyway. You've seen me rant about this before, blaming a combination of warming climate and the taste buds of American critics for a gradual, continuing increase in the typical alcohol levels of wines, particularly reds.
Adding a little water can help, McGee claimed, explaining the hypothesis in clear science:
How can water reduce one sensation and amplify another? Both alcohol and aroma molecules are volatile, meaning they evaporate from foods and drinks and are carried by the air to the odor receptors high up in the nasal cavity.

Aroma molecules are also more chemically similar to alcohol molecules than they are to water, so they tend to cling to alcohol, and are quicker to evaporate out of a drink when there's less alcohol to cling to.

This means that the more alcoholic a drink is, the more it cloisters its aroma molecules, and the less aroma it releases into the air. Add water and there's less alcohol to irritate and burn, and more aroma release.
Sounds good, doesn't it? Of course I had to try it. A quick trip to my neighborhood wine shop,
The Wine Rack
, unearthed a highly regarded single-vineyard Argentine Malbec,
Ricardo Santos 2016 "El Malbec" La Madras Vineyard Mendoza Malbec
, with "14%" printed in the usual tiny type on the label. Upon tasting, it lived up to the claim and then some. From its impression of alcoholic heat on the palate, I'd have guessed it exceeded the label claim by a good margin. To its credit, it tasted good, showing fresh plums and blackberries and intriguing minerally
terroir
. The alcoholic edge carried an almost liquorish burn, though, so it seemed like a good candidate for a splash of water.
Alas, though it hurts me to push back against as lofty a figure as Harold McGee, it just didn't work for me, not with this wine. A water dose amounting to one-fourth of the wine, as he recommended, just made the wine seem dilute. Sadly, even a smaller splash in another glass did not improve the wine; if anything, the result diluted the fruit more than the oak, making the wine unbalanced.
I might try this again some day with another high-octane wine. Or not.
How about you? Have you ever tried adding a little water to a high-alcohol wine? How did it work out?