(This week's 30 Second Wine Advisor)
Who wants wine nutrition labeling?
For at least a dozen years, an army of health and consumer advocacy groups in the U.S. and Europe has repeatedly called on government to require that wine bottles carry health and nutrition information.
Through all that time, the wine industry – with few exceptions – has resisted all such efforts, declaring that such labeling would do no one any good and would be terrible for business.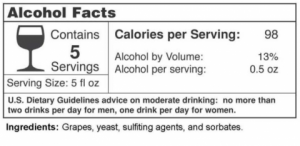 Now the issue is on the table again, as a consortium of U.S. pressure groups including the Center for Science in the Public Interest, the Consumer Federation of America, and the National Consumers League,
have called on the federal Alcohol and Tobacco Tax and Trade Bureau (TTB)
to write a new proposal for wine labeling. "Consumers of alcoholic beverages deserve the clear, consistent labeling that has long been available to other beverages," the organizations wrote.
"So, one side thinks nutrition and labels are a good thing for wine, while the wine industry is generally much cooler to the idea," Becca Yeamans-Irwin
wrote yesterday
in her excellent blog,
The Academic Wino
. "What would happen if ingredient and nutrition labels became mandatory for wine? Would people start buying less of it? More? Would anyone actually care?"
Would anyone actually care about wine ingredient labeling?
This may be the most important question in the long-simmering issue. Wineries largely oppose labeling requirements for fear that consumers will be put off by discovering trace elements in wine that might range from eggshells or fish bladders (historically used to clarify wine) to modern ingredients like Mega Purple, a commercial ingredient used to impart a deeper, darker color. Not to mention oak chips or the much-feared sulfites.
"Studies have shown that consumers, in general, are interested in knowing what's in a given food product as well as its nutritional content," Yaemans-Irwin wrote. But, "some research indicates that what consumers
say
about how they feel regarding these kinds of labels does not predict their
actual
purchasing behavior. So, the consumer might say nutrition and ingredient labels negatively influence their opinions on a given product, but when it comes to their actual purchasing behavior at the grocery store, they aren't purchasing that particular product any less than they did before nutrition and ingredient labels on food became mandatory."
In fact, one Australian study discovered that posting calorie information on wine labels had unintended consequences: Some consumers were angry abot being informed, while others chose to reduce the amount of food they ate so that they could still drink the same amount of alcohol, "which would possibly result in increased intoxication and the opposite effect of labeling that some groups are probably hoping for."
In general, she added, "consumers are interested in seeing nutrition and ingredient information on alcoholic beverages. However, even though consumers say they would like this information, studies have shown that they don't actually understand what they are reading when they are presented with these details."
The blog post is long, detailed, and fascinating, with information about many studies on labeling and consumer attitudes and behavior. I commend it to your attention on
The Academic Wino site. Click here to read it all
.
Or, cutting to the chase, "In summary, despite the negative statements made by participants when directly asked about nutritional/ingredient information on the back label of a wine bottle, the indirect/observational part of the experiment showed that this information doesn't really matter and that this information wouldn't change a consumers' purchase behavior."
Does this mean that the wineries win? Not necessarily. But if there's substantial evidence that nutrition and ingredient labels on wine don't serve their intended purpose, then it's worth asking whether substantial investment in this effort is justified.
What do you think? Let's hear your thoughts on wine ingredient labels.