Cute wine labels
There's something about a cute or cuddly animal on the label that seems to sell a lot of wine. As I wrote in a discussion of Australia's "Little Penguin" and "Yellowtail" in the June 30, 2004 Wine Advisor, "Sometimes it seems that the wine business is as much about marketing as it is about grapes and soil, and this is certainly true at the mass-market level, where the buyer's choice in purchase decisions may be as much about the label as it is about the wine."
Yellowtail, one of the first of the modern genre, quickly inspired a Noah's Ark full of imitators, from Penfolds' Little Penguin and Gallo's Black Swan to Don Sebastiani's zany Smoking Loon. In Southern France, the cheekily named Fat Bastard demonstrates that even a hippopotamus can be cuddly, if you hire an artist to draw it right.
Frankly, as much as I'd like to pretend that I'm never swayed by such psychological meddling, I can't honestly claim that an appealing label sometimes catches my eye when hundreds of bottles are competing for my attention on the retail shelf. California's Bonny Doon is masterful at this trade, capturing my fancy with its Ralph Steadman cartoon labels (like the classic "Cardinal Zin") and with the bold Euro-style circus labels on its "Il Circo" line of offbeat Italian varietal wines.
The truth, of course, is that an eye-catching package may get your attention, much like a carnival barker. But it takes a convincing spiel to follow through and make the sale.
Today's rumination, curiously enough, was inspired by a wine label at the other end of the cuteness scale. Clua 2004 "Mas d'en Pol" Terra Alta, a blend of red grapes from a relatively unknown region in Spain's Catalan-speaking region near Priorat west of Barcelona, proved to be an absolutely delicious red wine and a remarkable $10 bargain. But it came adorned with a stark, simple label so covered with tiny print that it looked more like a medicine bottle than a vessel for wine. It was good medicine, though. I'm going back for more.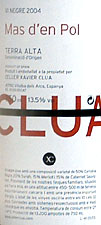 Clua 2004 "Mas d'en Pol" Terra Alta ($10)
A blend of 50 percent Grenache (Garnatxa Negre in Catalan), 20 percent Syrah, 15 percent Merlot and 15 percent Cabernet Sauvignon, this is an inky blackish-purple wine with a clear garnet edge. Earthy raspberries add an appealing mineral note of red clay in the aroma; ripe red plums and tart cherries cloak a firm acidic core. Very good wine, particularly for this low-end price. U.S. importer: Locally from Bluegrass-Catalunya International, Louisville; also Oriel Wines in New York. (March 15, 2006)
FOOD MATCH: Its combination of fruit and earth made it a beautiful match for a reasonably successful home interpretation of Cuban lechon asada, citrus-marinated roast pork.
VALUE: One of my top buys of the year for $10.
WHEN TO DRINK: Although I have no track record with this wine and not a great deal with Terra Alta, its fruit and balance and varietal component reassure me that it should hold up well for several years; but it's drinking beautifully now and clearly meant for short-term consumption.
WEB LINK:

The good news is that Celler Xavier Clua has a Website. The bad news that it's in Catalan. If you want to look at the pictures and try to guess at a translation, you'll find it here:
http://www.cellerclua.com/
For information in English, here's a Terra Alta fact sheet from Oriel:
http://www.orielwines.com/regions/r_terra_alta.php
FIND THIS WINE ONLINE:

Look up prices and locate sources for Terra Alta on Wine-Searcher.com:
[url]http://www.wine-searcher.com/find/Clua%2bTerra%2bAlta/-/-/USD/A?referring_site=WLP]Clua[/url]