Mud-pie memories
When I was a child, I thought as a child, I spoke as a child, and I played as a child, splashing through puddles and making the occasional mud pie on showery spring days. Now that I am grown, I carry an umbrella when it rains, and I try my best to keep the least droplet of mud off the pants leg of my best Brooks Brothers suit.
But give me a taste of a red or white wine that evokes that almost forgotten scent of damp red clay or rainwater running over limestone rocks, and I feel a special joy that runs right down to my toes, because - even if I don't consciously realize it at the time - those nostalgic scents are bringing back happy memories of childhood.
And that, my friends, is why some wine enthusiasts, anyway, harbor a special love for wines that bring minerally characters to the fore, and why we don't quite comprehend the critical pressure that prompts some producers to make "fruit forward" wines that overcome and obscure that lovable sense of the soil.
Is there something the matter with wines that taste like fruit? Not a thing! Grapes, after all, are fruit. But there's something about mineral-driven wines that goes beyond subtlety and grace and speaks directly to the soul. In a coming issue, I'll return to this discussion with a closer look at the other side, reviewing a memorable fruit-forward wine or two. For today, though, let's celebrate the earth and the soil with quick reports on two recently tasted, affordable wines that make me as happy as, well, going barefoot in a fresh, warm summer mud puddle.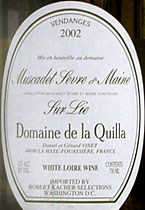 Domaine de la Quilla Daniel et Gérard Vinet 2002 Domaine de la Quilla Muscadet Sèvre et Maine Sur Lie ($13.99)
This transparent, straw-color wine shows its minerality in the form of chalk and seashells, delicate and evocative aromas that blend with subtle white fruit. Flavors are consistent: clean, tart and citric, with a lovely "rocky rainwater" character that becomes more evident as the wine warms in the glass. Snappy lemon-squirt acidity and chalky minerals sweep it all up in a long finish. U.S. importer: Robert Kacher Selections, Washington, D.C. (March 23, 2006)
FOOD MATCH:
In retrospect, it would have been outstanding with oysters; but it served mighty well, too, with a Northern Italian-style sautee of chicken with onions, garlic, bay leaf and thyme.
VALUE:
Wine of this complexity and flavor interest in the lower teens? I'm going back for more.
WHEN TO DRINK:
Muscadet is one of the whites that will reward careful cellaring with increased richness and complexity, and even a couple of years can build interest. It doesn't require aging, though, and this '02 is coming along nicely now.
WEB LINK:
Here's an
importer fact sheet on Domaine de la Quilla
.
FIND THIS WINE ONLINE:
Look up prices and locate sources for
Domaine de la Quilla Muscadet on Wine-Searcher.com
.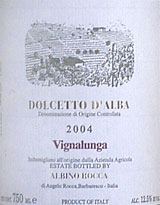 Albino Rocca Albino Rocca 2004 "Vignalunga" Dolcetto d'Alba ($15)

This is a very dark ruby wine with a noticeably hazy aspect ... I'm guessing it's unfiltered, not that there's anything wrong with that. Distinct red-clay minerality evokes those happy childhood memories that make mineral-driven wines lovable, but there's plenty of Dolcetto-style plum and berry fruit, too, nicely structured by tart acidity and soft, "chewy" tannins. U.S. importer: Vintner Select, Mason, Ohio, and other regional importers; from Marc de Grazia (March 21, 2006)
FOOD MATCH:
A full-flavored Dolcetto performs well with red meat, and this one was fine with a thick, rare pan-roasted bone-in rib eye steak.
VALUE:
Appropriately priced in the middle teens.
WHEN TO DRINK:
Dolcetto, in my experience, doesn't age particularly well even when it's as nicely structured as this; the fruit fades and the intriguing minerality turns to, well, mud. Drink up over the next two years.
WEB LINK:

The
Albino Rocca website
does not appear to be currently active.
FIND THIS WINE ONLINE:
Look up prices and locate sources for
Albino Rocca Dolcetto on Wine-Searcher.com