Screwcap protects freshness?
Shopping the other day for another crisp, refreshing Sauvignon Blanc for this month's Wine Focus, I spotted a good-looking bottle from South Africa at a price that seemed more than fair.
Great! I snapped it up, and then ... I
hate
it when this happens: I got the bottle of 2005 Durbanville Hills South Africa Sauvignon Blanc home, entered it into my records and ... doggone it! I had bought the same wine at the same store and reported on it
two years and three months ago
!
What in the heck is a reputable retailer doing leaving a wine meant for early consumption on the shelf for all that time? The bottle was so shiny that they must have dusted the darn thing from time to time to keep it looking new. Adding insult to injury, they had raised the price 50 cents, too, although at least that's a lot lower rate of inflation than gasoline.
I thought about taking it back for an exchange, but then I noticed the sturdy, modern metal screw cap. Say! This could set up an interesting experiment!
Normally, I would be slightly wary of a modestly priced Sauvignon Blanc under a natural cork - and even more so under synthetic - even three years after the vintage. I wouldn't expect it to be around the bend, but certainly I wouldn't count on it for freshness.
But a screwcap - the modern, sturdy Stelvin brand and its competitors, anyway - comes about as close to a fully secure airtight closure as you're going to get. I still had
my published notes on this wine
from April 19, 2006.
How would the wine have fared under the screwcap? Did the sturdy stopper hold it without a change, or had it faded badly? I would open the new bottle, compare notes with the old, and - if it wasn't exactly rigorous research - at least I would have a data point.
As it turned out, the results were somewhere in between. Tasted over two years ago, the then-young wine was almost over-the-top in its vivid, exuberant fruit, striking me as an almost conscious effort to emulate the style of New Zealand's iconic Cloudy Bay.
Tasted this week, a bottle from the same lot had shed some of that Technicolor, even under the screwcap. But it was still deliciously fresh, retained its crisp limey notes and interesting green-chile aromas. Frankly, I rate it a better wine now because of the relative elegance and balance it had gained.
Score one for the screw cap: It didn't "fossilize" the wine unchanged, but it had kept it well and actually fostered beneficial development in the bottle.
I'd be interested to hear about your experiences with screw capped bottles that have been held for a while. Is the screw cap proving out for you as a closure for keeping fresh-style wines fresh and ageworthy wines with style? If you've a story to tell, I hope you'll join in this conversation.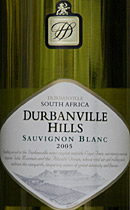 Durbanville Hills 2005 Durbanville South Africa Sauvignon Blanc ($12.49)
Clear, pale straw color. Very fresh and properly aromatic for the variety, a good blend of bright citric limey notes and a discreet green-chile aroma. Plenty of fresh, juicy lime on the palate, quenching and fresh. There's some texture here - it's not a light-bodied wine - but the fresh citric flavors make it an exceptionally good wine for sipping chilled on a hot summer evening. U.S. importer: Brown-Forman Beverages Worldwide, Louisville. (July 15, 2008)
FOOD MATCH:
A natural seafood wine. It was wonderful with an aromatic, gently spicy Zanzibari fish and coconut soup, a recipe for which I thank my Finnish online pal Otto N., who presented it in a recent FoodLovers Discussion Group conversation.
VALUE:
Prices vary around the nation from $10 to $17; it's certainly a fine buy at the lower end of that range.
WHEN TO DRINK:
As discussed, its sturdy metal screwcap seems to retain freshness well, although its almost over-exuberant character has fallen back to something a bit more elegant over two years on the retail shelf.
WEB LINK:
You'll find a report on this specific wine on the winery Website at this link:
http://www.wine.co.za/Directory/Wine.aspx?WINEID=11557
FIND THIS WINE ONLINE:
Find vendors and check prices for Durbanville Hills Sauvignon Blanc on Wine-Searcher.com:
http://www.wine-searcher.com/find/Durba ... g_site=WLP