White wine when it's hot? Not!
It's hovering just under 100F outside my office window again today (that's 38C for all of you in the rest of the world). It's been like this for week, there's no end in sight, and this morning's papers suggest that even the global climate-change deniers are suddenly starting to go "Uh, oh."
So, it's time to open up a bottle of ice-cold white wine, right?
Well, maybe not.
Wine enthusiasts seasonally speak of "summer sippers," the lighter, whiter, friskier wines that we can chill down and quaff when the weather outside is frightful ... frightfully hot. According to this theory, hearty reds are better saved for those crisp autumn days and on into frigid winter.
But doggone it, sometimes I just
want
a red. And after all, this is why we have air-conditioning.
So, the other day, when the outside temperature went over 100, I didn't think twice about slapping a couple of fresh, pepper-crusted locavore lamb chops and some garlic and fresh rosemary into a searing black-iron skillet.
I served it with a reasonably priced French red just made to match, a peppery and mouth-watering Brunel 2008 Chateau Saint-Roch Côtes du Rhône (featured below). I popped it in the fridge for about 45 minutes before dinner to bring it down toward cellar temperature (yes, it's okay to chill a red, just don't get it ice cold), and all was well.
I'd rather match my wine to the food than to the thermometer, thank you. Indeed, whites often go well with summer fare, from a refreshing shrimp salad to cool and spicy gazpacho. But there are plenty of red-wine-worthy cool summer dishes, too: Smoked salmon and Pinot Noir, anyone? Or a steak or lamb chop hot off the grill.
What do you think? Does sultry summer push you over to a steady diet of chilled whites and pinks, or are you willing to choose a red when it goes with dinner?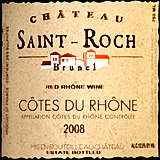 Brunel 2008 Chateau Saint-Roch Côtes du Rhône ($13.99)
Dark garnet with a transparent edge. Black and blue berries on the nose with just a touch of floral black pepper to add complexity. Mouth-filling, tart and snappy black fruit flavor, with a hint of plum and lemon-squirt acidity lingering. A typical Southern Rhone blend of 50% Grenache and 25% each Syrah and Cinsault. U.S. importer: Shaw-Ross International, Miramar, Fla. (Aug. 7, 2010)
FOOD MATCH: A wine made for red meat, fine with locavore lamb chops crusted with black pepper, pan-seared with fresh rosemary and garlic and oven-finished medium-rare.
VALUE: I'd buy more at this price.
WEB LINKS: The winery Website is available in French and English. Here's an English-language page about the Côtes du Rhône.
http://www.chateau-saint-roch.com/resso ... oneUk.html
FIND THIS WINE ONLINE:
Compare prices and find vendors for Chateau Saint-Roch on Wine-Searcher.com.
http://www.wine-searcher.com/find/Saint ... g_site=WLP