Last December 6 the Philippines Branch of the International Wine and Food Society (IWFS) held its Christmas party at Elbert's Steak Room, one of Manila's best steak houses. It was a casual affair and a chance to meet the new and prospective members of the Society. The occasion was also a means by which to clean the cellar of various bin ends left over from previous functions. Thus, several bottles of Chateau Siran 2000, La Fleur de Bouard 2004, various vintages of Ormes de Pez and an assortment of modest bubblies and fine Armagnac were also opened for the benefit of the members. To ensure that no one would go home thirsty, one also had to deposit a bottle of Bordeaux varietal or blend with a retail price of at least P 2000.00 at the door; all these to be shared among those present.
As we were divided into three tables and as I was seated in an area where it was difficult to get up and about, I was pretty much confined to trying the wines at my table. Fortunately, it was the largest table and therefore had the widest variety. With so many wines being passed around and being urged upon me, my notes are necessarily abbreviated. Also, I was only able to try a fraction of the wines available so these notes represent maybe just 20% of what was on offer. I arrived late so I opted to skip the bubblies and proceed immediately with the reds.
The firs wine I tried was mine, to make sure it wasn't corked or otherwise flawed. Concha y Toro Don Melchor Cabernet Sauvignon 2005 – As far as I could see, the only Southern Hemisphere wine for the evening. In fact, it may have been the only New World wine. Very rich and sweet, with plum, spice and bittersweet chocolate. Big wine but approachable as the tannins are already quite soft. Very good.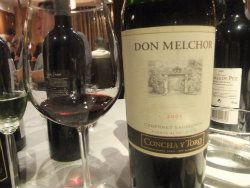 I then moved on to the Bordeauxs. Chateau Siran 2000 – I was interested in this as I still have one or two bottles and so I wanted to see how it had evolved as my last taste of this was a couple of years back. This has shed a lot of weight but seems to be at an awkward stage. Classic blackcurrants and mint. Still firm on the finish. Maybe another 3 years to soften it a bit and develop more complexity. The Siran was followed by Chateau Ducru Beaucaillou 2003 – Smoke and cedar. Sweet fruit and a supple texture although the tannins on the finish are still strong. Still primary at this stage but very good.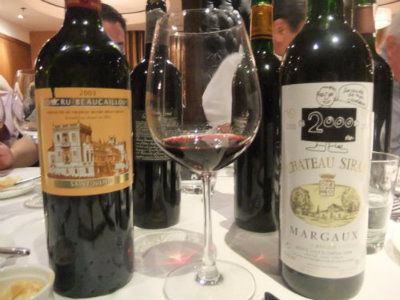 There was also a pair of Figeacs, 1986 and 1983. The 1986 was fleshy and still youthful with the fruit still prominent. Many years of life left in this. Lovely wine. The 1983 seemed more dense and with the added dimension of some earth notes. Again, another excellent wine. The 1983 seems a bit more evolved but can also go on for many years.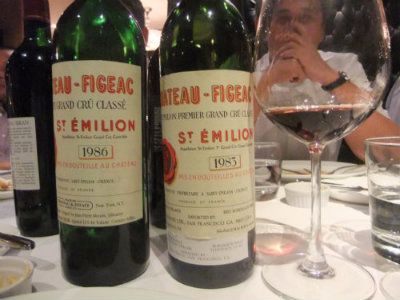 Chateau Bellefont-Belcier St. Emilion Grand Cru 2005 – Another wine of which I have a few bottles. Again, interesting to see how this is evolving. Very dark. Milk chocolate. Firm, tannic and tight. Needs decanting for a couple of hours or many more years in the bottle.
The last wine I tried was Chateau Prieure-Lichine 2004 from magnum. Rich and sweet. Very modern. If this were served blind I probably would have guessed California. There were many other wines available – Tua Rita Giusto di Notri 2003, La Gurgue, Clos du Marquis, Gruaud Larose, Talbot and Brundlmayer among others but after the huge slice of prime rib which went with all the reds, I needed a digestif so I switched to Armagnac.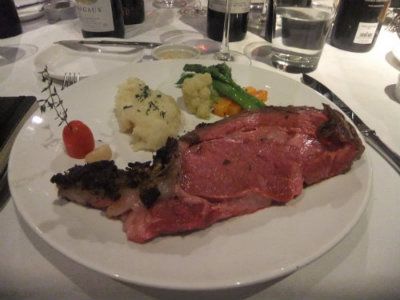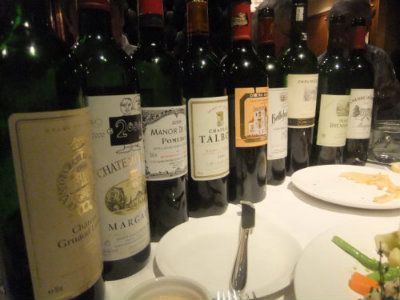 Many thanks to everyone who shared their bottles. From what I was able to taste, there wasn't a bad wine in the bunch.