One of the welcome aspects of having much of the family to stay for nearly three weeks over the Christmas and New Year holidays was the possibility of opening a lot of different bottles.
Now that they have left and I once again have decent access to the computer, I can report on the wines consumed. I will do this in three parts. First Christmas Eve and Day wines; second New Year's Eve and Day wines; third Others.
This deals with Christmas wines.
Christmas Eve dinner consisted of starters including the traditional Belgian "boudins de Noël" ("boudin" appears in the dictionary as "black pudding" but some of these are white), followed by a rich fish dish, cheese (mainly a half wheel of Stilton) and "buche de Noël", a chocolate covered creation in the form of a log.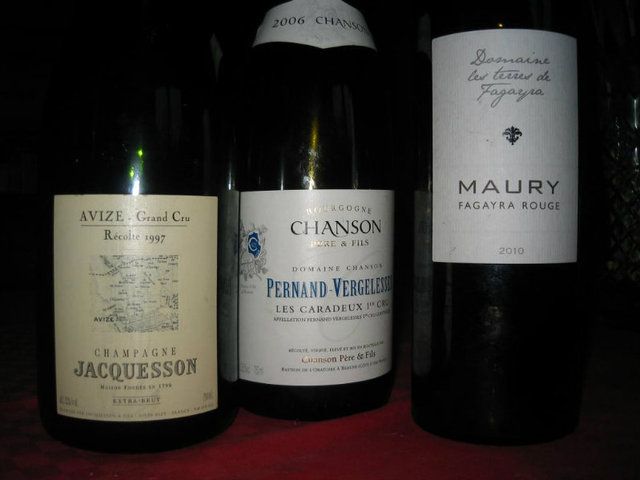 Champagne Avize Grand Cru 1997 – Jacquesson
- Alc.12% - was superbly delicate with at the same time a rich complex undertow and was remarkable for its freshness and minerality in spite of its 15 years of age. Excellent 17.5/20.
Pernand-Vergelesses 1er cru Les Caradeux 2006 – Chanson
– Alc.13.5% - seemed quite clumsy after the Jacquesson Avize. It was medium/full and round with attractive white fruit, minerals, burnished cream and some polished wood traces. I would have liked more focus and integration but this lack may be a function of relative youth. I was sold this by a Chanson representative as a Corton-Charlemagne look-alike at a much more modest price; I wonder. Good/very good 16/20.
Maury Fagayra rouge 2010 – Domaine des Terres Fagayra
– Alc.16.5%, made from old vine Grenache on schistous clay, was aromatically exuberant showed dense and concentrated peppery sweet fruit and firm structure. It went well with the Stilton and excellently with the chocolate "buche". Good/very good 16/20+.
Christmas Day dinner again consisted of starters this time followed by foie gras de canard, stuffed capon, Stilton and another and more alcoholic chocolate "buche".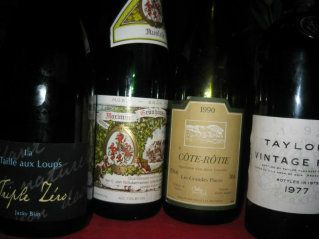 Montlouis Triple Zéro – Domaine de la Taille aux Loups, Jacky Blot
. I have sung the praises of this bubbly in the past but this time it disappointed. There was a charcoal like edge which I don't recall and the overall effect was quite tart. Fair 14.5/20.
Maximin Grünhäuser Abtsberg Riesling Auslese – 17 – 2002 – von Schubert
– Alc. 7.5% was truly wonderful with an ethereal fragrance and minerality underpinned by gentle sweetness and balanced by lively mouth-watering acidity. Grünhaus was supposedly going through a bad patch at that time. If so, give me more of them. It went perfectly with the foie gras but it upstaged the following wine. Excellent/outstanding 18/20.
Côte-Rôtie Les Grandes Places 1990 – Clusel Roch
– Alc.12.5%. We had a struggle with the crumbly cork and, in effect, double decanted in order to remove all traces. This may not have helped a 22 year old wine and it certainly disappointed compared with an excellent bottle two years ago. There were good Côte-Rôtie elements but I felt a certain lack of focus and a hollowness in the middle and wondered if there were not a trace of TCA, which the usually hawk-like Germaine did not pick up. Fair 14/20.
Taylor's Vintage Port 1977
– Alc.21%. A truly lovely vintage port showing attractively elegant sweet fruit, secondary complexity and firm ripe tannic structure. Wonderful with the Stilton and good with the chocolate "buche". Excellent/outstanding 18/20.