Was in France for a brief 3 weeks with the wife & kids (Champagne, Alsace, Burgundy, the Loire, and Paris - with a side trip to Baden Baden, Germany). Would've been 4 weeks, but the two college boys had to be back in Manila for summer classes.
Because my blogposts on the trip (still incomplete) contain a lot of photos and commentary non-wine-related (e.g., food/history/art/touristy factoids/), I post below mere excerpts thereof. If you wish to read the complete posts with a lot more detail, feel free to visit my blog.
This was a trip for the kids to get familiar with France - not a tasting-wine-and-dine-centered trip like usual. Thus, I was driving around a lot with the kids in the car, so I had to watch my drinking more than ever. When we got to Paris, I returned the rental car, and, thus, was able to enjoy more wine.
Neither did I note down or photograph all the wines I had during this trip for various reasons (e.g., tried some "small farmer-made" wines in Alsace and the Loire which merited no note since they aren't commercially available anyway; and, I snuck some bottles in during the odd dinners Catha didn't join us but made me promise not to let the youngest drink more that night), but these are most of them. When in a wine-producing region, as much as possible, I order what they produce locally which I haven't had before and/or are not available in Manila (to the best of my knowledge).
In Reims, Champagne
.
The wine list was, naturally, chock-full of champagne - the majority of which were the labels and bottlings we have in Manila and/or I regularly drink back home - so I made it a point to avoid those and, instead, choose those labels/lines I was unfamiliar with. Tired, jet-lagged, and having to drive the family around later in the afternoon, I ordered just one bottle for lunch.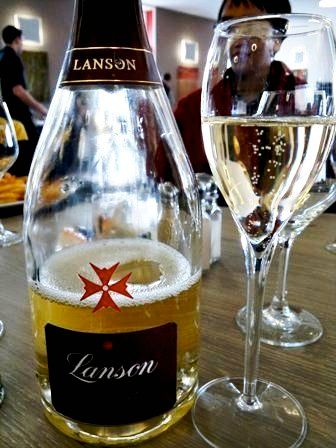 Champagne Lanson Extra Age Blanc de Blancs NV
- This is a relatively recent line from Lanson, created to commemorate the house's 250th anniversary, and presented at the Tax Free World Association World Exhibit in October 2012. Eager, toasty, freshly fruity (apple, citrus, lemon, a whispered suggestion of mango), slight minerality, and acacia flowers (which Catha said she couldn't detect). Round, lush, soft, creamy texture. Nice heft and middle. Easily accessible, dangerously drinkable, if rather straightforward at this stage. A blend of vintages 1999, 2002 and 2003, aged for a minimum of 5 years in bottle; Lanson eschews malolactic fermentation as a rule.
------------------------------------------
Naturally, while in the Champagne region, we have champagne with every meal (well, except breakfast). This time, we had the
Champagne Tsarine Cuvée Premium Brut NV
- A particularly vinous, apple-and-pear dominated bubbly with added notes of yellow apricot, orange, light citrus, and yeastiness. Very charming and easy to drink, though its middle could be a bit more pronounced, and I enjoyed much more the Lanson Extra Age Blanc de Blancs from lunch the previous day.
---------------------------------------
Around Alsace
.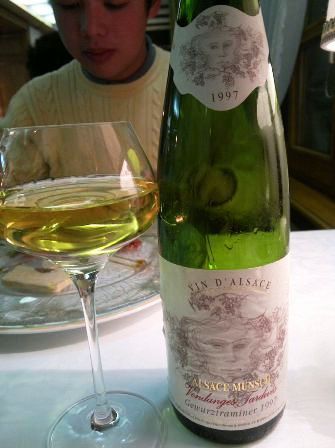 For the first courses, I had ordered a wine produced by the owners of the hotel, namely, a
1997 Alsace Munsch Gewürztraminer Vendanges Tardives
- Mellow, slightly viscous and oily in texture (not a bad thing, it is normal for wines such as these, and quite pleasant indeed), the telltale gewürz lychee notes were there together with slight peach. Lightly honeyed, its slight sweetness and spiciness were demure. Very nice, good typicity, though not quite complex. Can last easily for several more years, I'd expect. More than good enough for its very reasonable price.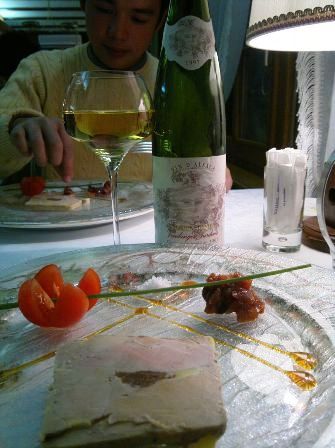 It was a no-brainer to match it with the foie gras.
-------------------------------------------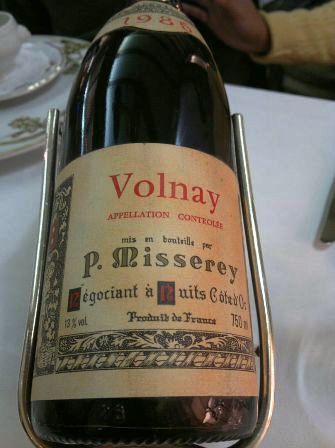 At the outset, I had taken a chance and ordered a bottle of
1985 P. Misserey Volnay
- an aged village level Volnay from a hitherto unheard-of négociant
*
. Unfortunately, it may as well have been left unheard of, as, though not really unpleasant, neither was it pleasing. Whatever fruit, middle, or crescendo it may ever have had, save for almost shrill cerise sauvage and undertones of thin cassis, had expired a while back. All it was good for was washing the palate every few bites of lamb. Oh, well...one must try out new things, no? It's all part of the wine game. Anyway, it wasn't expensive; so no big.
*
I know, my general rule is to have wine from wherever wine region I am currently in, and the subject red is not from Alsace, but, having tried several Alsatian pinot noirs, they are best left for very casual lunches with lighter, and equally casual fare.
-------------------------------------------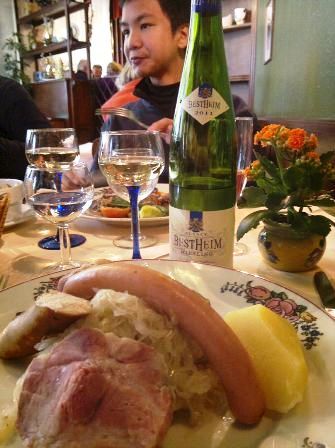 My main course was the traditional
Alsatian Choucroute Royale
. It was huge; the above photo shows my plate with barely a third of the serving platter's contents. Supposedly good for two, it could have easily fed all of us. Good thing Mauro & Lorenzo helped me out a bit after they finished their own dishes.
With our main courses, I got a bottle of the only dry reisling they had on their list:
2011 Bestheim Riesling
- virtually bone-dry, citrusy and white minerally, it was a pretty good entry-level match for my choucroute royale (I do not know any kind of wine other than dry riesling that goes well with choucroute - garnie, royale or otherwise). My dear friend, JC de Terry, distributes Bestheim's wine in the Philippines; so I let him know that I traveled thousands of miles just to drink a wine he sells in Manila.
--------------------------------------------------------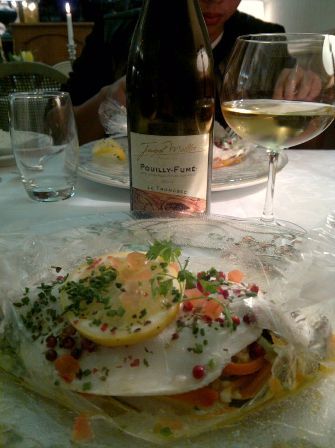 My and Lorenzo's main course was the Pappillote de Bar. For the fish main courses, I had ordered a bottle of
2011 Joseph Mellot Pouilly-Fumé Le Troncsec
- a producer I "discovered" and liked a lot
during a tipsy late dinner at Au Pied de Cochon in Paris several years back
. This was as easily and readily pleasing as the same producer's 2006 Sancerre "La Gravelière" that I remember so fondly* - pleasant florality, just enough ripeness to the gooseberry, guava, citrus fruit, bright and healthy acidity, and proper palate presence. Catha is not fond of sauvignon blanc wines in general, but she really liked this one - as did I.
--------------------------------------------------------
In Burgundy
: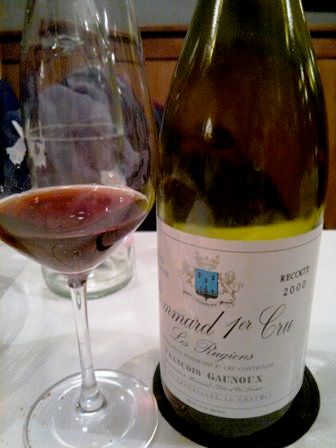 Since our first courses arrived soon after our kirs royales were handed out, there was no material time for a bottle of white. Thus, our red was poured earlier than anticipated:
2000 Domaine François Gaunoux Pommard 1er Cru Les Rugiens
:
The Pommard AOC lies within the Côte de Beaune and is widely recognized as producing some of the most masculine, many think rustic, sturdy reds of the area. The premier cru vineyards of Les Rugiens, like Epenots, are, I've read, considered by some as worthy of grand cru status. Be it as it may, I have always liked Pommards, and, with Volnay, they are my two favorite red AOCs of the Côte de Beaune - personally preferring them to the grand cru Corton reds of said area
*
.
*
Corton is the only grand cru red AOC of the Côte de Beaune (so far); all other red grand crus of Burgundy's Côte d'Or are situated in the Côte de Nuits. The Côte de Beaune is world-renown for its grand cru whites, the most rarefied of which is Montrachet.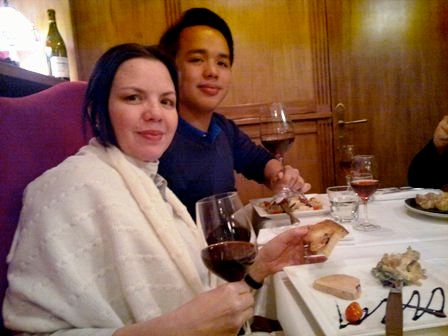 The wine opened up quickly, displaying unabashed scents of slightly truffled, concentrated, ripely sweet black cherry, kirsch, deep dark plums, violets and vanilla/oak. There also seems to be the beginnings of Burgundy decay somewhere underneath. On the palate, the nose is generally mirrored in a notably fleshy, hefty, voluptuous manner, the fruit deeply veined, with healthy extraction and readily apparent but softly rounded tannins. Acidity was a bit low for me, but it worked out. Confident wine, good middle, long finish. Decent complexity.
It struck me as a bit forward, definitely fruit-driven, cut from a modernish cloth, but, still, correct in most every aspect. Very easy to like, and, in my opinion, can last for many more years. Catha liked it a lot. Not at all a bad start for this trip's first few hours in Burgundy.
-----------------------------------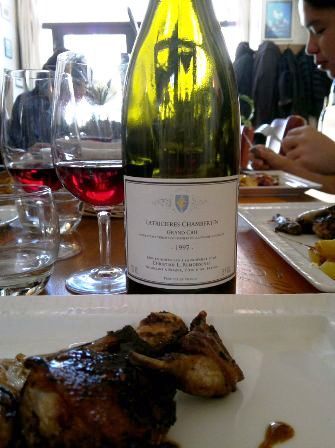 With the main courses, I had ordered a bottle of
1997 Remoissenet Latricières-Chambertin Grand Cru
– a graceful, light-footed red, soft-spoken in its notes of dark red cherry, raspberry, underlying damson, slight ceps, and violets. Wild cherry trails in the finish. Medium-bodied, quietly confident wine with healthy acid balance that cut through the pigeon's gamey richness nicely. I stopped at that bottle as I was to drive the family to Vézelay later that afternoon to visit and hear mass at the
Basilique Sainte-Marie-Madeleine
.
-----------------------------------------------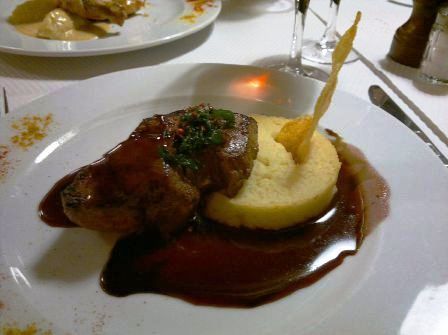 Foie de Veau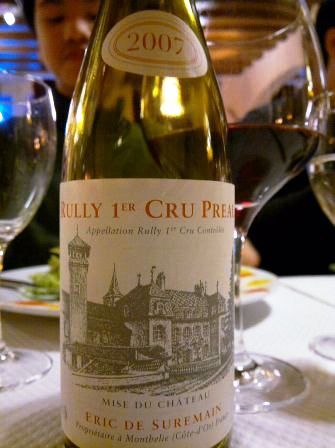 Having a long drive back to Beaune in the dark, I skipped the white wine and just ordered a half-bottle of
2007 Eric de Suremain Rully 1er Cru
- a simple wine, decent acidity which did well with the foie de veau, gentle enough for fowl dishes as well. Not much of a middle. Pleasant enough dark red berries with a topnote of pine. Not bad, but nothing worth analyzing more than that.
----------------------------------------------------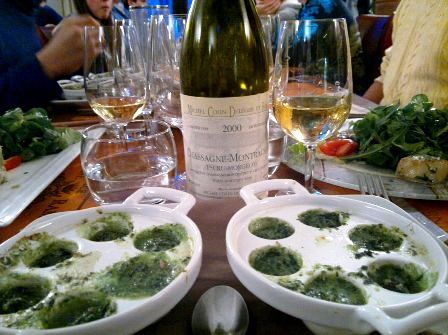 Well, "like yesterday", I started with a dozen
Escargots de Bourgogne Traditionnels
, but, since I was not driving after, paired with a bottle of
2000 Michel Colin-Deléger Chassagne-Montrachet 1er Cru Morgeot
- Very self-possessed, quietly masculine white, with hushed butter and hazelnut notes in its slightly honey-and vanilla-touched apple, pear, and slight lemon curd. Good acidity, and an enchantingly curvy, supple, pliant texture mid-mouth. Quite nice indeed, and wonderful with my snails. Joaqi started with the same dish.
------------------------------------------------------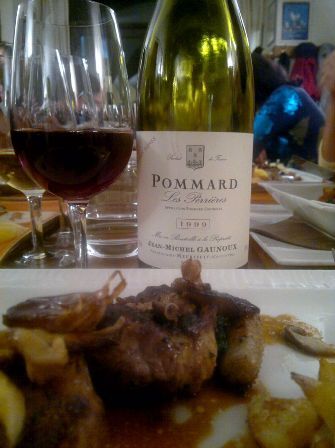 The pairing red for all the plats principaux was a
1999 Domaine Jean-Michel Gaunoux Pommard 1er Cru Perrières
- This domaine is owned and run by the son of François Gaunoux , who split from his father and established his own domaine in 1990 (see: the 2000 Domaine François Gaunoux Pommard 1er Cru Les Rugiens I had at Le Gourmandin two nights before). The Gaunoux name is an old and respected one in Burgundy, the most well-known of the family being the late winemaker Henri Gaunoux - the father of François, and, consequently, the grandfather of Jean-Michel.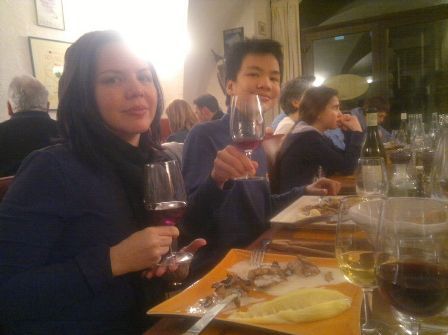 As to the subject wine, it was evidently more refined and not of a modern cut as compared with the 2000 François Gaunoux Pommard Les Rugiens mentioned (the "father's wine"). It was not obviously extracted or concentrated or oak-lashed as the father's wine, rather, it was more rigid in structure/backbone and more streamlined - more of a classic cut as opposed to modern.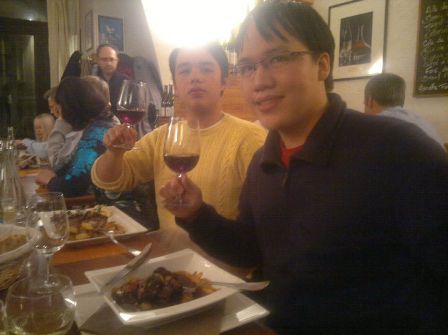 Both were very nice in their own ways, but this subject wine's healthier acidity and lighter touch of oak carried the day between the two, deftly cutting through the fatty, caramelized pigeon. Not as plush, polished, hefty, full-bodied or fruit-driven as the father's wine, it came off as comparatively rustic and ruggedly handsome. Good wines both; it just depends on the style one personally favors and/or what one is in the mood for.
---------------------------------------------------------------
That's all I've been able to post, so far. More later on.