Last Saturday, the 3rd August 2013, my flight got rained out on the 15th hole by a sudden, intense cloudburst. Soaked to the bone, we skipped the usual post golf beers and snacks, and went home. Catha and the kids had a dinner to attend, so I hastily contacted Enki to see if he & Mayette could join me for dinner at
Champêtre
as Marc had
moules de bouchot
available fresh and live from France. Fortunately, they were free, so we met up at the restaurant a couple of hours later.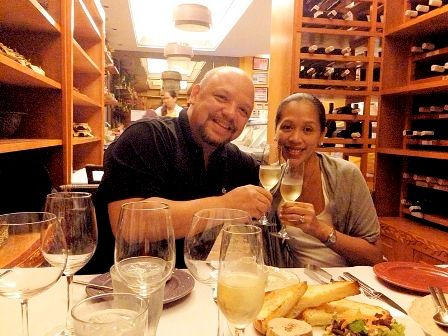 Enki & Mayette Rey
Our apéritif was a shared bottle of
Champagne Delamotte Brut
- This highly-regarded, relatively small producer founded in 1760 is the sister company of the legendary champagne house of Salon - both of which form part of the Laurent-Perrier group. Notably bright, lively, clean, well-focused with a nicely broad and weighted mid-palate. Vibrantly ripe apple and pear dominate with a white flower nuance, good minerality and mild toastiness. Not much complexity at this point, but a totally charming, disarming and wholly enjoyable casual champagne. This is from the recent batch imported and locally distributed by
Premium Wine Exchange
.
The three of us shared in a small array of appetizers, namely: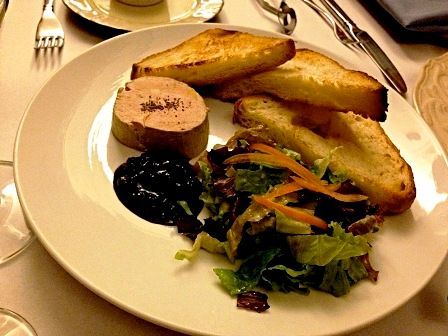 Goose Foie Gras with Blueberry Compote & Brioche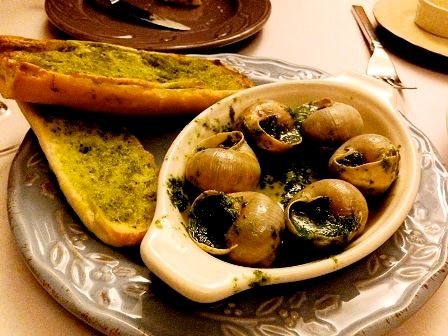 A couple of orders of
Escargots à la Bourguignonne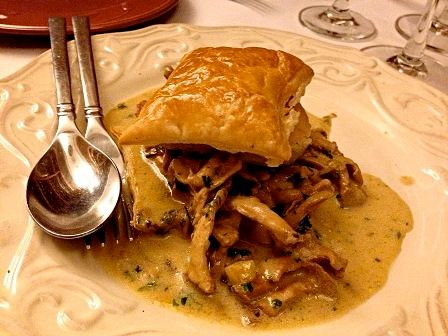 ...and some excellent
Fresh Chanterelles with Duck Foie Gras and Puff Pastry
. This last dish is not on the regular menu, but, having liked it as a special the previous week, I asked if Marc would make us some, which he happily did, to our great appreciation and enjoyment. With the foregoing dishes, we continued with the champagne.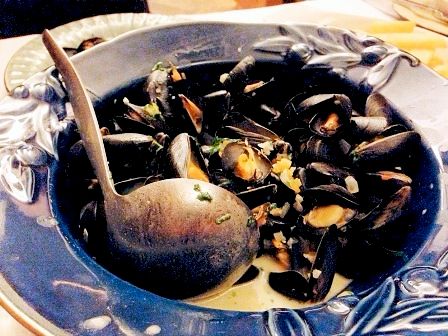 Our seafood course was two shared orders of the night's special
Moules de Bouchot à la Marinière
. This particular type of mussel is small, incredibly tender, bursting with absolutely clean, delicate, sweetly fresh flavors of the sea.
Moules de Bouchot
have their own
Appellation d'Origine Protégée
(AOP) of Baie du Mont St-Michel which spans 7 communes in Brittany and Normandy. Not only must they come from specified geographic origins, they must also be grown in a certain manner to the regulators' satisfaction. For more details, you may go to the
AOP's website
.
With the moules, we tried out a bottle of
2011 Domaine Vacheron Sancerre
- nicely dry, moderately crisp and white-mineraled Sancerre with good ripeness to the sauv blanc's distinctive mild gooseberry, white grapefruit and pear. Pleasantly fruity, and good enough as a competent, entry-level pairing wine.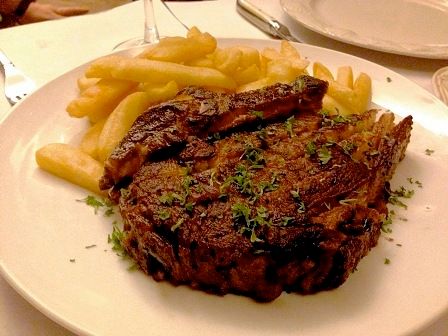 We shared the large
Dry-Aged USDA Black Angus Rib-Eye
for our main course...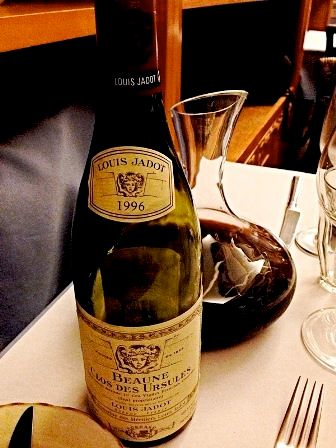 ...paired with a bottle
1996 Louis Jadot 1er Cru Beaune Clos des Ursules
- Because
my last bottle of this showed too youthfully in that it wasn't as expressive as what I know of Clos des Ursules
(a Jadot monopole - meaning the entire Clos des Ursules belongs to Jadot), I decanted this bottle for aeration for virtually 2 hours before trying it out.
The result was much better than last time as the wine was much more open and expressive, showing fair depth of sweetishly-ripe dark cherry and raspberry with underlying dark plum on a firm structure. A few notches over medium-body. Nicely rustic with slight nuances of cola, ceps and old violets. Not much complexity, but whatever it has now carried us handily through the meal. Offhand, I'd think I'd wait on these for another 3-5 years and see what happens. Other than that, it's good enough now with decanting for aeration if one prefers them a bit young. Nothing fantastic, but definitely a good, solid, familiar, comforting red Burg.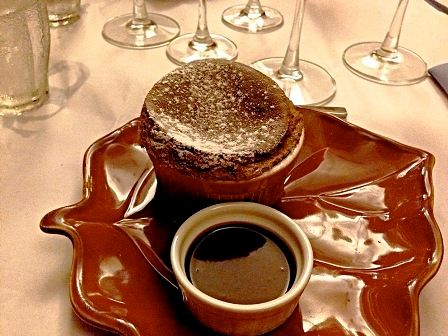 The three of us each had a
Dark Chocolate-Grand Marnier Soufflé
for dessert - delicious as always. I looks a bit deflated already because we took our time coming in to have it since we we took a quick cigarette break outside. This isn't on the menu, but Marc can and will easily whip some up upon request.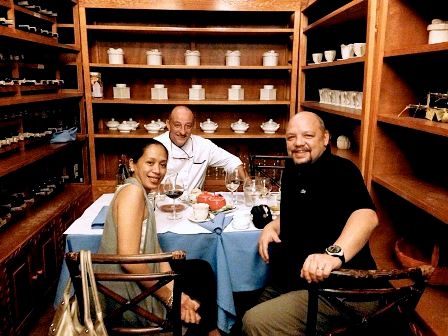 Marc thoughtfully sent us a snifter each of
Armagnac
, and, after dinner service, sat and joined us for a couple of glasses of wine and a nice, leisurely chat. It was a nice, relaxed Saturday evening with friends over good food and wine. Can't really want more than that. Until the next!