(From today's

30 Second Wine Advisor

)
You pour your wine, you lift the bottle gently and, splat! A dark red Rorschach blot stains the tablecloth.
Has this ever happened to you? Heck, can any of you claim this has
never
happened to you? I've even seen certified sommeliers do it in fancy restaurants, and they are supposed to know all the tricks.
I've long since lost count of the number of wine bottles I've opened, and I think I've mastered the drip-stopping "sommelier twist," yet I hit our nice yellow Provence tablecloth with another red splat just the other night.
Not long afterward, as if to mock me, the Interwebs popped up an article about an inventor's new approach. Daniel Perlman, a wine-loving biophysicist at Brandeis University, has been enjoying his 15 minutes of fame thanks to his recent invention that stops wine drips before they start.
After much deep thought and taking some slow-motion videos of wine being poured (he is, after all, a prolific inventor and a physicist), Perlman and engineer Greg Widberg grabbed a diamond cutting tool and modified several glass wine-bottle necks, cutting a narrow groove around their circumference just below the lip.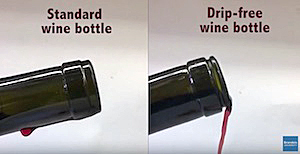 A droplet of wine that would otherwise run down the side of the bottle encounters the groove, but can't traverse it, they explained to the university's
BrandeisNOW magazine
. The pesky droplet, stymied by the groove, immediately falls off the bottle into the glass along with the rest of the wine.
Click here to read the full article
, including a very short video showing the grooved neck in action.
Perlman is currently speaking with bottle manufacturers about adopting his design, the magazine says, but unless you've got a diamond cutter handy at home, I wouldn't hold my breath while waiting for the industry to adopt grooved bottle necks as standard.
What else can we do? Perhaps most practical until Prof. Perlman's grooved bottle necks take over the market, there's a handy-dandy accessory called
WineDisc
, a circle of shiny foil that rolls into a drip-stopping tube that you insert into the bottle neck to make a drip-resistant pouring spout.
You can get a dozen for only $7.92 on Amazon.com
, and they work well enough that I just ordered a dozen more for myself. (Full disclosure: They don't
always
work, in my experience. On occasion, if you wrangle the bottle a little too enthusiastically, a blurp of wine will splash out. But they do reduce drippage about 90 percent of the time. With that caveat, I highly recommend them for the relatively small price.
Order
The Original WineDisc - Pack of 10 Drop Stopping Pour Spouts
from Amazon.com now for just $7.49.
Of course, we can all keep trying to master the sommelier twist, a move that's easier to perform than it is to describe. When you're finished pouring, while the bottle neck is still over the glass, give the bottle a half-turn as you gently lift it up - avoid the instinct to do this quickly - so any residual drops turn from the bottom to the top of the aperture, ideally dripping back in to the bottle. You'll also notice that sommeliers use napkins effectively, both to wipe the neck discreetly after pouring, and to wrap around the bottle to catch drops running down the sides.
At home, I've also applied the simple approach of working over a couple of paper towels or a cheap table mat. When the inevitable drip happens, at least it will land on something more disposable than our tablecloth.
I'd love to know how you handle wine-pouring drips, especially if you have a tried-and-true technique that I haven't mentioned here. Please post them. and I'll share your ideas in a future column.