(From today's 30 Second Wine Advisor)
Leftover wine?
How long can you keep wine once the bottle has been opened?
A very long time ago - okay, it was
March 1, 1999
- I posed this question in one of the first editions of
The 30 Second Wine Advisor
. During the ensuing 18 years it has remained one of my most frequently asked questions, along with its snarky cousin, "Is there such a thing as leftover wine?"
I took this long trip down memory lane just this week when I noticed that Bon Appetit writer Marissa A. Ross had taken on the same question, and offered very similar advice. Good work, Marissa!
Here's a link to her column
.
Let's take a quick look at my 1999 advice, with a couple of 2017 updates added in bold:
How long will wine keep once the bottle has been opened? This may be the one wine question I hear most often; and the short answer, I'm afraid, is, "not very long." Wine, like fresh fruit, is perishable, and air is its enemy. Once you've taken out the cork and exposed the liquid to oxygen, it starts to deteriorate pretty fast.
If you aren't picky, with most everyday table wines you can jam the cork back into the half-finished bottle and keep it at room temperature for a day or two before its flavor starts to deteriorate seriously. Pop it in the fridge, and it might last for a week or more. Fortified wines like Port or Sherry may last a little longer, but much more than a week is pushing it.
Wine shops sell preservation systems -
one popular model sucks the air out of the bottle
with a plastic pump and special stopper;
another uses an aerosol can
to squirt inert gas into the bottle - but I don't find these alternatives work well enough to be worth the price.
I've become a little more forgiving, after seeing friends in the import business using suction or aerosol methods to keep tasting samples in good shape
.
A more expensive system, akin to the commercial Cruvinet found in wine bars, pumps canned nitrogen gas through plastic tubing into an opened bottle and uses gas pressure to dispense the wine through a spout. It works better than the other systems, but I'm not sure it's really an improvement on refrigeration.
This nitrogen-powered system, intended for wine bars or very serious enthusiasts at its $900 toll, keeps four bottles safe under inert nitrogen or argon gas
.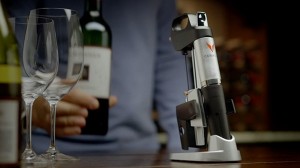 Also, new since I wrote this, the somewhat more affordable ($299) Coravin system uses a hypodermic and argon gas to extract a glass at a time without removing the cork, purportedly making it possible to enjoy a prized bottle, one glass at a time, over several weeks
.
And finally, if you're really insistent on keeping a half-bottle of wine, some wine fanciers have reported good results with carefully pouring half of the bottle into a clean half-bottle (375 ml.), filling it up to the top, and then re-stoppering it with a clean, sound wine cork.
Your best bet, though, is simply to finish your wine within a couple of days ... use the leftovers for cooking ... or invite friends over to share.
One last reassurance: Even if your wine gets too old to enjoy, it can't
hurt
you. It may lose its flavor and become flat, dull and unenjoyable, but it won't turn toxic.
So, how do you handle your leftover wine, assuming of course that you have leftover wine? Please share your best wine-saving tricks.