(From this week's 30 Second Wine Advisor)
Fortified-wine cocktails? Why not?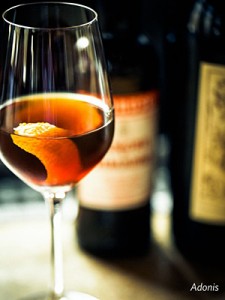 The other night, with partial bottles of Pedro Ximenez Cream Sherry, Rainwater Madeira and two Amontillado Sherries looking at me on the shelf, I suddenly had a wild idea: What would it be like to build these fortified wines into cocktails?
Since autumn has finally, belatedly started to show its signs around here, I've been in the mood for the warmth of such wines: Sherry, Madeira, Port. Hence the collection of half-full bottles to inspire this flight of fancy.
These wines are called "fortified" because strong brandy is added during fermentation, a process that can retain sweetness in the wine by killing off the active yeast before all of the fruit sugars have been converted to alcohol. This addition also helped protect the wine from deterioration during long shipment to faraway markets in older times, before refrigeration was invented.
That's not much of an issue nowadays, but the fortified style remains popular both because its finer examples will withstand long cellaring, and because they taste good, warming and comforting on cool autumn and chilly winter evenings.
It's also convenient that its strength and natural oxidation generally makes it possible to keep the leftover wine in good condition in the recorked bottle for at least a week or two, making it easy to enjoy over several evenings. (And yes, before we start joking about there being no such thing as leftover wine, a small glass, or possibly two, of these robust beverages with alcohol levels at 18 to 20 percent is generally enough.)
So, in an age when cocktails have become popular again, had anyone ever thought of working the remnants of fortified wines into an interesting mixed drink? I summoned Prof. Google, and sure enough, this concept has been around for a long time.
Sherry Cocktails Are Your New Secret Weapon
, declared a 2015 article in
Esquire
, reporting that the concept has been around since the 19th century at least.
Imbibe
magazine, building up to a 2013 New York City Sherry Fest, offered
Six Sherry Cocktails
.
Playing around with leftover Sherry and Madeira and ingredients from my simple bar, I tried two classic models, and I can tell you that the concept is worth a try, when you're in the mood for something a little different.
Here's a quick look at both. If you like this idea and are tempted to fashion something new, I'd love to hear your ideas.
The Tuxedo
, adapted by
Imbibe
from a 1931 book, "Old Waldorf Bar Days," is essentially a "wet" martini with Sherry (or, I think, Madeira or even Tawny Port if you prefer) substituted for the vermouth. They suggested dry Fino Sherry, but I went with something richer: Two parts gin, one part
Leacock's "Rainwater" Madeira
, and a splash of Fee's orange bitters, shaken with ice, made a clear golden drink a shade lighter than a standard martini, with a pleasant nutty flavor dancing with the gin's botanicals and the citrusy bitters.
The Adonis
, created in the 1880s in honor of the first Broadway musical to run for more than 500 performances, is a distant, lighter cousin of the Manhattan, using a warm, sweet Sherry in place of the stronger bourbon or rye. It calls for equal parts Sherry (I used
Alvear Cream Pedro Ximenez
) and sweet red vermouth (Cocchi di Torino) with a few drops orange bitters chilled with ice. It's a sweet combo, an after-dinner drink, but the flavors worked and played well.