<table align=right><tr><td>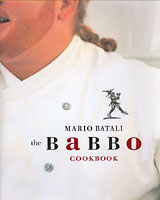 </td></tr></table>
Babbo
Officially, I went to New York City last week to participate in the annual banquet of the Wine Century Club, a jovial band of wine enthusiasts who've tasted wines made from at least 100 different grape varieties ... and like to talk about it.
But my inner foodie was almost as excited about our trip to the Big Apple for an entirely different reason: It would afford an all-too-belated opportunity to spend an indulgent evening discovering an Italian-food destination that I had been craving for years: Babbo Ristorante, the flagship restaurant in the growing fleet overseen by iconic chef and FoodTV personality Mario Batali.
I'll spare you a detailed review of this often-reported place other than to point out that it's still such a hot ticket that the best we could do with a month's notice was a 10:30 p.m. reservation for a party of four ... and that neither the front nor the back of the house was slowing down at that late hour. Food and service were excellent, and never slacked off even though we literally closed the place, last party out around 1 a.m. And even if there's a good chance that Chef Mario was noplace near the building - he can't be everywhere - whoever was at the stove was turning out regional Italian dishes as good as I've ever enjoyed in Italy. From a grilled octopus appetizer to wild-boar pappardelle and oxtail gnocchi, there wasn't a misstep; and Joseph Bastianich's all-Italian wine list was a joy, with rare and intriguing (if not inexpensive) items organized geographically with selections all the way from Val d'Aosta to Sicily.
For me, though, dining at a famous restaurant only begins the fun. Coming home and trying to replicate signature dishes doubles the enjoyment. And it gets even better when you I try to identify the style that makes the house unique, then jump off from there for new inspirations that take Mario's inventions and make them my own.
One consistent pattern in several of Batali's dishes got my creative motor running: In the oxtail dish and a short-rib preparation and even in an appetizer featuring a humble pig's foot, the kitchen took the fundamentals - peasant kinds of meat that you wouldn't expect to be served on upscale white tablecloths - and turned them into refined presentations in the kitchen. Thoughts of whole, anatomically correct pigs' trotters served out of pickle jars on the bar tops of German-American saloons went away when my friend Bob was served his starter: The robust, savory pork had been dissected with a surgeon's skill, magically transformed into a thin, tender cutlet the size of a coaster, lightly breaded and sauteed Milanese-style. The bones, fat and gristle similarly disappeared from short ribs, turning them into a beefy block with all the texture but four times the flavor of tenderloin. And my expectations of picking succulent but messy bits of lean out of the nooks and crannies of hard-to-eat oxtails were lifted when my pasta dish came, feather-light gnocchi cloaked with an intense, dark sauce of lean oxtail meat, with the mess left behind in the kitchen.
There was the secret of Batali-style Italian cookery: Do the hard work in the kitchen, distilling ingredients down to the alchemist's quintessence; treat your guests to the best, and leave the rest discreetly out of sight.
As soon as I got home, I picked up Batali's Babbo Cookbook, giving it a fresh look with eyes and palate invigorated by my dinner there. Then, rather than simply cooking a recipe out of the book - what fun is that? - I took the concepts and used them to create a new dish that I think Mario would approve. Call this one a first cousin to his gnocchi with oxtail ragù (Page 153). It uses chicken thighs in place of ox tails, farfalle pasta instead of gnocchi, and all the other ingredients are different. But other than that, I say with tongue only halfway in cheek, it's pretty much exactly the same thing: The meat (chicken or oxtail) is browned, then sauteed with aromatic vegetables until all is caramelized sweet golden brown; then it's braised until falling-apart tender, the meat carefully removed from the bones and shredded into neat, user-friendly bites, and cooked still longer until the entire dish resolves into a rich, intense ragù that's then served over pasta. Keep it essentially simple, concentrate the flavors and make it intense. This, I think, is Mario's secret, and the key to true Italian style.
INGREDIENTS:
(Serves two)
6 to 8 chicken thighs (or a frying hen cut into pieces)
Salt
Black pepper
1/2 of a large, sweet onion
1 carrot
1 stalk celery
1 fresh tomato or two canned tomatoes with their juice
1/4 cup Sherry
1 cup chicken broth
1 bay leaf
4 ounces farfalle or other short pasta
PROCEDURE:
1. Salt and pepper the chicken thighs and put them skin-down in a large, preferably nonstick, skillet big enough to hold them in a single layer. Turn heat to medium-high and cook them, turning occasionally, until they're well browned. (There's no real need to use additional oil, as the chicken skin will quickly render more than enough fat.)
2. While the thighs are browning, chop the onion coarsely; peel the carrot and chop the carrot and celery into small dice. Peel and seed the fresh tomato, if using, and coarsely chop the tomato, reserving the juice.
3. When the chicken pieces are browned, take them out and keep them warm. Saute the chopped onions, celery and carrot in the same skillet until they soften and start to brown, using all or most of the rendered chicken fat. (You can pour off and discard some if there's more than you need.)
4. Splash the Sherry into the pan with the vegetables, stirring to "deglaze" the pan as it reduces to a thick syrup. Put the chicken pieces and any accumulated juices back into the pan, turning them once or twice. Put in the chopped tomatoes, chicken broth and bay leaf and bring to a simmer. Reduce heat to low, cover the pan, and simmer for 30 minutes or until the chicken pieces are very tender.
5. Take out the chicken pieces and let them cool until you can handle them. Remove and discard the skin, bones and gristle, and tear the meat into shreds. Using a stick or stand blender, buzz the pan liquid into a thick, textured sauce. Put the chicken shreds back in, taste to check seasoning, and continue to simmer for another half-hour or so until the sauce and meat reduce to a thick ragù. Add a little more broth or water if it thickens too much and threatens to stick and burn, but this shouldn't happen if you keep the heat very low.
6. Boil water and cook your pasta following standard technique. When the pasta is al dente, drain it and serve in warm bowls with the chicken ragù. If you have Mario's number, invite him over for dinner.
WINE MATCH:
At Mario's Babbo, we enjoyed the oxtail ragù with an excellent Lombardy red from a favorite producer,
Bruno Verdi 2001 Oltrepò Pavese
($62). At Robin's Trattoria, I accompanied the chicken version with a much more modest red from another Latin country,
Las Rocas de San Alejandro 2004 Calatayud Garnacha
($10), a fruit-laden Spanish Grenache.
BUY THE BOOK ONLINE:
Mario Batali's "The Babbo Cookbook" is available from Amazon.com in hardcover for $25.20, a 37 percent discount.
Purchases made using this exact link
will return a small commission to us at WineLoversPage.com.